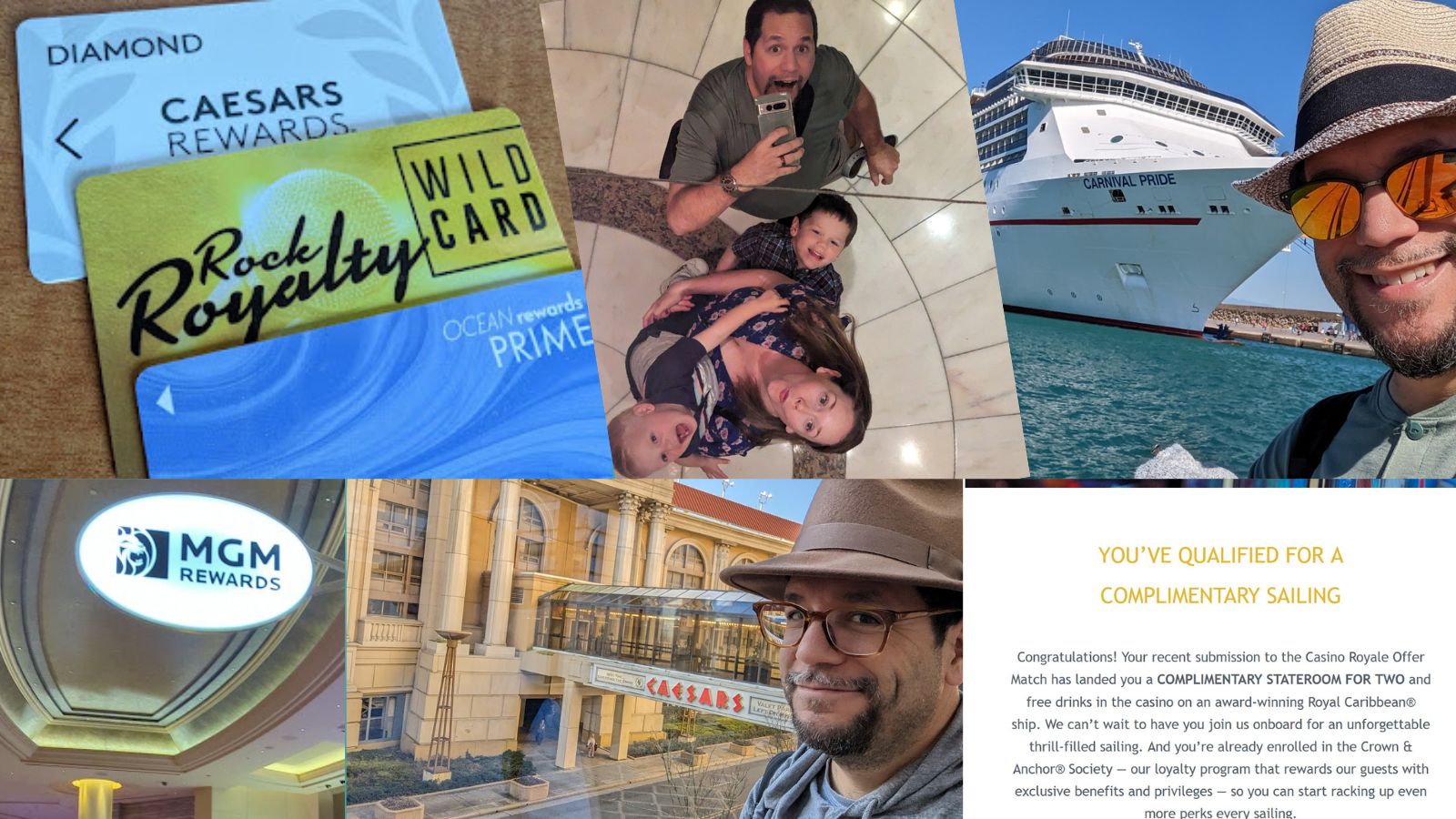 Free cruises sound like a scam, but it is currently possible to turn elite status earned from a single $95 credit card into months worth of free cruises and free hotel nights if you play your cards right. The best part is that if you follow the steps, you don't need previous experience with any of this (or any gambling) to make this all happen.
In fact, I wrote this post so that Stacey could cruise for free.
Let me tell you about Stacey: She doesn't know this, but before we knew her name, my wife and I used to refer to the woman who works at our local post office as "Smiley". "Smiley" Stacey is one of the nicest people you could meet — I don't think I've ever seen her not smiling or heard her say anything negative. One day recently, when I was in the post office to buy stamps, Stacey asked about whether I knew anything about booking cruises. I had more to say that I could explain over postage, so I gave her my card and asked her to email me.
She did that and so I went to work writing this post determined to tell Stacey how to start at square one and end up floating for free in a tropical sea. I was confident that if I could explain it to a determined newcomer like her, it could also benefit many readers interested in dipping their toes in gaming status matching for free cruises.
A major hat tip to Dave Grossman of MilesTalk.com and his MilesTalk Facebook group because I learned a lot of the relevant Atlantic City and Philadelphia details through his posts and group and a big thank-you to members of our own Frequent Miler Insiders Facebook Group that were able to provide some additional insight on the latest additions.
This post is very long. It is not necessarily meant to be read in one sitting but rather to be a complete guide. If you are reading this in email form, you're going to want to click through to the website for the full experience and easy table of contents navigation.
Starting Point 1: A Wyndham Rewards account and The Wyndham Earner Business Credit Card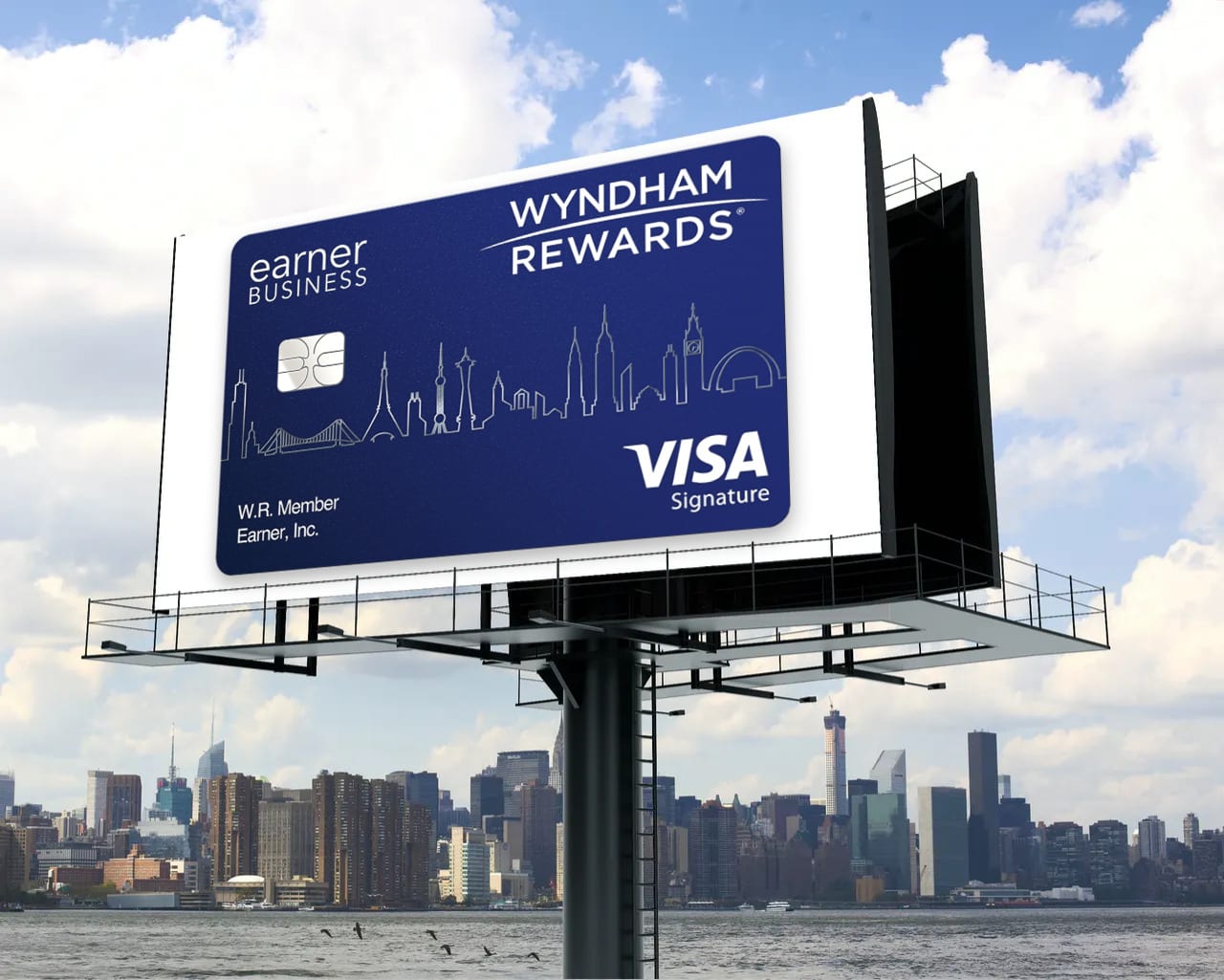 There are two paths to the free nights and cruises in this post. The first path is through Wyndham Rewards. If you take this path, you'll first sign up for a Wyndham Rewards account at this link (this is their hotel loyalty account; it's free to join). You want this loyalty account number so that you can enter it on the credit card application for the Wyndham Earner Business card (there is a line for your Wyndham Rewards number).
The next step is applying for the Wyndham Earner Business Credit Card. This is a business credit card, so you'll need to have a business, but that is a lot easier than it sounds. Almost any type of side hustle can be considered a business — writing a book, writing a blog that you hope to monetize with ads eventually, selling stuff on Facebook Marketplace or eBay, babysitting, etc. Even if you aren't yet making money from said side hustle, you can potentially qualify for a business credit card.
When it's something small like a blog that doesn't yet have ads or selling stuff on eBay or Facebook where you're making a very small amount of money, you would probably operate that as a sole proprietorship. In that case, you'd use your own personal name as the business name and your social security number as the tax ID. It's all quite easy. You can find more information and a link to apply for the Wyndham Earner business card on our card page. Note that we do not earn any affiliate commission on this card, it's just a great deal for a number of reasons (we talked extensively about it on a podcast episode).
The current welcome offer on this card could potentially get you 10 nights at low-end properties, but you could alternatively book a 1-bedroom vacation rental through Vacasa for 5 nights with the 75,000-point welcome bonus like this one I reviewed in the Pigeon Forge area or many great-looking properties in Hawaii. See: Vacasa: Great value is real! for more information about using Wyndham Rewards points for Vacasa vacation rentals. Regardless of the current offer on the card, it could be worth getting just for the cruise opportunities that it makes available through matching.
Once you have the Wyndham Earner Business Card, your Wyndham Rewards account status will update to Wyndham Diamond status (this won't be instant upon approval, but it should update to Diamond within about a week).
Once you have Wyndham Diamond status, you go to this link and click the button that says "I am a Wyndham Rewards member, match my status" to get matched to Caesars Diamond status.
It should take about a week for your Caesars Diamond status to update. A family member followed this path and logged in to her Caesars account once or twice a day for about a week. When her status didn't update after 7 days, she emailed Wyndham Rewards by using the email form found on this page explaining that she had submitted for the match and her Caesars status hadn't yet updated. Two days later, her Caesars status was updated to Diamond. See this post for more detail about emailing Wyndham Rewards.
Once you have Caesars Diamond status, click here to jump to the next relevant section of this post.
I should note that Caesars Diamond members sometimes get offers for free rooms in Las Vegas for close-in stays. I'm currently seeing nights at some properties starting at $8 over the next couple of weeks (the cheapest nights here are at Rio and Harrahs, though I sometimes see others nearly as cheap). One of the benefits of Caesars Diamond status is no resort fees on stays and free valet or self parking — so $8 really means $8 plus tax per night.
Starting point 2: FoundersCard to Caesars Diamond
Another option for those looking to get Caesars Diamond status who do not want or can not get the Wyndham Earner Business Card is FoundersCard. This is the most expensive path in this post and is far more expensive than getting the Wyndham card noted in Starting Point 1, but when you consider all you can get, the high price tag may seem laughably low and it doesn't require getting a new credit card.
FoundersCard is meant as a membership card for entrepreneurs, but I believe that in practice anyone can join. The cost depends on where you sign up, but I believe that the regular price is $495 + $95 initiation fee. You can sign up through some referrals for less (I think the current best deal is 3 free months and then $395, but you won't get Caesars Diamond from the complimentary status and I'm not sure if there's a way to trigger the $395 charge sooner?).
One of the benefits of a paid FoundersCard membership is complimentary Caesars Diamond status. Once you have Caesars Diamond status, click here to jump to the next relevant section of this post.
Starting point 3: MGM Gold
MGM Rewards is the loyalty program of MGM casinos / hotels & resorts. They have a partnership with Hyatt whereby members with World of Hyatt Explorist or Globalist status can match to MGM Gold. Update: The Hyatt partnership is ending and it is no longer possible to match Hyatt to MGM. Hopefully we will see a matching opportunity with Marriott when their partnership launches in October 2023.
Once you have MGM Gold status, click here to skip ahead to the free nights section of this post.
Use Caesars Diamond or MGM Gold status to get free cruises and hotel nights
Caesars Diamond or MGM Gold for a free 7-night Carnival cruise
Caesars Diamond status or MGM Gold status could easily get you 7 nights or more onboard with Carnival cruise lines. Note that we had previously reported that this offer was dead, but it has come back (terms indicate it will be available through at least December 31, 2024) and the new link for the match is included below. Here's how it works.
Once you have Caesars Diamond status (or MGM Gold status), you can try the Carnival Fun Match link. In the past, readers and Facebook group members have reported getting offers for free cruises through this program. The form requires you to submit a picture of the front and back of your Caesars Rewards card, but if you only have the Digital card, we've had success with a screen shot of our online account like this:

My wife and I both initially received offers for free interior rooms, but after a couple of weeks we started receiving offers for free balcony staterooms. Some have waited months for the free cruise offers to show up and some haven't received them at all, but be sure to log in to your Carnival account periodically to check your offers. These certainly can be a great deal.
If you have done this match and have not received a free cruise offer, try updating your online profile. See this post for more information: Trouble with the Carnival Fun Match? Here's a potential solution.
The particularly notable thing about those offers is that they have been valid on sailings in the Caribbean, to Alaska, around Europe (I took a 10-night cruise to the Greek isles and Turkey with this offer – read my impressions here), and even on some Transatlantic and Transpacific sailings. A member of our Frequent Miler Insiders Facebook group highlighted one that I seriously considered — a 22-night cruise from Brisbane, Australia to Seattle that I saw and also considered.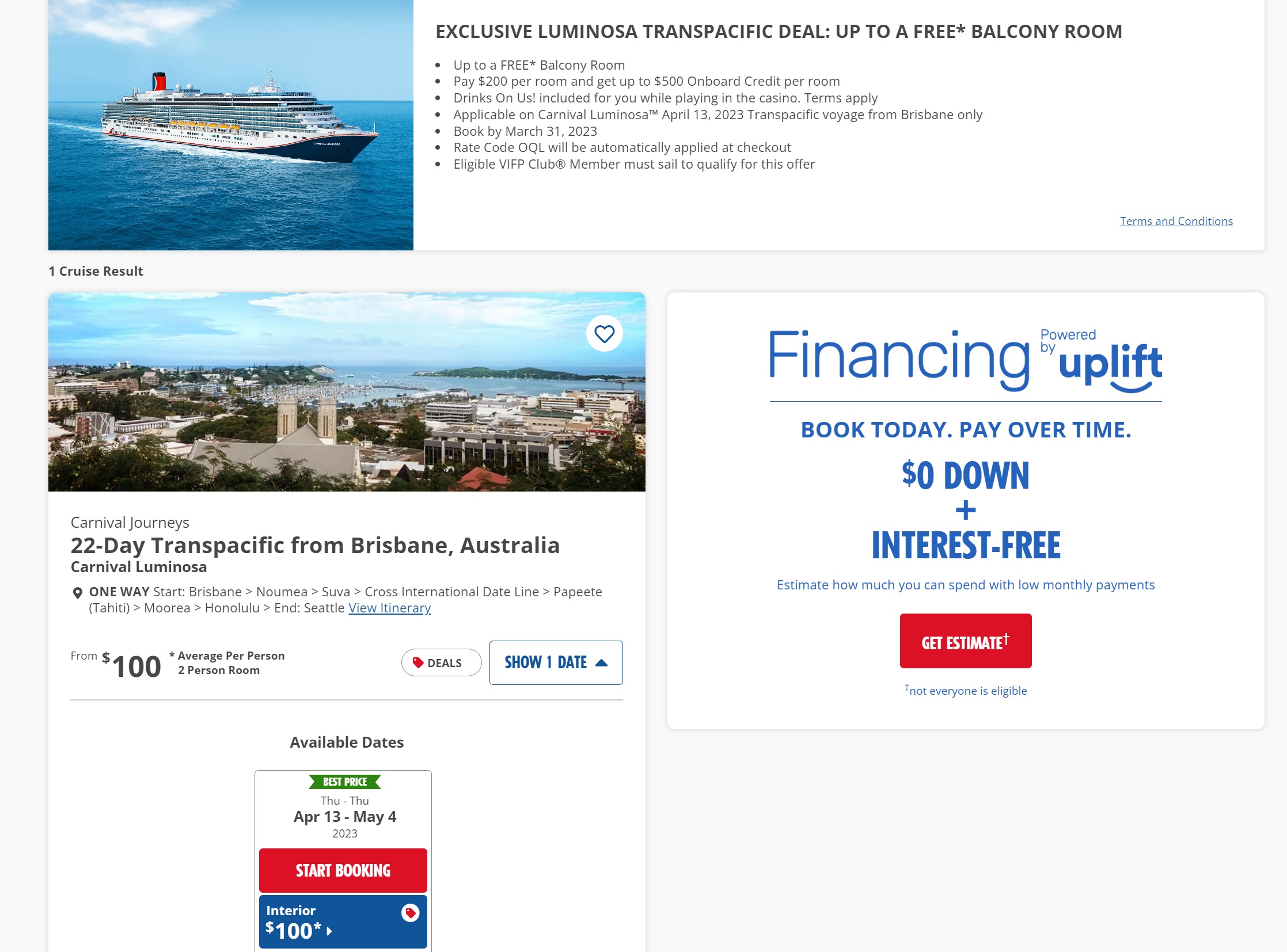 It's worth noting that these "free" cruise offers aren't all created equally: they aren't all exactly free.
I've covered the total costs of the Carnival deal before. The "free" cruise offer takes out the cruise fare, but you still pay costs like taxes and daily gratuities. In short, you'll pay:
$200 nonrefundable deposit that you get back as a $200 onboard credit
Port taxes for each guest (which range based on ports — my 10-night European cruise came with about $90 per person in taxes, some itineraries can be $200-$300 per person in taxes depending on where you go)
An extra person supplement for more than 2 passengers (typically $200-$300 each for the 3rd and 4th passengers, but YMMV)
Daily gratuities. This ranges from $14.50 to $16 per person per day for standard cabins (it costs more for suites).
Any costs incurred onboard like alcoholic drinks (except when playing in the casino) and any upgraded dining options you choose
It still works out to be a killer deal in many cases. For instance, my 10-night Carnival cruise to the Greek Islands, Turkey, Sicily, and Naples would have cost about $680 for two people and came with $200 in onboard credit and $200 given to us in cash as "free play" money in the casino. And we used a couple of credit cards with offers for $40 back on $100 or more with Carnival to pay the initial $680 (over separate payments), so in reality we paid less than $680 for the first two passengers. After the onboard credit and free play it was awfully close to nothing for the first two passengers (because we brought our kids, it ended up being a bit more).
Circling back to that specific Carnival Luminosa offer on the transpacific cruise pictured above, it would come to $588 for two people plus $638 in gratuities for a total of $1,126.40 for a 22-night cruise that comes with $500 in onboard credit.
That cruise is an outlier in terms of value — and as you can see, my offer was only for an interior room. When I initially got the free balcony offer, I had the same pricing for a balcony cabin.
I won't assume that you'll snag a 22-night balcony room with this offer. Instead, I'm counting a 7-night cruise in my calculations for total free nights since it should be pretty easy to find a qualifying 7-night cruise offer, though note that availability ebbs and flows. I saw the same cruise offers come and go multiple times. See How to cruise for free (or close to it) with Royal Caribbean and Carnival for more detail.
The good news is that for now, the Holland America and Princess matches are still available, but since both as owned by Carnival it might be worth considering them sooner rather than later.
Caesars Diamond to a 12-night Holland America free cruise (sail through 12/31/23)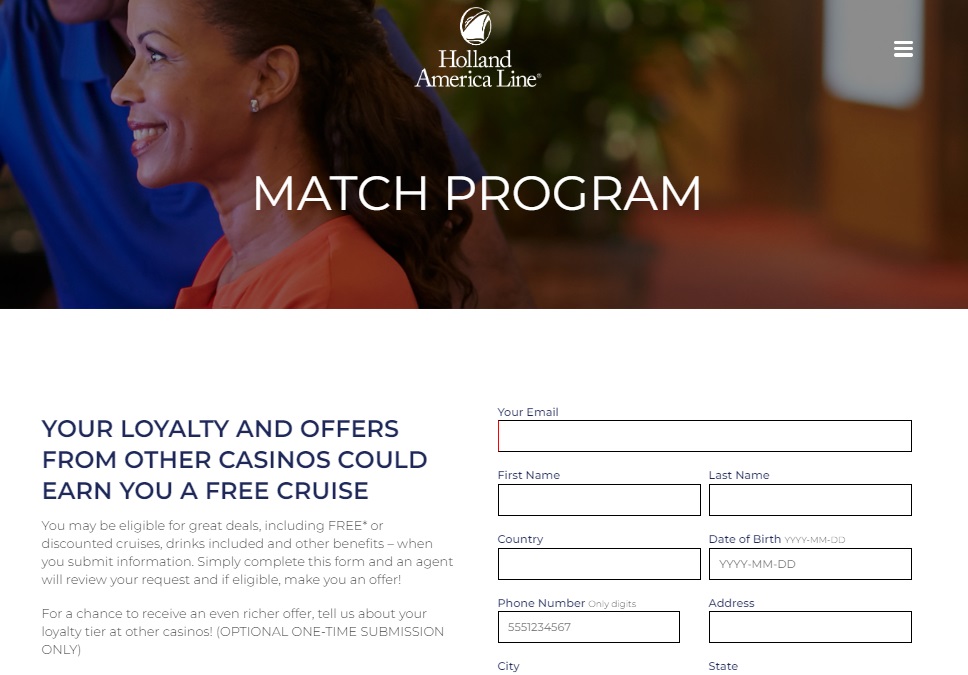 Holland America has been offering a match program whereby they have been offering many readers with Caesars Diamond status a complimentary interior cabin and $100 in freeplay with drinks for 2 while playing in the casino on eligible sailings to Alaska, Mexico, Caribbean, Coastal, and Canada/New England on 2023 sailings. We wrote about this match here. You can submit your request for this match here. The offer is valid for sailings up to 12 nights (though land & sea cruises are excluded) through 12/31/23 (still confirmed to be the expiration date as of offers received in September 2023).
My wife submitted a screen shot from her Caesars account that showed her name and Caesars Diamond status and number and she received the complimentary cruise offer within a few hours, but processing time has increased to 1-2 weeks.

Note that those who have recently sailed with Carnival or Holland America and not gambled much may not qualify for the free cruise offer.
Caesars Diamond to a free Princess cruise (up to 10 nights, sail through 3/31/24)
Princess cruises is offering a match that looks identical to the Holland America match above. Both cruise lines are owned by Carnival and their match submission systems seem to be the same. You can submit your request for this match here.
Reader Mark in the comments reports receiving an offer for a complimentary interior cabin valid on eligible sailings to Alaska, Mexico, Caribbean, Coastal, and Canada/New England on 2023/2024 sailings (blackout dates may apply). He further reports that it is valid for sailings until March 31, 2024.
My wife and I both tried submitting for this offer (She submitted Caesars Diamond and I submitted Ocean Prime and MGM Gold) and we each only received an offer for up to $200 in free play per person for the 1st and 2nd guest only "Based on status with [their] sister brands". I interpret that to mean that I didn't gamble enough on Carnival for Princess to want to give me a free cruise, but it might be worth submitting this if you haven't cruised with Carnival or Holland America within the past year or two. I assume that Caesars Diamond will be successful based on data points with the very similar Holland America match, but I don't know for sure if one may be more likely with other casino statuses.
Caesars Diamond to free 4-night stay at Atlantis Bahamas
One of the benefits of Caesars Diamond status is a complimentary stay at Atlantis in the Bahamas. What you get depends on when you go.
First of all, if you go during March, April, or July, you only get a Buy 2 nights, Get 2 nights free deal in The Coral Tower.
If you go during February, June, August, November, or December, you get a complimentary 4-night stay in The Coral Tower and $100 in slot free play. If you go in January, May, September, or October, you get a complimentary 5-night stay in The Coral Tower and $150 in free slot play.
Note that you will still pay the resort fee, which I believe comes to $66 per night. Food on-property is said to be quite expensive, so think of this has a highly discounted stay rather than free, but also much less than the retail price. See this MilesTalk post for more detail.
Caesars Diamond $100 Celebration Dinner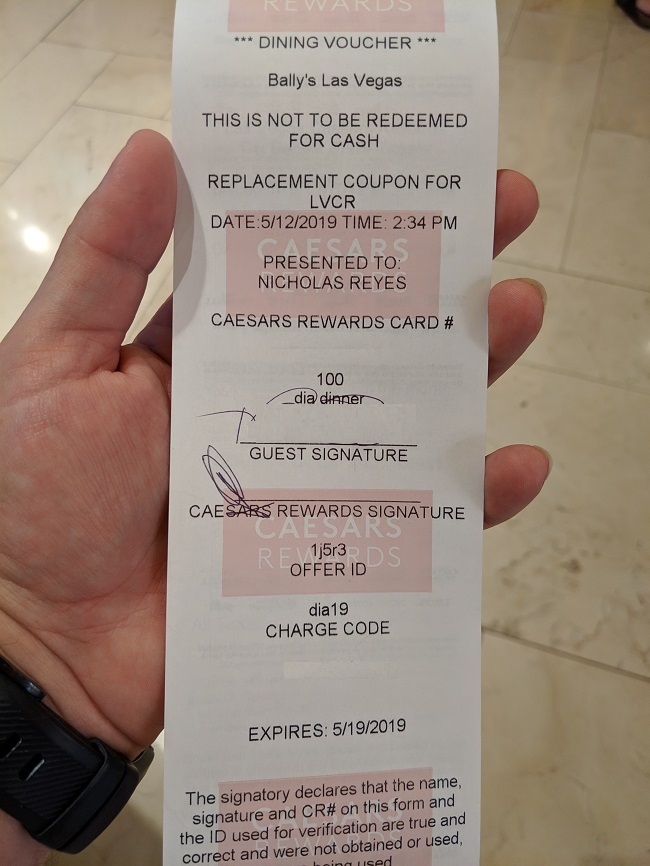 One of the benefits of Caesars Diamond status is a Diamond "celebration dinner", which is a $100 dining credit that can be used at select restaurants at Caesars properties.
I've both written about this benefit and used it in Las Vegas years ago (See: Caesars Diamond Celebration Dinner: Easy to use and worth the match) and I recently checked up on it in Atlantic City and found that there are quite a few options there for the dinner. My wife and I both have Caesars Diamond status and we were able to verify that we have the Diamond Celebration dinners loaded to our accounts, so at some point we'll enjoy a nice $200 dinner thanks to Caesars Diamond status.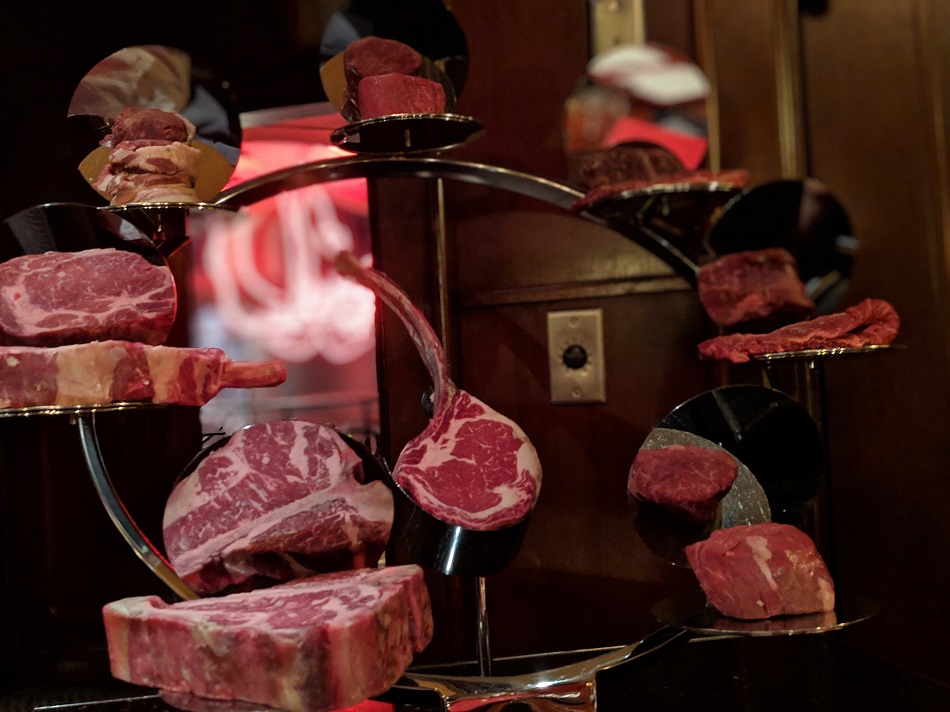 Note that this works at some Caesars properties outside of Atlantic City and Las Vegas also, so it's worth looking around if you'll be visiting another city with a Caesars property.
Caesars Diamond or MGM Gold to Hard Rock Rock Royalty / Unity Icon (2 free nights)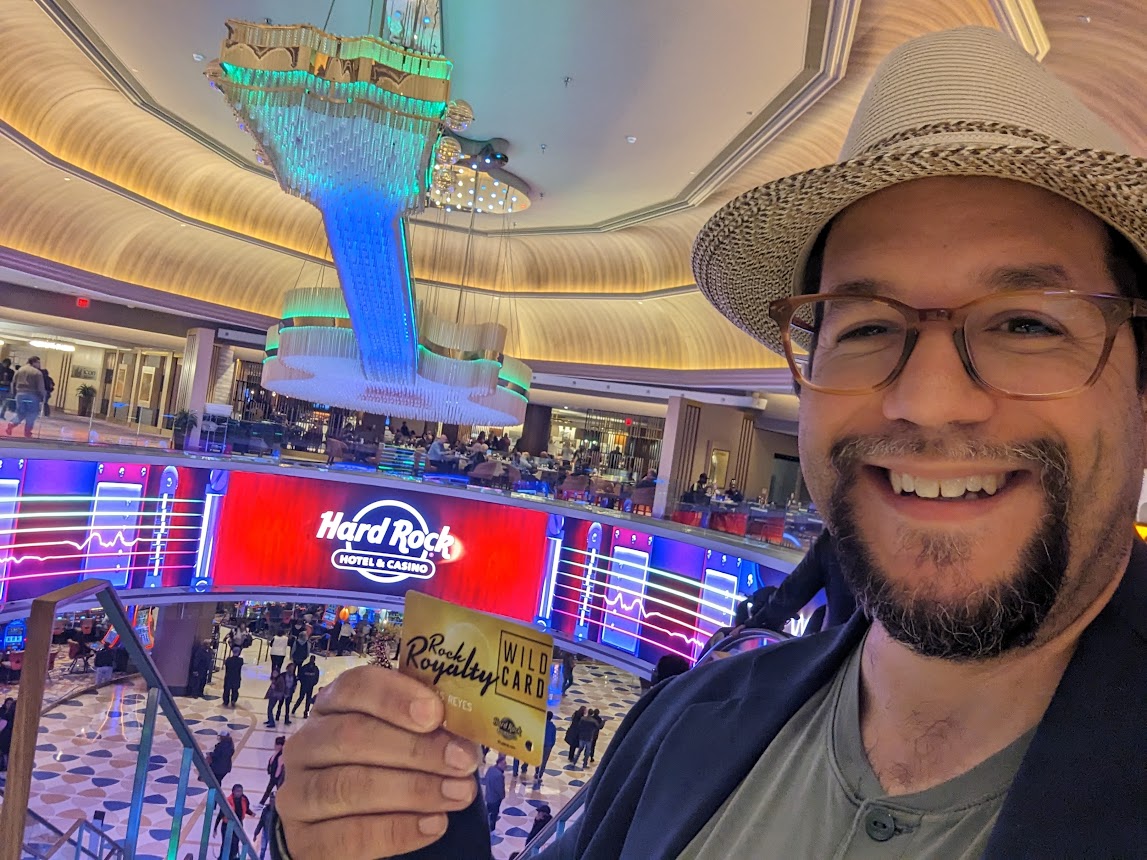 This match must be done in person at a Hard Rock casino. I recommend doing this in Atlantic City.
First, you go to Caesars Atlantic City to print your Caesars Diamond card. There is a self-service kiosk next to the Caesars Rewards desk where you pop in your driver's license and it pops out your Caesars Rewards card. If you've driven to Caesars, you'll get free parking on the way out by showing your Caesars Diamond card. If you instead have MGM Gold status, you can print out your MGM Gold card at Borgata Hotel & Casino in Atlantic City.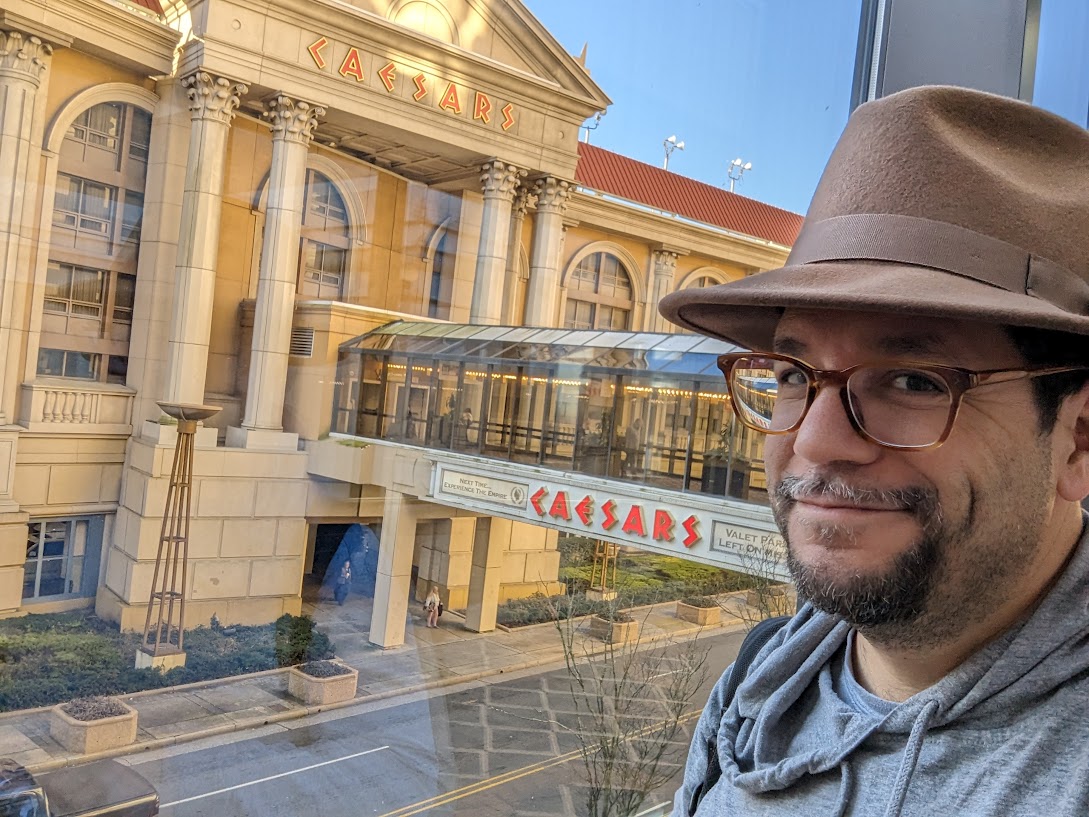 You next bring your Caesars Diamond card to the Hard Rock Atlantic City. Hard Rock charges for parking on the way in, so the smart play here is to valet park (thanks to a member of our Frequent Miler Insiders for this suggestion!) because you'd pay for valet on the way out — and by that time you'll have Rock Royalty status and thus won't pay for valet parking (or self-parking in the future).
Go to the players club desk at Hard Rock Atlantic City (it already has "Unity Rewards" signage, though they are still on the old loyalty program as of the time of writing). You explain that you'd like to sign up for a players club card (this is free) and that you have status with Caesars and you understand that they are matching and hand over your driver's license and Caesars Diamond card.
Hard Rock will match you to Rock Royalty, which is their highest tier apart from the invite-only X tier. Note that they were scheduled to migrate to the "Unity" program, in which case you would receive "Icon" status (effectively the same).
Hard Rock Rock Royalty comes with a complimentary 2-night stay at Hard Rock Atlantic City. You'll need to book that in advance. According to the website, it is available any night of the week, but Saturdays may be a challenge to find availability. Note that this benefit can be booked starting 72 hours after the match.
Hard Rock is also giving new members who match to Rock Royalty status a $50 slot machine free play credit. The way this works is they load $50 in monopoly money ("free play credit") to your players club card. You pop the card in a machine and load the funny money to the machine. Then, you must complete $50 worth of spins and then you can cash out whatever is left (so if you play $1 per spin, you'll need to complete 50 spins; if you play $0.25 per spin, you'll need to complete 200 spins, etc). If you want the highest chance of walking out with as close to $50 as possible, I think your best bet is playing $0.25 video poker at the maximum of 5-credits (spinning $1.25 per hand, which would require 40 spins).
Believe it or not, it is very tough to keep track of 50 spins. But this past weekend, my wife walked out with $48 and my sister-in-law walked out with $35, so it's possible to cash out most of the $50.
On the way out of the resort, show your Rock Royalty card at valet to get out for free (you should probably tip the valet person though with a couple bucks from your slot machine winnings).
Hard Rock Rock Royalty to Ocean Prime (2 nights in Atlantic City + 2 nights at Resorts World Las Vegas + 10-night free cruise, sail by 7/1/24)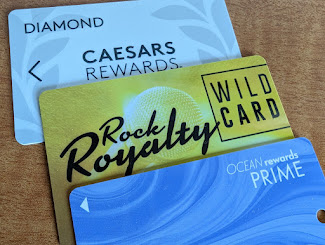 Next stop is Ocean Casino Resort in Atlantic City. Go to the Ocean Rewards desk there and run the same drill — you'd like to sign up for a players club card and you have Hard Rock Rock Royalty and understand that they match.
Ocean will match you to Ocean Prime status. This is awesome because Ocean Prime gets you:
Free 2-night stay at Ocean Casino Resort (valid Sunday through Thursday). You can book this after 72 hours have passed since matching.
Free 2-night stay at Resorts World Las Vegas, which comes with a $100 dining credit and $100 free play credit. This can be booked starting on the 15th of the month following the month in which you match. Note that the partnership with Wynn ended on 7/1/23.
Free pass to the Avila Lounge at Ocean Casino Resort (a buffet with carved prime rib, full bar, etc). This pass is valid for 2 guests and it is valid for 72 hours after matching.
Free cruise of up to 10 nights anywhere in the world on MSC in an ocean view room for two people. You pay no port taxes, just a $400 deposit that you get back as a $400 onboard credit. You will pay gratuities of $10-$15 per person per day. This can be booked starting on the 15th of the month following the month in which you match. I wrote about our experience booking this offer here. Current members must book and sail by 7/1/24.
The complimentary nights at Resorts World could be an awesome benefit if you're able to book on a weekend. I stayed at both the Conrad Las Vegas and Crockfords Las Vegas this year and I really liked the Resorts World complex; I'll be glad to return. The star of the show though is the free 10-night cruise on MSC. It's a great deal because you don't even pay taxes, just the deposit that you get back as onboard credit and gratuities. You can probably upgrade to a balcony room for a reasonable fee (YMMV depending on sailing). As this news broke, I was boarding a free 10-night MSC cruise in Europe (which I got via the now-dead Rivers Philadelphia match). My wife booked an ocean view and I booked a balcony room on the same cruise and her ocean view seems to be larger, though I'm sure this will vary by ship and individual room selection.
Note that if you want to bring more than 2 people, additional guests cost $359 each. We've had conflicting reports on blackout dates. Some phone agents claim that certain periods are "blacked out" and cost an additional $250 per passenger, but if you simply hang up and call again the next agent may not assess that fee. Generally speaking, if a cabin is available for sale, it seems to be available to be booked with this offer. You can upgrade to a balcony or suite for additional fees.
What makes this offer particularly notable is that it is very nearly net "free". You do not pay port taxes. You may have to pay a $59 upgrade charge (per cabin) for the "Fantastica" experience, which includes the ability to choose your cabin and dining time (the "free" offer includes the "Bella" experience, where the cruise line assigns your cabin and dining time at a later time, but that isn't always available). You also pay the $400 deposit that you get back as an onboard credit. That onboard credit could be used to make purchases while on the ship or it could be loaded to a slot machine if you charge the load to your room. How long you play that machine before cashing out is up to you.
If you're going to sail with MSC and you have Hyatt Globalist, Hilton Diamond, or Marriott Platinum status, you can do a status match with MSC. This can be worth it because if you get matched to MSC Diamond status, you'll get a complimentary specialty dinner for 2 for one night, a bottle of sparkling wine, a cocktail reception with crew, and some other goodies. I got a bottle of prosecco, a plate of macarons, and some dark chocolate on my MSC cruise. Status match at this link.
It's worth knowing that Ocean Prime status has a 6/30 expiration date. If you matched after 3/1/23, your status is set to expire on 7/1/24. You must book and sail by that date.
Ocean charges for parking on the way out, but show your Ocean Prime card and you won't pay for parking.
Other matches?
Surely these can't be the only matches currently on offer. There are a number of other Philadelphia-area casinos that may offer matches (perhaps these present faster paths to Rivers Black status, but we didn't have time to drive around to more casinos). Furthermore, Rivers has locations in a number of places. The member of our Facebook group who previously matched to Rivers Black and booked the MSC cruise matched at Rivers Portsmouth by showing both a Caesars Diamond and MGM Gold card. It is possible that other Rivers casinos offer matches, though you'll want to ask about what you'll get before completing the match to be sure you're getting what you want.
I imagine there are more opportunities out there. Atlantic City and Philadelphia offer a number of opportunities in close proximity.
Many free nights in one-player mode
The total number of free nights you could get with these matches varies as offers change. At most recent update, this includes:
5 free nights in a 1-bedroom Vacasa vacation rental with the Wyndham Business card offer
4 free nights with the Atlantis Bahamas benefit (or maybe 5)
12 free nights with Holland America cruise match
10 free nights with Princess Cruises match
2 free nights at Hard Rock Atlantic City
2 free nights at Ocean Casino Resort in Atlantic City
2 free nights & $100 dining credit & $100 free play at Resorts World Las Vegas from Ocean Prime
10 free nights on MSC from Ocean Prime
As noted in the sections above, some of these offers may be repeatable, which could stretch your free nights even further.
Why do casinos offer matching programs and things like free cruises and stays at other casinos?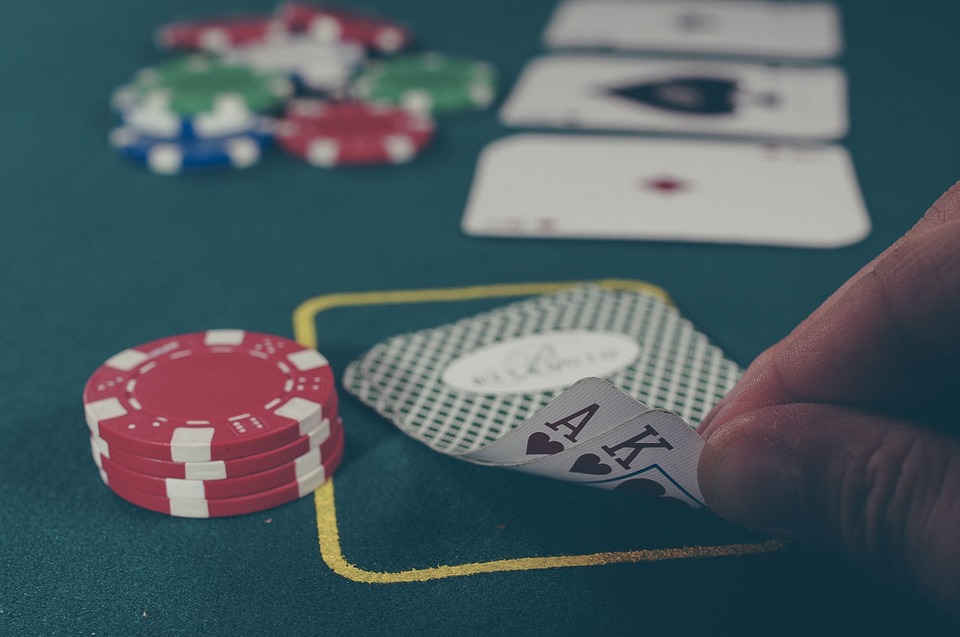 Casinos all want to draw in high roller gamblers, so they offer status matches to try to draw high rollers away from competitors in the same way that airlines compete for high-value customers with status matches.
Similarly, cruise lines are after high-rolling gamblers to gamble in their onboard casinos. Offering free cruise benefits to high-tier members of land-based casino loyalty programs increases their odds of drawing in more money in their casinos. Cross-marketing with casinos in other states offers a reason for gamblers to be loyal in their home markets since it will give them a benefit when they inevitably visit Las Vegas.
As is the case with many of the games we play, we can leverage credit cards and loyalty programs to get outsized value. In this case, thanks to the ability to match statuses between casinos, we can appear to be like a high-roller gambler that casinos and cruise lines covet.
Bottom line
This resource is obviously very long, but this illustrates why I love this game: if you learn how to play it, you can vacation like a high-roller for very low-roller stakes. The current matching opportunities make for a boatload (or several boatloads) of free nights in casino hotels and on cruise lines. The average person would be hard-pressed to find the vacation time to accommodate all of the free matching offers that can sprout from a single $95 credit card, though note that in some cases you may be able to book further out (the Carnival offer, for example, was good for cruises about a year out in my experience). If you are retired or work from home and you're playing the game in 2-player mode, imagine doubling everything in this post. While I don't know that I'll love every free stay or cruise, that's a double-down that I can get behind.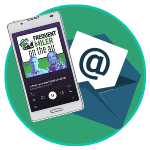 Want to learn more about miles and points?
Subscribe to email updates
 or check out 
our podcast
 on your favorite podcast platform.