The challenge continues! Nick kicked off our #StayCaytoFarAway challenge yesterday with his Destination Cooking video.
I was really disappointed after watching his video as it was annoyingly good. Part of the competition is decided each week by the number of likes a video gets on YouTube and he earned my begrudging like because I liked it so much.
There are four different themes in the competition and throughout the week we're each taking a different theme. So while Nick's video this week was Destination Cooking, my video challenge was to share a Travel-Themed Life Hack.
I'm a fairly practical person, so I figured I'd create a video that might help you with your future travel plans. I'm sure a lot of you can't wait to travel again, but will probably travel domestically for the time being, perhaps going on road trips until it feels safer to fly.
Well, after spending the last (almost) 2.5 years on a road trip where we've lived in hotels and Airbnbs, the Travel-Themed Life Hack in my video has been a lifesaver. Introducing my portable kitchen:
Was that a Travel-Themed Life Hack or a Life-Themed Travel Hack? I don't know, but hopefully it was interesting and/or helpful regardless!
I was trying to keep the video to as close to three minutes as possible, so I didn't have enough time to get into too much detail as to why you'd want a portable kitchen. Needless to say, this wouldn't be a great option when flying across the country if you have an Instant Pot inside because it'd likely get beaten up by baggage handlers. If you're road tripping though, this comes into its element.
While we stay in Airbnbs and hotel brands (e.g. Residence Inn, Candlewood Suites, etc.) that include kitchens in every suite fairly often, at least half the year we stay in regular hotel rooms with no kitchen facilities. I always make sure they have a mini fridge, but sometimes that's it – not even a microwave in the room (I'm looking at you Hyatt Place).
Living on take out would be pretty expensive because $10 Amex Gold dining credits and $15 Amex Platinum Uber Eats credits will only get you so far. Being able to make meals in our hotel room without relying on microwave meals was therefore essential for our road trip.
Hence why I created our portable kitchen, with the Instant Pot being particularly vital. In case you're not familiar with the Instant Pot, it's a pressure cooker but so much more. In addition to the pressure cooking function, it can saute food, be used as a slow cooker, a rice cooker and lots more besides. Unless you need to bake or deep-fry something, you can make virtually any meal using an Instant Pot.
To give an idea of how useful it is, here are some of the meals I regularly make solely using the Instant Pot:
Beef stroganoff with egg noodles
Burrito bowls (ground meat, beans & rice)
Chili
Spaghetti with meat sauce
Hoisin salmon with rice and broccoli
Chicken salsa verde with rice
Whole chicken
An added benefit to using an Instant Pot for these types of meals is that you're not left with loads of pots and pans to clean afterwards – just the inner metal pot.
In case you're wondering what the case is that contains my portable kitchen, it's a Crop In Style XXL Rolling Tote-Black which is normally used for crafts, scrapbooking, etc. It's perfect for using for our kitchen due to the amount of space inside, along with all the storage options on three of its sides. It's an incredibly sturdy case with strong handles to lift it, as well as an extending handle to wheel it along outside. Before COVID-19 hit, we moved "home" every 5-7 days, so this case has come in and out of hotels and Airbnbs with us more than 100 times over the past couple of years and it's still in excellent condition. It looks like it's out of stock from most retailers, so I don't know if it's been discontinued, but Oriental Trading shows it as still being in stock at the time of writing this post in case you wanted to get one for yourself.
For most people going on a road trip, a case this large isn't going to be necessary. I wanted it as large as possible seeing as it would have to contain everything we needed from a kitchen for five years or more. Having said that, one problem I had with other cases is that they either opened from the front or they simply didn't have enough room to contain the Instant Pot. Instant Pots come in different sizes though, so if you have a smaller model, that might make it easier to find a suitably-sized travel case. The fact that this particular case opens from the top means the Instant Pot can always sit upright and so doesn't get shaken around a lot.
If you have any questions about my portable kitchen, let me know in the comments below. Be sure to click through to YouTube to like the video if you found it interesting and/or helpful as I need all the help I can get to beat Nick this week 😉
As a reminder, here was the outline:
Challenge Details: Create a video showing off one or more life hacks that relate to travel. Using travel amenity kit eyeshades as a COVID-19 face mask is an example of the type of thing we're looking for. Another example is folding a hotel key card to make a usable phone stand. Of course, the goal here is to come up with new travel related life hacks so those two are off limits.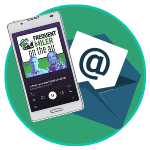 Want to learn more about miles and points?
Subscribe to email updates
 or check out 
our podcast
 on your favorite podcast platform.