With less than two months remaining in 2022, it's time to take care of those things you've been putting off!  Personally, for example, I have airline fee credits still available on several credit cards.  If I don't spend those credits by the end of the year, they'll be lost.  Similarly, I have hotel free nights soon expiring, elite status that needs to be earned or lost, and elite benefits that need choosing.  Here's a checklist of points & miles related things that need to be done before its too late..
Earn elite status
Most loyalty programs have calendar year requirements for earning elite status.  Airlines typically require flying a certain number of miles or segments, along with spending a certain amount of money with the airline.  Hotel programs usually require staying a set number of nights.  In most cases, those requirements must be met in 2022 in order to have elite status in the 2023 elite year.  One major exception: With American Airlines, you now have until the end of February to reach your elite status goals.
Here's my current progress towards the elite programs I care about:
Hyatt Globalist: Done. I've already completed the required 60 nights for Globalist status through a mix of stays and credit card spend (the World of Hyatt credit card, which I have, offers 2 elite qualifying nights with each $5K spend; and the World of Hyatt Business credit card, which I don't have, offers 5 elite qualifying nights for each $10K of spend).  If you use Hyatt credit cards to earn elite nights, the nights are supposed to post to the calendar year in which the spend happened, not when your statement closes.  For example, if you buy something in late December of this year and if that purchase puts you over the $5K or $10K threshold, you should get the elite night credits this year rather than next year even if your credit card statement closes in January of next year.
IHG Diamond: Done. Thanks to subscribing to their Ambassador program, my Diamond status was extended to the end of 2023.
Marriott Titanium: In progress.  After accounting for nights already booked, I need 3 more elite qualifying nights.  Since writing the post "Should I go for Marriott Titanium Elite Status?" I realized that I have one more potential trip that might get me over the edge to Titanium status.  If not, I'll do a cheap mattress run, or spend my way to the extra nights with the Bonvoy Boundless card which offers an elite qualifying night with each $5K spend.
American Airlines Platinum Pro: I still have a long way to go, but luckily I have until the end of February to get this done.  I'm just short of the number of Loyalty Points needed for Platinum status (75K) and will need 50K more by the end of February to get to Platinum Pro.  Currently I'm just focused on getting the last few points needed for Platinum so that I'll earn a 60% mileage bonus (vs 40% with Gold status) on a paid flight in January.  I'm hoping that big opportunities will appear between now and late February to snag the extra 50K Loyalty Points to get to Platinum Pro.  If not, it's really no big deal to me at all if I miss that goal.  See: AA's Loyalty Point Pursuit game — Earn status w/out flying.
Delta Silver for me: After many years of earning top-tier Diamond status, I'm settling for lowly Silver status this year (which was earned from actual flying).  Thanks to pandemic roll-overs, I have hundreds of thousands of Medallion Qualifying Miles (MQMs) ready to go and these will roll over into 2023.  My plan is to spend $25K on a Delta Platinum or Delta Reserve card in January in order to bump myself up to Platinum Elite status before my Diamond status expires at the end of January.  For details about why I'm not pursuing Delta Diamond status anymore, see: Dumping Delta Diamond [On Greg's Mind].
Delta Diamond for my wife: By the time I realized that Delta Diamond status was no longer worth pursuing (primarily because Delta has made the Global Upgrade certificates both less valuable and much more irksome), we had already manufactured more than half the $250K Delta card spend needed to give her a Diamond waiver.  So, we went ahead and completed the spend for this year.  Next year is another story.  Delta will have to make big improvements to lure us back into the Diamond treadmill.
United Silver: In progress.  I've been getting United Silver status each year simply by earning Marriott Titanium status.  That's the plan again this year.
Choose elite choice benefits
Some elite statuses come with an annual choice benefit where you can select from among a few key benefit options. Be sure to make your choice selections ASAP.
Begin your pursuit of a Southwest Companion Pass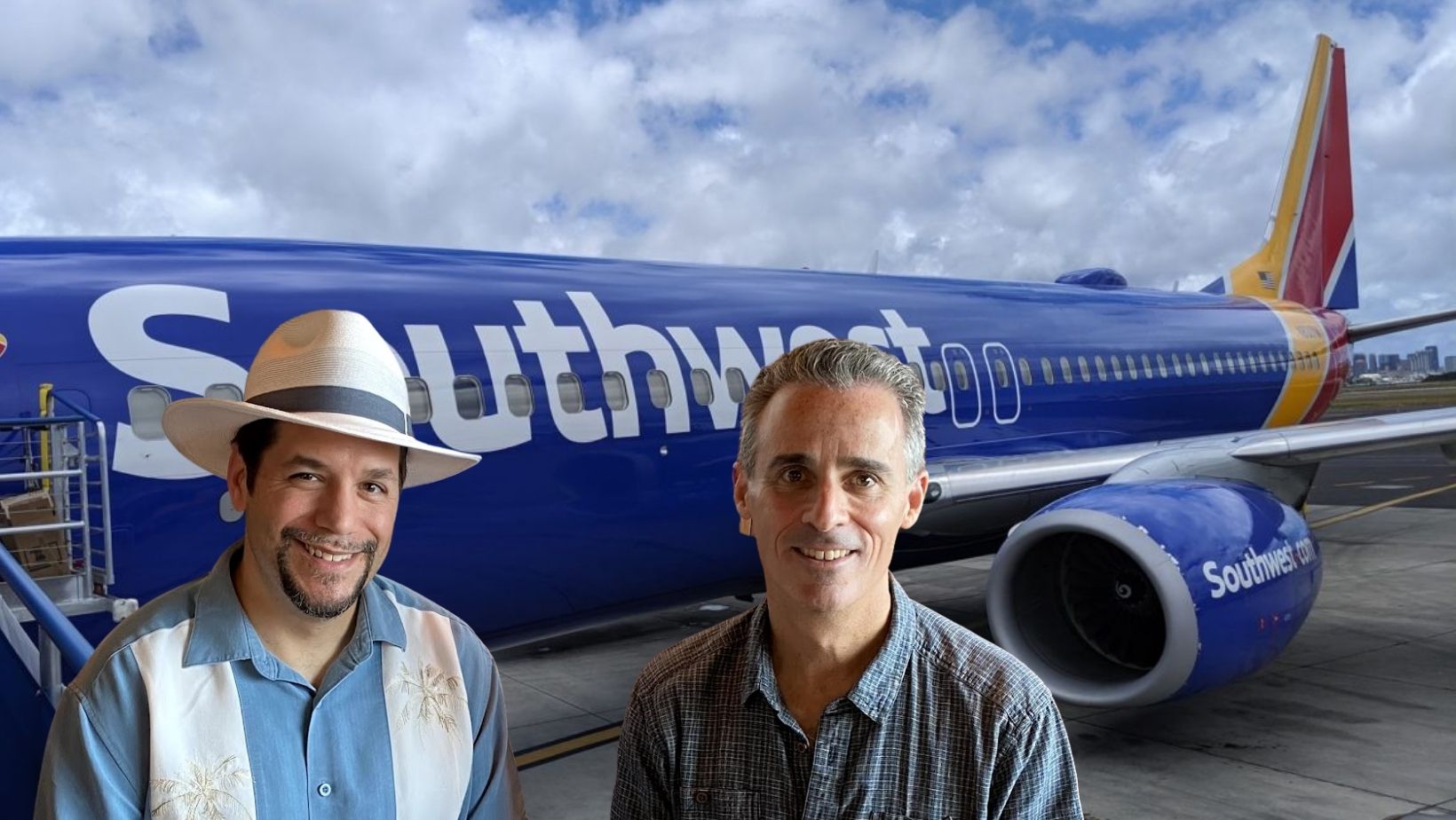 Now is the time to set the wheels in motion towards your Southwest Companion Pass. The end of the calendar year is the ideal time to sign up for Southwest credit cards or to refer friends in order to earn huge numbers of qualifying points quickly and at the start of 2023. If you earn the Companion Pass early enough in the calendar year, it will be good for almost 2 full years: the rest of the year in which it is earned and all of the next.
For details, see these posts:
Use free night certificates
Don't let your free nights expire!  Log into your account to see what certs you have and when they expire.  I use AwardWallet to alert me when free nights are close to expiry, but that doesn't mean I always find a good use for them.  Right now I'm scrambling to find uses for a Hyatt cat 1-4 cert and three 40K IHG certs (and not the kind where you can add points) that expire at or near the end of this year.
Holiday gifting: If you have free night certificates that you can't use for yourself, consider gifting them to someone else.  You didn't know what to get for that special someone anyway, so how about a night or two in a mid-tier hotel?  Both Hilton and Hyatt allow gifting free nights directly; IHG doesn't technically allow it but people have reported success calling IHG to book a free night for someone else.  More here: Gift hotel points, free night certificates, and award nights booked with points: Rules by program.
Use airline incidental credits
Amex airline incidental credits, like those that come with the various flavors of Platinum cards or with the Hilton Aspire card, are offered by the calendar year. These credits post based on the date that the charge is made on your card; even if you make a charge on 12/31 and the charge doesn't post to your statement until a few days into 2023, it'll count against your 2022 cap as long as the charge date shows December 31st or sooner — though beware that charges you make on 12/31 could show up on your account as 1/1/23. Don't leave it until the very last minute. Also make sure you know which airline you've chosen (or you might be able to get a chat rep to change your chosen airline, but YMMV). See: Amex airline fee reimbursements. What still works?
Chase Ritz-Carlton incidental credits are also based on calendar year and the date that the charge hits your statement. Be sure to charge any incidentals by December 31st and you should be able to apply your 2020 credit even if the charges don't settle for a few days into 2021.
Bank of America Premium Rewards incidental credit works like Amex and Chase above in that the credit runs from January 1st to December 31st. Be sure to place qualifying charges by December 31st. As a data point, deposits to a United Travel Bank have worked in the past (same has been true with Amex cards that offer airline fee credits).
Citi Prestige travel credits also work based on calendar year spend (this is a change from pre-2020 when they based the spend on December to December statement close dates).  For 2021 and 2022, Citi expanded this credit to include spend at supermarkets and restaurants.
Cardmember Year credits…
The following travel credits are based on cardmember year rather than calendar year. So, with these, the deadline depends upon when you initially signed up for each card:
Capital One Venture X: Earn up to $300 in statement credits annually for bookings made through Capital One Travel.
Chase Sapphire Preferred: Earn up to $50 in statement credits annually for hotel stays booked through Chase.
Chase Sapphire Reserve: Earn up to $300 in statement credits annually for all travel spend.
Hilton Aspire Resort Credit: $250 Hilton Resort Credit per membership year
US Bank Altitude Reserve: Earn up to $325 in statement credits annual for all travel and dining spend.
Use other annual / monthly credits
American Express Business Platinum:

Dell $200: Use the semi-annual $200 Dell credit by December 31st. Be sure to enroll online for this benefit if you have not already done so.  Note: Dell won't charge your card until the item ships.  If ordering near the end of the year, make sure to only buy items that ship immediately.
Wireless $10: Get up to $10 per month back when you use your card to pay for wireless telephone service.  Make sure to visit the benefit page to enroll.

American Express Platinum:

Prepaid Hotels $200 Credit: Use your $200 calendar year credit towards prepaid Fine Hotels & Resorts or The Hotel Collection hotels.  Note that you can book now for a stay that takes place in 2023.  See: Searching for deals through Fine Hotels & Resorts, Find your own Fine Hotels & Resorts deals, and The Hotel Collection Mini Guide: Prepaid rates earn hotel points/perks, and more surprising finds.  No need to enroll.
Saks $50: Use the $50 semi-annual Sak's Fifth Ave credit, just be sure not to use it on gift cards as Amex has clawed back the credit on gift card purchases even months after closing the card.  Don't forget to enroll in this benefit!
Uber / Uber Eats $35: Use the monthly Uber / Uber Eats credit. Remember that December's Uber credit is $35 rather than the usual $15.  Enroll simply by adding your Amex card to your Uber wallet.
Digital Entertainment $20:  Earn up to $20 per month in credits for subscriptions to Audible, Disney+, The Disney Bundle, ESPN+, Hulu, Peacock, SiriusXM, and The New York Times. Enroll here and then setup the service to charge your Platinum card monthly.  Note that the maximum rebate is $20 altogether — you do not get up to $20 per service.

American Express Gold

Misc $10 Dining: Use monthly $10 credit valid at Goldbelly, Wine.com, Milk Bar, Shake Shack, Seamless/Grubhub, or Cheesecake Factory.
Uber / Uber Eats $10: Use the monthly $10 Uber / Uber Eats credit. Enroll simply by adding your Amex card to your Uber wallet.
Apply for Amex cards
December is the ideal time to apply for American Express cards that come with annual credits. That is because those credits are based on calendar year. It is therefore possible to open a card with incidental credits now and potentially use that incidental credit for 2022 by December 31st and then receive a new incidental credit starting on January 1st, 2023. Since your next annual fee would not be scheduled to post until December 2023 or January 2024, it would be possible to use your annual credit again in January 2024 and cancel the card within 30 days of the annual fee charge if you decided that you no longer wanted to keep it. In the current environment with Amex sometimes clawing back credits even months after a card is closed, I'd recommend some caution here. Still, it should at the very least be possible to double dip.
Transfer / pool points
Some programs limit how many points you can transfer between members within a calendar year. If you're looking to pool points for a valuable award, consider making a transfer before December 31st so that you'll have more capacity to transfer beginning next month.
Citi ThankYou points: You can transfer up to 100,000 Citi ThankYou points per year and/or receive up to 100,000 Citi ThankYou points per calendar year. Keep in mind that points received through a transfer from another cardholder expire after 90 days. Only transfer points with an immediate use in mind. That said, if your chosen award will require sending over more than 100K points, you should be able to transfer up to 100K by December 31st and then a fresh 100K beginning on January 1st.
Marriott Bonvoy Rewards: You can transfer up to 100,000 points per calendar year to another member and you can receive up to 500,000 transferred points per calendar year. That will reset on January 1st, so make any necessary transfers now if you think you might need to move more points than those caps.
Hilton Honors: Each account can receive up to 2,000,000 Hilton Honors points in a calendar year and you are limited to six Hilton points pooling transactions per calendar year.
Redeem points or miles for annual rebates
If you have the Citi Rewards+, remember that you'll get back 10% of the points you use (up to 10,000 points back) per year. This means that if you have your points pooled with a Premier or Prestige card and you transferred 100,000 points to an airline or hotel program, you'd get 10,000 ThankYou points back. Travel with Grant says that this rebate is based on the date your statement closes in December.  In other words, make sure to redeem a total of 100,000 points before your statement closes.  Details for how to do this are in Grant's post: Max Out 10% Citi ThankYou Points Rebate on Citi Rewards+ Credit Card (10K Annual Limit).
Make sure you've completed spend bonuses
Whether the quarterly category bonus on a card like the Chase Freedom card or a big spend bonus that's based on calendar year, you'll want to run the numbers to be sure you've made it over the hump. For example, it would be a shame to end up just under the $15,000 spend required for a Hilton or Hyatt free night certificate.
Bottom line
The end of the year can be a stressful time for everyone.  This list is intended to help a little bit by providing a checklist of things to get done before its too late.  That said, my advice is to try not to sweat it too much.  If you're feeling stressed, give yourself permission to forget about the small stuff.  Didn't take advantage of this or that $5 or $10 deal?  That's OK!