What would be your ideal card combination to create an incredible adventure using just 3 credit cards and their associated welcome bonuses? That's the task that Greg, Stephen and I are facing, but with a twist: once one of us selects a card, it is out of play for the other two. Should we draft a hotel card? A cash back card? A card we can use to reimburse travel expenses? Do we need a card that offers elite status? On this week's Frequent Miler on the Air, Greg and I discuss some of our anticipated strategies going in to this week's draft for our own "dream team" of cards to plan an epic journey to multiple corners of the world.
Elsewhere on the blog this week, Stephen shares the ways he slices and dices the price at the pump to fight inflation and save on gas during his full-time road trip, Greg questions whether to keep or cancel his Sapphire Reserve, you can pick up tips for how to use your Saks Fifth Avenue credit, and more. Watch, listen, or read on for more from this week at Frequent Miler.

1:25 Giant Mailbag
2:38 Awards we booked this week Link to the SimplyMiles deal we referenced:
11:22 Mattress running the numbers: Marriott Homes & Villas stacking deals
18:40 Main Event: Drafting the Dream: Strategies for drafting the best 3 card, 3 continent dream trip
51:09 Post Roast
54:21 Question of the Week: Is there a downside to having multiple car reservations and deciding at the counter which update is best?
Subscribe to our podcast
We publish Frequent Miler on the Air each week in both video form (above) and as an audio podcast. People love listening to the podcast while driving, working-out, etc. Please check it out and subscribe. Our podcast is available on all popular podcast platforms, including Apple Podcasts, Spotify, and many more.
Alternatively, you can listen to the podcast online here.
This week at Frequent Miler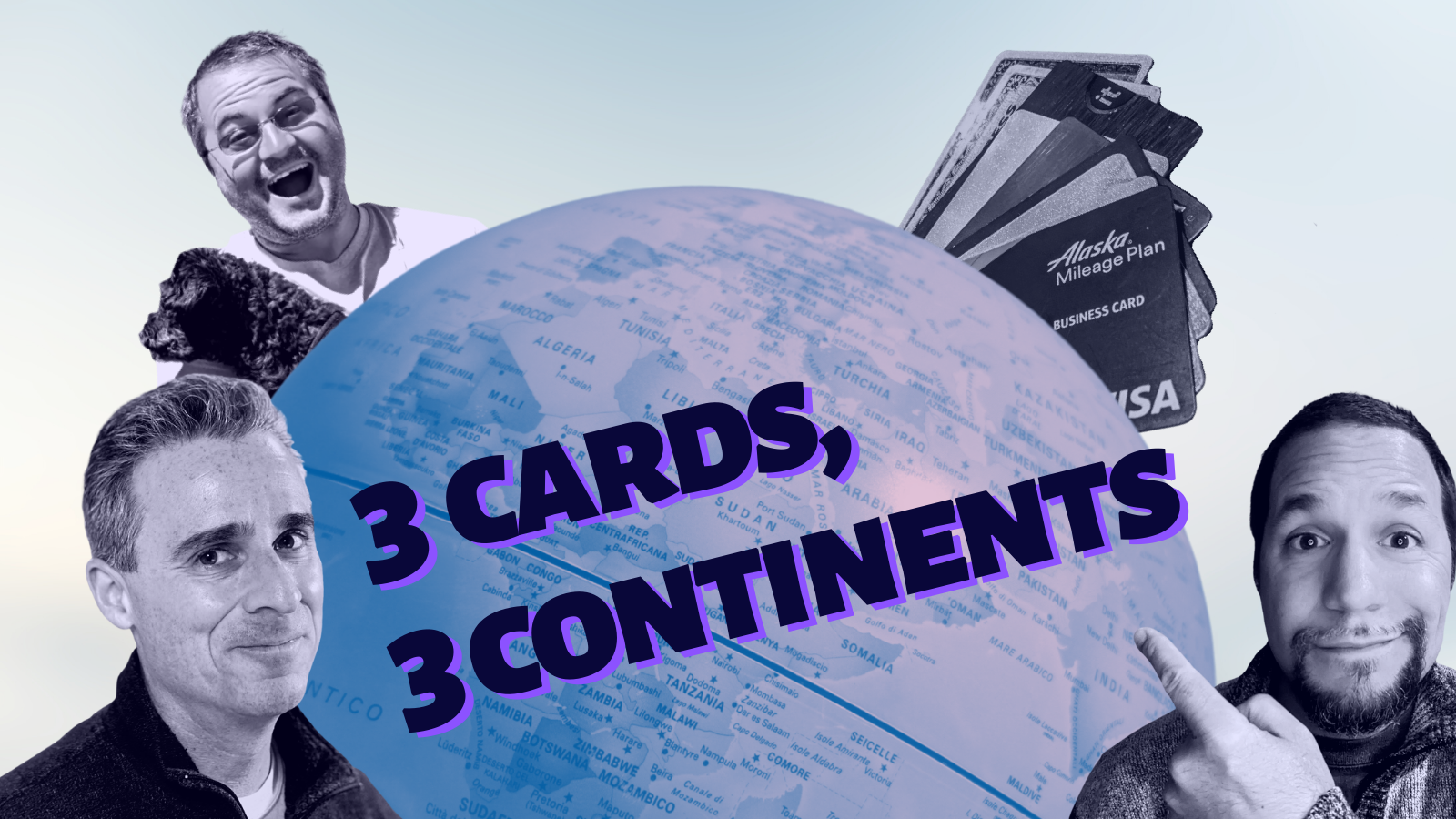 It is about to be on! It is hard to believe, but it has been almost 3 years since our popular 40K to Far Away challenge. After a couple of years of pushing off plans for a new challenge, Greg, Stephen, and I will ride again and tackle a very different type of trip: a "dream" trip to at least 3 continents (and back!) using just 3 credit card welcome bonuses. But we can't make it easy and all cherry pick the same top 3 cards on our Best Offers page — instead, we will run a fantasy draft on Wednesday, June 22nd where we take turns selecting cards and taking them off the table until we've each drafted our own "dream team" of 3 welcome bonuses (and the associated card perks that come with whichever cards we've chosen). This is going to be fun, so see the post, watch the draft, and keep an eye out as we make discoveries and plan what I imagine will be three epic trips.
While our upcoming competition might have you wondering if one of us will select the Sapphire Reserve for our virtual wallet in the 3 cards, 3 continents the competition, this week Greg questions whether he should keep the card in his real-life wallet. As I said on the show, I don't think I would keep the Sapphire Reserve if not for the fact that I write about its benefits and features (along with lots of other cards) as a blogger. However, Greg's post here shows how enough spend in the right category can move the needle even without valuing other card benefits.
Has the price at the pump put a dent in your road trip budget? Stephen Pepper and his wife are on an 8-year, 50-state road trip and as one can imagine the price of gas gas necessitated learning ways to slice and dice the price at the pump. In this post, Stephen shares a bunch of the best ways you can control costs as prices continue to rise.
One of the benefits on consumer Platinum cards is a twice-annual credit at Saks Fifth Avenue. If you wander into a Saks store, you might think it impossible to find anything inexpensive enough to make it worthwhile, but there are a lot of options if you shop online. Don't let this benefit go unused — see this post (and the comments section) for a bunch of reader ideas as to how to spend your Saks credit on something you may actually want or need.
I'm including this post in this weekend's week in review as a bit of a PSA for those who opened Brex accounts and may have missed an email this week from Brex: if you have a small business, your account is likely closing as of August 15th. You'll want to make sure to use up your points before that date — sooner rather than later is probably your best bet.
One great way to save money when you're shopping, whether online or in-store, can be to purchase a gift card with either increased rewards or a decreased cost. In an update to his extensive post about ways to those things, Stephen adds a number of new options. While I'm often hesitant to give up credit card protections on larger purchases, these techniques can be a great way to get a better deal.
Do you tip the front desk? The valet who parks your car or the one who picks it up? That's just one of the topics Greg and I tackled on our most recent Ask Us Anything. Catch this round's summary and replay in this post.
---
That's it for this week at Frequent Miler. Keep an eye out for this week's last chance deals.