You've earned a small mountain of rewards thanks to the points parade of the past few years. The next step is to feel the burn and find some great uses of those points to travel – but some highly desirable awards can be downright difficult to snag. On this week's Frequent Miler on the Air, we share some techniques to possibly make the impossible probable.
Elsewhere on the blog this week, we talk handling flight credits, whether IHG cards are worth your spend, availability to use your Hilton free night certs, and a lot more. Watch, listen, or read on for more from this week at Frequent Miler.

00:45 Giant Mailbag: Double Feature
9:29 Mattress running the numbers double feature. First up: IHG status match
16:20 A Sunbaskets stack
21:30 Main Event: Finding impossible awards
22:09 Step 1: Know your availability windows
30:25 Delta One to Europe
36:00 Family travel: Finding multiple seats
39:57 Using Flightconnections.com to identify long-haul routes
45:46 SeatSpy to hunt out availability
50:35 JetBlue Mint Class to London
54:22 ANA first class
1:00:53 Singapore Airlines premium cabins
1:04:55 Question of the Week: Am I more likely to get rid of the Amex pop-up with a different device or by thawing my credit?
Subscribe to our podcast
We publish Frequent Miler on the Air each week in both video form (above) and as an audio podcast. People love listening to the podcast while driving, working-out, etc. Please check it out and subscribe. Our podcast is available on all popular podcast platforms, including Apple Podcasts, Spotify, and many more.
Alternatively, you can listen to the podcast online here.
This week at Frequent Miler
This week's Frequent Miler on the Air was all about how to find great awards so that you can use your points fortune to lock them in. One of the techniques we definitely did not discuss was speculatively transferring points to hope you can snag availability because that's generally a horrible idea — yet that's (sort of) what I recently did. In my case, it wasn't many points, and I lay out a strategy for trying to find British Airways upgrade space. Hopefully, this gamble will pay off — but if it doesn't, I've got a couple of viable backup plans.
A spontaneous decision to book some flights for a family trip early next month led me to realize that we had Southwest flight credits about to imminently expire. Trying to use those credits to cover our flights turned out to be really frustrating. In this post and (importantly) the next one below, I lay out some strategies to try to get the most from your credits. I'm still going to have to watch some of mine expire, but hopefully you can learn from my mistakes.
In response to my post about the inflexibility and difficulty of using Southwest flight credits, several readers reached out to share a hot tip: with the recent (i.e. this week) launch of Wanna Get Away Plus fares, you can turn those inflexible credits intro transferable ones. This could be huge if you're sitting on a bunch of Southwest credits.
The X1 card sounded very intriguing to me early on and the concept itself is still pretty cool. I find it funny that Greg has found excitement in the X1 card's "Boosts" since the Cash App card has had quite a few boosts more valuable than the 5x typically offered by X1 on boosted transactions, though small caps on the Cash App may make the X1 card a more useful fit. Still, thanks to early shut-down and customer service stories, I'll hold off on the X1 card for a while. It has a lot of potential for those patient enough to deal with the shortcomings.
There's no doubt that "the game" can take up some time and energy. Just this week, a friend asked me about helping them find a hotel deal for a trip that evolved into a conversation about Hyatt and Ultimate Rewards and suite upgrades and so on. It wasn't long before my friend mentioned that she wouldn't have time to learn and track all of this stuff. In this post, Tim shines a light on two very important things: first, that it helps to put systems in place to track things. I did not use spreadsheets at all before I worked at Frequent Miler, but now they are a frequent part of my life (and they make a huge difference in tracking stuff!). Second is reducing FOMO (fear of missing out). If there's one thing I've learned over the years, it is that there is always another deal around the corner. If there are two things I've learned, the second thing is not to sweat the small deals (and along with that, recognizing which ones are small enough not to make a measurable difference in my life). For example, I know it is possible to stack gas savings six ways to Sunday, but my wife and I both work from home and don't drive enough for five or ten or even twenty cents a gallon to make enough of a difference in our bottom line for me to expend the mental energy. Maybe gas is a bad example given the way it is soaring at the moment — but on the flip side, maybe it isn't a bad example because even a fifty cents per gallon savings would save me less than $10 per tank of gas and some months I'll only fill my tank one time, so I'd rather focus that energy elsewhere. Read this post for a useful list of tools we use and a reminder not to wear yourself out on chasing every deal.
Like Greg, I avoid shopping portal extensions like the plague for fear of them stealing clicks away from my intended shopping portals of choice. However, like Greg, I heard about the crazy targeted offers this one throws out and thought that it is worth finding a way to get down with this extension. My solution is slightly different than Greg's: after his post, I finally got around to installing the extension on a device I never use for shopping — I'll just pull it out and browse around on some items of interest for a while and see what happens. Like Greg, I have one browser I ordinarily use for browsing and a different one I use for buying, but I wanted to keep the extension off of my main computer just in case I make a mistake and buy in my browsing browser :-).
Sometimes, the best way to find an impossible award is just to be lucky and strike while the iron is hot. In this case, a new Hilton property opening up soon in the Maldives has wide open award availability for standard rooms — which are overwater bungalows with private pools. If you're sitting on Hilton free night certificates and/or points and the Maldives sound like your kind of getaway, hop on this while you still can.
Surprisingly, the math checks out on putting big spend on IHG cards to earn big spend bonuses like top-tier Diamond status. Still, I'm not yet excited enough about free breakfast at IHG properties to want to dedicate much time and (mental) cost to manufacturing the required about of spend here. I reserve the right to change my mind, but for now I'm not yet sold.
Years ago, I stumbled into a couple of nights at the Conrad Dubai because they were relatively cheap. On subsequent trips to Dubai, it became my go-to property for comfortable rooms and fantastic service. On one stay, I wasn't feeling well and had a late evening flight. I asked for a late checkout of maybe 2pm and they asked what time my flight was. When I told the lounge attendant the flight time, he said he thought a 6pm checkout would be much better. I thanked him profusely and went back to bed very pleasantly surprised at how happy they were to provide excellent service. Based on my positive experiences, I was excited to read Carrier's review of the Conrad Dubai and I was glad to see that the place hasn't changed much. It sounds like it is still an oasis in a bustling city and the lounge still sounds like a welcome respite. While the Conrad doesn't have what I'd consider the "best" location in Dubai, it is the hotel to which I am most likely to return if I'm not going to get the Prince Suite at the Grand Hyatt.
Since this week's show is all about finding award availability, it seemed relevant to include this post showing that the Amex points parade marches on for those receiving big targeted mailer offers. There is also a targeted 250K mailer going around on the Business Platinum card, so don't throw away your mail without taking a peek at the offer you've received.
---
That's it for this week at Frequent Miler. Keep your eye out for this week's last chance deals.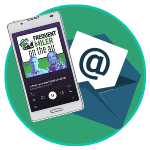 Want to learn more about miles and points?
Subscribe to email updates
 or check out 
our podcast
 on your favorite podcast platform.