Last year, the Chase Freedom Unlimited briefly offered a sign-up bonus of 3x everywhere for a year. Yesterday, Doctor of Credit reported that this offer has returned in-branch, albeit this time with a cap: earn 3x everywhere on the first $20,000 in purchases in the first year. There's no doubt that 3x Ultimate Rewards on every purchase sounds awesome, but with Chase applying the 5/24 rule to so many of its best cards, is it worth burning up a 5/24 slot for this offer?
The "value" of 3x everywhere
At the very minimum, 3x everywhere is worth a return of 3% back since Ultimate Rewards points can be cashed in for $0.01 each. However, if you have a premium Chase card like the Chase Sapphire Preferred or Ink Business Unlimited card or the ultra-premium Chase Sapphire Reserve card, you can move points from the Freedom Unlimited to one of those cards in order to get better value via the Chase travel portal or transfers to partners. By redeeming strategically, one can get considerably more value from the points. That's why our Reasonable Redemption Value for Ultimate Rewards points is 1.5c per point, making a return of 3x everywhere worth around 4.5% back (or potentially much more depending on how you use and value the points). That's a terrific rate of return, particularly when used for purchases that would otherwise go unbonused.
In fact, that kind of return would put this card at the top of the Best everywhere else cards. Despite that, I don't think this offer is worth it for most people.
The bonus is weaker than it looks
Some have said that the sign-up bonus on this card boils down to 60,000 points ($20K in purchases x 3 points per dollar), on par with the new in-branch offer on the Chase Sapphire Preferred (See: Chase Sapphire Preferred offer now 60K in-branch ($95 AF not waived first year)). Apart from the fact that the CSP has an annual fee, the key difference is in required spend: you'll have to spend $20,000 on the Freedom Unlimited to earn 60,000 points whereas you'll only need to spend $4,000 in 3 months to earn the same bonus on the CSP.
The significantly lower spend required on the CSP to earn the same 60K is a good point, but the comparison is actually even more lopsided than that. The Freedom Unlimited ordinarily earns 1.5x everywhere. This means that $20,000 in purchases would ordinarily earn 30,000 Ultimate Rewards points — with or without a new cardmember bonus.
$20,000 in purchases x 1.5x (normal Freedom Unlimited earning rate) = 30,000 points
The new in-branch "3x everywhere" offer doubles that and gives you 60,000 points for $20K spend. In other words, the "bonus" is really only an additional 30,000 points for completing that spend. A 30,000-point welcome bonus for $20,000 spend sounds decidedly less glamorous than "3x everywhere!!!".
If we compare the new offer to the "old" offer (which is still available online at the time of writing), it might even manage to look less exciting. The usual offer on this card is for 15,000 bonus points after spending $500 in the first 3 months. Including the 1.5x earned on that first $500 in purchases, you'd have 15,750 points after $500 in purchases under that usual offer.
$500 x 1.5x = 750 points + 15,000 bonus points = 15,750 points
If you opened the card under that old offer and made an additional $19,500 in purchases (for a total of $20K in purchases), you'd earn an additional 29,250 points. In all, after $20K in purchases, you'd have
$19,500 x 1.5x = 29,250 Ultimate Rewards points
29,250 points + 15,750 points = 45,000 points
As you can see above, the "standard" offer would yield a total of 45,000 points after $20,000 in purchases. This new offer is essentially stacking an extra 15,000 Ultimate Rewards points on top. I like Ultimate Rewards as much as anyone, but that's a lot of spend to essentially earn 0.75 extra points per dollar spent over what you would earn with the usual offer.
Other options
I'm a bit less enthused on the Freedom Unlimited 3x everywhere offer when I consider the other options available to those under 5/24. There are a total of 7 cards on the market that earn Chase Ultimate Rewards, and 5 of those 7 would yield more than 60,000 points in the first year with less than $20K in purchases. Scroll the list here to see the current best offers publicly available online.
Keep in mind that a number of those offers are for Ink business cards, but you may be surprised as to how many people qualify for them.
Applying for Business Credit Cards

Yes, you have a business: In order to sign up for a business credit card, you must have a business. That said, it's common for people to have businesses without realizing it. If you sell items at a yard sale, or on eBay, for example, then you have a business. Similar examples include: consulting, writing (e.g. blog authorship, planning your first novel, etc.), handyman services, owning rental property, renting on airbnb, driving for Uber or Lyft, etc. In any of these cases, your business is considered a Sole Proprietorship unless you form a corporation of some sort.

When you apply for a business credit card as a sole proprietor, you can use your own name as your business name, use your own address and phone as the business' address and phone, and your social security number as the business' Tax ID / EIN. Alternatively, you can get a proper Tax ID / EIN from the IRS for free, in about a minute, through this website.

Is it OK to use business cards for personal expenses? Anecdotally, almost everyone I know uses business cards for personal expenses. That said, the terms in most business card applications state that you should use the card only for business use. Also, some consumer credit card protections do not apply to business cards. My advice: don't use the card for personal expenses if you're not comfortable doing so.
Is it worth it for anyone to apply?
Despite the fact that I think this offer isn't worth it for most readers, I do think this offer is worth it for some people.
Specifically, I think this offer is worth considering if all of the above apply to you:
You can not get any (or any more) of the Ink business cards
You have earned a bonus on one of the Sapphire cards in the past 48 months (which would make you ineligible for the current best offers on those cards)
You're under 5/24
You do not anticipate being under 5/24 long enough to become eligible for #1 or #2 again soon
You are a big spender
If you're eligible, it makes a lot more sense to start with the Ink cards for those under 5/24 since those cards are subject to 5/24 but do not add to your 5/24 count.
Chase 5/24 semantics ("Subject to" vs. "Count towards"): Most Chase cards are subject to the 5/24 rule. That means the rule is enforced in making approval decisions. In other words, you probably won't get approved if your credit report shows that you opened 5 or more cards in the past 24 months. Meanwhile, most business cards (such as those from Chase, Amex, Barclaycard, BOA, Citi, US Bank, and Wells Fargo) are not reported on your personal credit report. These cards do not count towards 5/24.

Example: Chase Ink Business Preferred is subject to 5/24, so you likely won't get approved if over 5/24. If you do get approved, it won't count towards 5/24 since it won't appear as an account on your credit report.
However, if you're not eligible for any of the Ink cards for one reason or another, your next best option in terms of accumulating points quickly is a Sapphire Preferred or Reserve. The current in-branch offer on the Sapphire Preferred would yield 60,000 points after $4,000 in purchases. However, Chase instituted new rules last year stating that you are not eligible for the new cardmember bonus on the Sapphire Preferred or Reserve if you have received a new cardmember bonus on any Sapphire card in the past 48 months. Therefore, those who opened the Sapphire Reserve under the monster 100K offer when it debuted are still ineligible for a Sapphire bonus.
If you are in fact eligible for a Sapphire card, it would make sense to apply for whichever of those suits your needs the best rather than the Freedom Unlimited. Down the road, you could eventually product change to the Freedom Unlimited if you decide that the 1.5x everywhere earning structure is appealing to you. Note that it may also be possible to open both a Sapphire card and this Freedom Unlimited, but I'd advise waiting at least a couple of weeks between applications (See: Why Chase shutdowns happen and how to avoid them.)
All that said, I imagine that most readers are not eligible for a new cardmember bonus on a Sapphire card. If you have exhausted your Ink options as well and you remain under 5/24, this offer might be worth considering if you're also a big spender. Many readers will look at $20K spend and think that it's wasteful to spend so much for such a relatively small bonus when that amount of spend could easily meet the requirements for 5 or 6 (or more) welcome bonuses on new cards that are worth much more. Those readers aren't wrong.
On the flip side, some readers spend $20K in a month. Some may spend more than that in a day. For folks who have no trouble meeting the minimum spending requirements on as many cards as they care to open each year, earning 3x everywhere on up to $20K in purchases in the first year may be juice that's worth the squeeze. It's not nearly as exciting as last year's offer of 3x everywhere that came uncapped, but as the old saying goes it is better than a hole in the head.
Bottom line
This new in-branch offer on the Freedom Unlimited isn't necessarily a bad offer. The strong return makes it an easy "everywhere else" card to keep in the wallet for unbonused spend. It could be a good pick for something like paying your taxes online since the 3x return would easily beat the credit card processing fee, but I think most people would be better off directing that spend towards more valuable offers. This one is best for big spenders who have no trouble meeting other minimum spending requirements, which is ironic since this offer has what those spenders probably consider a small cap.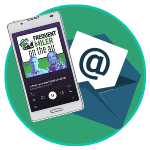 Want to learn more about miles and points?
Subscribe to email updates
 or check out 
our podcast
 on your favorite podcast platform.