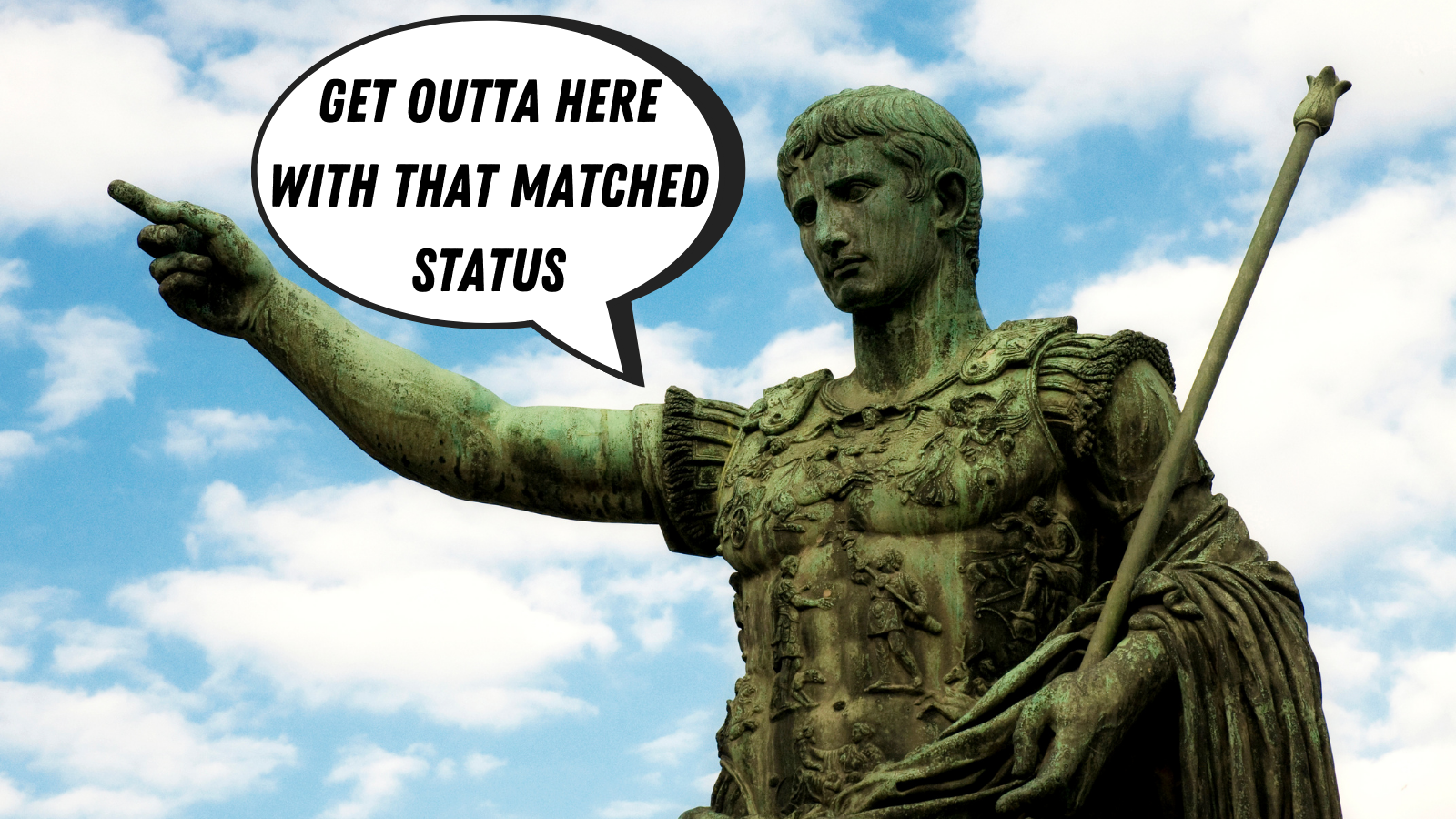 Dave Grossman at Miles Talk reported earlier this week on updated language on the Caesars Rewards site for matching status from Wyndham Rewards:
Please Note: You must have earned Tier Status with your current loyalty program in order for your status to be matched.  Caesars Rewards will not grant status to WR members who came into the WR program from a tier match promotion with other programs or who previously had recent Caesars Rewards status that was about to expire, and vice versa.
Many members have reported much slower-than-usual matching this year. Indeed, Stephen Pepper submitted for a status match on 2/2/22 and thus far dueces have not been wild for him. He's still sitting on Gold status five weeks later. Indeed, quite a few readers have reported the same on this post.
My own match from Wyndham Rewards was uncharacteristically sluggish this year, though it did go through successfully: I submitted for a match on 2/1/22 and it took more than four weeks after submitting for my Caesars status to update to Diamond.
The language above makes it sound as though one's Wyndham status must be earned rather than matched in order to get Caesars status. If true, that would be a new change. Previously, anyone with Wyndham status was matched to Caesars Rewards Diamond and received the associated benefits (minus lounge access in Las Vegas, though with a relatively small number of Rewards Credits one could get that also).
Stephen reports that the Wayback Machine shows that the above terms weren't on the Caesars status matching website as recently as February 4, so that's been added at some point in the last month. That could explain why some people have been successful and others haven't, though I'm not sure what we can reliably guess from that.
My own Wyndham Rewards Diamond status was successfully matched to Caesars Diamond even though I've never "earned" Wyndham status. Several years ago, it was possible to match from Hilton to Wyndham and then from Wyndham to Caesars Rewards (Wyndham stopped matching from other programs during the pandemic). I wrote about the process in the the post From zero to hero on the status-match-go-round. I have been matching back and forth between Caesars and Wyndham ever since. My latest match from Wyndham was last month when my Caesars status expired on 2/1/22. I'm not sure if it makes any difference, but I believe that my current Wyndham status was extended from last year to this year rather than matched again from Caesars in 2022. At the very least, either I got in early enough to beat this change (certainly possible) or Caesars is writing terms to discourage behavior that they don't want without any mechanism in place to enforce those terms (equally possible).
I should also note that I guess there is some possibility that having some tier credit earning helped push through my match. I've been dabbling in the Caesars online sportsbook since sportsbooks were legalized in New York. I haven't earned enough tier credits for Diamond status, but neither was I at zero.
My wife has not had any play at the Caesars sportsbook, but her match also went through eventually. Her Wyndham Diamond status comes courtesy of the Wyndham Business Earner card. I'm not sure whether Caesars considers that to be a "tier match promotion" or whether she will have trouble matching in the future as someone "who previously had recent Caesars Rewards status that was about to expire". Your guess is as good as mine.
Is the Caesars Diamond Celebration Dinner party over?
I have additionally read plenty of mixed reports about whether or not the annual Diamond celebration dinner is being honored in Las Vegas. This is an annual $100 dining credit for Diamond members. Some matched members have reported successfully using it this year (since February 1st) and others have been told that they were not eligible because their status was matched.
My guess is that Caesars doesn't want members on the status-match-go-round. I have to think that they intend to enforce that somehow, but maybe the best they can do is manually deny the Diamond celebration dinner benefit? On my trip to Las Vegas a couple of years ago, there were some restaurants where you needed to get a voucher at the players club desk to use the $100 celebration dinner, but the restaurant at which we dined did not require a voucher  (rather they swiped our Caesars cards and took $100 off the bill per Diamond member – there were 3 or 4 of us in our group at dinner).
If there is some human element in this, maybe some will still slide by with the celebration dinner benefit. If Caesars actually does program some sort of different "Diamond Lite" for matched members, that will certainly be a disappointment (though it always seemed a bit too generous to last forever).
I don't know the current status of free show tickets, which is another Diamond member benefit. Keep in mind that the Caesars Diamond celebration dinner is available at some Caesars properties outside of Las Vegas also (but YMMV as to whether or not it is honored).
Book free Atlantis stay now?
One other Diamond level perk that you might want to consider using sooner rather than later (if it fits your plans / desires) is the free Atlantis Bahamas stay. Bougie Miles has published an updated guide for the free Atlantis stay, including some positive changes that might make it more appealing. You can now get a free 5-night stay with $150 in slot credit.
I had dropped consideration of using this benefit after reading this Miles to Memories post about Shawn's experience a couple of years ago, but the new improvements had me reconsider. I called to try to book it yesterday, but after more than an hour and 30 minutes on hold, a representative put me back on hold to verify my details (I spent more than an hour and 40 minutes on hold in total!) only to come back and tell me that she could not verify my Diamond status. She said that if it had recently updated (it updated earlier this month) that it sometimes takes a bit but that she could reach out to Caeasars via email and they would usually confirm within 24-48 hours. She said she would call me back or email me when verified, possibly same-day. More than 24 hours have passed and no update. If you've only recently had your status update, it might be worth holding off a bit before calling — though on the flip side, you might want to reserve before they decide to limit this benefit, too.
Will Wyndham bring back status matches?
In conversation about these changes, Stephen wondered whether this may be a precursor to Wyndham re-opening the status match floodgates. That's an interesting prediction because it may explain why Caesars has suddenly decided to put a stop to matching those whose Wyndham status was matched. As mentioned above, Wyndham used to offer generous matches from other programs but stopped during the pandemic. It is certainl possible that they intend to offer matches once again and Caesars didn't want to give away Diamond status as easily as Wyndham intends to give away Diamond.
That is purely speculation and while I think that is an excellent educated guess and that Stephen should get at least half a prediction point if it comes true, I am less convinced that Wyndham's promotions team is connected enough to the people in charge of the match at Caesars for one hand to know what the other is doing.
I'm not sure that a Wyndham status match will be worth very much without the Caesars tie-up, but I guess we'll see what happens there.
Sportsbook free bet comes through
On the Caesars Diamond benefits side, I recently posted about a new-to-me benefit of Caesars Diamond status: a monthly $20 free bet at the online sportsbook. When I wrote the post, I had not yet received a bet from that promotion and I guessed that it was because my match only came through this month. However, I am glad to say that my $20 free bet did post to my Caesars sportsbook account this week. Since I am already playing at their sportsbook, this is an easy freebie that I'll likely enjoy each month. Maybe I'll add a segment to Frequent Miler on the Air with my monthly results from the free bet! Hopefully between my wife and I we can earn enough over the course of the year from the free bets to more than cover the cost of the Wyndham business card's annual fee :-).
Bottom line
Overall, I am bummed to hear that there may be big changes coming to the status-match-go-round, but I am still not totally convinced that the good times are over. If you haven't yet matched your Wyndham Diamond to Caesars Diamond, it is probably worth giving that a shot sooner rather than later and hoping to hit it big.