This week on Frequent Miler on the Air, Greg and I discuss his latest "pandemic vacation", dubbed "Take 3" given his need to change plans repeatedly. This time around, he booked flights and cars before realizing that he wasn't as welcome as he hoped at Miraval Berkshires, so he pivoted to a Hilton Curio collection property with a great view and the worst breakfast before settling in to a B&B that sounds amazing. We discuss his experience flying and staying during the current times and whether or not it has provided the type of relaxing vacation he was looking for. We also chat about mattress running for Marriott status and several other topics – watch or listen for more on that and read on for a recap of this nearly Greg-less week at Frequent Miler.
FM on the Air Podcast
For those who would rather listen than watch, the audio of our weekly broadcast is available on all popular podcast platforms, including:
You can even listen right here in this browser:
If you can't find the podcast on your favorite podcast platform, send us a message and let us know what you'd like us to add.
This week at Frequent Miler:
On the one hand, sweet success: I managed to book 3 seats in lie-flat business class on the nonstop flight from Newark to Honolulu for just 12,500 Turkish airlines miles (transferred from Citi) and $5.60 per passenger. On the other side of the coin, it wasn't easy. Many have soured on Turkish given the challenges in booking and poor customer service when things go wrong. Is it more sour than sweet? It very much depends on how many calls or emails it takes to get to a good rep. That aside, with good United business class availability on transons and flights to Hawaii next spring, it's worth another look if you have Turkish points.
This post took longer to compile than it might appear and it can save you some time and frustration down the road. Bookmark it now and come back when you're trying to decide whether you should book that flight with Iberia Avios or British Airways Avios or some other currency based on the cost to change or cancel and award.
I've probably not stayed at as many extended-stay brands as Stephen, though in my travels before points I booked cheap extended stay properties more than a few times. However, more recently, since having our son 2.5 years ago, we have found a love of Residence Inn. I found myself smiling as I kept seeing Residence Inn top one category after another in this post because we have consistently been pleasantly surprised with Residence Inn stays over the past two years. I love an over-the-top luxury hotel as much as anyone, but when I'm traveling to a place where that isn't the focus, I'm with Stephen — Residence Inn for the win.
Greg was supposed to be at Ventana Big Sur this week. Fires in California ended up closing the resort. He retooled plans and decided to take advantage of the BOGO and 25%-back offers at Miraval, only to find (after booking a flight and rental car) that this new luxury spa retreat wouldn't work out, either. He ended up on the "Take 3" vacation we discussed on Frequent Miler on the Air, but this post lays out his plan for Miraval and how it crumbled to pieces.
The first stop on Greg's salvaged pandemic vacation is a Hilton on the beach in Connecticut. The view looks awesome, the breakfast looks awful. Read Greg's bottom line review to decide for yourself whether or not this is the place for a northeast getaway.
Worth a quick mention here is that gift card redemptions are currently unavailable via Sears Shop Your Way. We recently wrote quite a bit about this redemption opportunity given that it could represent a good value for cashing out Citi ThankYou points. However, for the time being, you'll want to hold off on transferring at all until we figure out whether this is a temporary change or something worse.
In updated resources:
Deal of the Week
Without a doubt, the deal of the week is this Iberia promotion that is only on for a couple more days: you can book business class to and from Europe for just 17K Avios each way from East Coast cities and Chicago with this 50% off sale (or economy class for under 10K each way and Premium economy in the middle). Taxes & fees are in the $60's on the way to Europe and a bit over $100 on the way back if you travel nonstop — adding segments beyond Madrid (or originating west of Chicago) will add more Avios (and potentially more taxes), but the deals are still stellar. Most programs charge around 30K points one way in economy class. With this sale, you might fly round trip to Europe in business class for 34K. No, you're probably not putting this to use next week or next month, but it's valid until March. There is of course the chance that travel won't be possible/safe/advisable/enjoyable in March, but given that March is still six+ months away, your guess is as good as mine. If you're a half glass full kind of person and you're willing to bet $25 (the change/cancellation fee) on it, you might want to give this one a go.
---
That's it for this week at Frequent Miler. Check back soon for this week's last chance deals.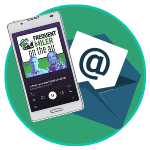 Want to learn more about miles and points?
Subscribe to email updates
 or check out 
our podcast
 on your favorite podcast platform.