Hyatt exploring a new premium card, trying out Chase's premium card rental insurance and did Delta go too far with their recent program changes? All that and more in this week's Saturday Selection, our weekly round-up of interesting tidbits from around the interwebs (links to each article are embedded in the titles).
Here at Frequent Miler, we're suckers for fancy new credit cards. Moreover, we might be even bigger suckers for Hyatt and the tasty benefits of Globalist status. Ultra-premium credits cards, with their $400+ in annual fees, are getting more and more popular these days. Several prominent hotel chains have blingy cards that we love: the Hilton Aspire could be one of the best values out there as a keeper card, while the Ritz Carlton card is something every member of the team has and holds for its travel protections, free authorized users, annual 85k free night certificate and $300 in airline credits. Hyatt, however, has stayed curiously out of the fray, content to rest its laurels on the fairly mediocre World of Hyatt personal and business cards. Hopefully, that's about to change. Last week, there were intriguing posts on reddit and the app formerly known as Twitter about surveys that Hyatt sent out regarding potential perks for a card with an annual fee of $250, $350 or $450. There's some fun options on the table, like 3x earning in your top two spending categories, the opportunity to combine two category 1-4 free night certificates into one category 1-8 certificate, buy-one-get-one-free at all-inclusive properties and 10 annual elite night credits. Mmm….yummy.
If you're even casually following the world of points and miles, you may have noticed that Delta was in the news this week, doing their best to try and disprove the adage that "any publicity is good publicity." Delta was the sensei of creative destruction, blowing up their elite program, making their credits cards more difficult to get and less useful when you actually do get them. Even a million-miler, Delta-hub-captive, 6-figure manufactured-spender (and long-time DL loyalist) like Greg the Frequent Miler has had enough. On the most recent FM on the Air, Greg publicly announced that he was "done with spending for Delta status." Based on what we're hearing from other Delta elite members, he's not alone. Dave Grossman over at Miles Talk puts keyboard to paper to explain why he thinks that, this time, Delta has gone too far in its disregard for moderate-spending, brand-loyal customers.
First off, let me say that, while I'm somewhat notorious for the broad geographical reach of my automotive "incidents," I like to think that's primarily due to how long and how often I've been renting cars (that "BS" cough you heard was my wife). Regardless, paying out of pocket for an engine overhaul in South Africa during my honeymoon impressed upon me the value of having primary rental car insurance that wasn't my own. While there's a handful of credit cards that provide it, for me the gold standard is what Chase gives cardholders of the Chase Sapphire Reserve and Ritz Carlton cards. It's not just that it's primary coverage, meaning it kicks in before your personal insurance, but the ease with which reimbursements work is extraordinary, given the sums of money involved. I've been able to use it three times so far, most recently when my rental car was stolen in Columbus, Ohio last year as a casualty of the "Kia Challenge." The credit card insurance paid for the whole thing, with about 25-30 minutes of work on my side. Matt from Miles Earn and Burn describes a similarly smooth experience when he took the CSR insurance out for a crash spin.
Nick Reyes, that infamous, globetrotting, fedora-wearing, father-of-two, has made no secret of his staunch opposition to TSA Precheck. My guess is he's fairly unique among points and miles bloggers in never letting his (numerous) Precheck/Global Entry credits see the light of day. When asked, he usually gives an answer that's some sort of mix of "it's unnecessary," "I don't want my biometric data at every airport in the US," and "those kids better get off my lawn!" Now, though, I think I might finally understand the real reason by behind his perennial passing on Precheck. In an extremely cute Instagram video that I first saw on Your Mileage May Vary, a mother of four explains that, because all four kids are able to go with her husband through Precheck, going through regular security by herself means that she gets 1/2 hour of peace and quiet to herself in the middle of an otherwise stressful trip. Something tells me that, if Nick's wife sees this, she'll be strongly encouraging him to get TSA Precheck in the near-future.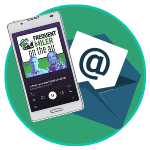 Want to learn more about miles and points?
Subscribe to email updates
 or check out 
our podcast
 on your favorite podcast platform.