Bilt made a big splash when it launched a couple of years ago and it hasn't yet seem content to rest with the satisfaction of a big splash. Instead, they keep working on something bigger — to the point where two guys who didn't think we wanted this card are actually considering it. This week, we discuss all the reasons Bilt is all that — and all the ways you can make it work for you, whether or not you rent or have the card.
Elsewhere on the blog this week, learn a great trick for using your Hyatt free night certificates, get the full rundown of Hyatt's European all-inclusives, hear about a potential pitfall with Avianca LifeMiles and a lot more. Watch, listen, or read on for more from this week at Frequent Miler.

00:00 Intro
01:04 Oops!
01:06 Oops: You need 40K AA for Gold
02:05 Ooops: AA charity donation may have been AOK
03:46 Ooops: Can't book JetBlue transatlantic with AA miles
04:52 Ooops: How did we forgret the Ink Business Preferred?
06:27 Giant Mailbag: That Sapphire Preferred 3x online grocery is better than we said 09:46 Award Talk
09:47 Seats.Aero adds support for Aeroplan and Emirates
10:21 Greg books his annual stay at the Inn at Bay Harbor
15:05 FM Party of Five Team Challenge Update
19:32 Mattress Running the Numbers
19:51 Marriott will offer 40K points for a Homes & Villas booking of 4 nights or longer
25:13 Bilt Rewards will offer a 100% transfer bonus to Air France Flying Blue on May 1st only
35:28 Card Talk: Bilt Card
43:48 Main Event: Bilt IS all that
44:20 Earn points paying rent
47:44 Bilt Transfer par
55:09 Pay for travel at 1.25cpp
57:32 Earn points on things other than rent
57:57 Rent Day Quiz / Promos
58:36 Points for referring friends
58:54 Link other credit cards to to Bilt Dining (without the Bilt Mastercard)
59:29 Link Lyft account to Bilt Rewards account for extra points
1:00:00 Is Bilt a no-brainer for renters?
1:05:00 Other things you can pay with Bilt (besides rent)
1:07:24 Is the Bilt card worth a 5/24 slot?
1:12:40 Who is the Bilt Mastercard definitely a bad fit for?
1:13:00 If you could only have one credit card, which one would it be?
1:17:04 Question of the Week: Avianca award taxes were wrong. What gives?
Subscribe to our podcast
Note that due to a technical difficulty, this week's podcast episode will be several hours later than normal, but keep an eye on your favorite podcast platforms to see it released later on 4/29/23.
We publish Frequent Miler on the Air each week in both video form (above) and as an audio podcast. People love listening to the podcast while driving, working-out, etc. Please check it out and subscribe. Our podcast is available on all popular podcast platforms, including Apple Podcasts, Spotify, and many more.
Alternatively, you can listen to the podcast online here.
This week on the Frequent Miler blog…
When Bilt Rewards launched, I was impressed with the set of transfer partners they had signed up as a brand new transferable currency, but at the time I still said that the program would primarily be interesting to those who pay rent. That assessment just isn't true today: I don't pay rent and I actively want Bilt Rewards points. The exciting thing is that you don't even need the Bilt Mastercard to earn a decent chunk of Bilt points — though those who have the card and can maximize Rent Day are certainly at an advantage.
The reason you may be suddenly very interested in amassing Bilt Rewards thanks to the latest Rent Day promotion. If you have Bilt points, this is certainly one to consider: On Monday, 5/1/23 only, Bilt will offer a 100% transfer bonus to Air France / KLM Flying Blue. If you've been amassing Bilt points on your rent or by using your Bilt Mastercard on rent day, this is a promotion to strongly consider. We usually advise strongly against speculatively transferring points, but this is an exceptional situation where you might actually want to consider transferring even without an immediate use in mind. Locking in what is essentially half-priced Air France awards probably makes sense for anyone who likes to travel to Europe now and then.
The latest Marriott Homes & Villas promotion is out and in any week where Bilt hadn't announced a 100% transfer bonus to Flying Blue, this would have been a top story. If you would consider buying Marriott points at 0.75c per point, you could look at the 40,000 points as a $300 rebate. That's really solid — and particularly so if you need a rental in a particularly inexpensive market. But you'll have to make your reservation in the first couple of days of May to qualify.
Hyatt has long offered "pay my way" as a way to customize how you pay for your stay. You could use points on some nights and cash on others — or even free night certificates on some. This is not at all intuitive, so this post will help you figure out how to make it happen.
My wife and I have floated the idea of the Canary Islands a few times with no clear plan in mind as to where, why, or what to do there. The presence of a decently-regarded family-friendly all-inclusive resort may up the odds of us making that trip happen in the next couple of years. My initial reaction to Hyatt adding these European all-inclusives was that it seemed strange to me to travel all the way to Europe for an all-inclusive resort when the same experience is widely available with much shorter flights to the Caribbean, but with the recent devaluations to Hyatt's all-inclusives there, I am starting to see the appeal of some of these at least for a few days of true "vacation" mixed in with more sightseeing.
Avianca LifeMiles is one of my favorite award programs for the many award chart sweet spots, but when it comes to quirks, there are a plenty. Unfortunately, one of those quirks is that the website just doesn't always display the taxes & fees correctly when searching for awards. While you shouldn't pay more in taxes with Avianca than with other programs (note that you will pay a $25 per passenger booking fee, but otherwise just mandatory taxes), the full taxes & fees can be a lot higher than you'd expect at first glance.
Unfortunately, I had to cancel a big trip we had planned to Fiji last week. While it hurt to miss out on what was slated to be an incredible trip, it worked out for the best as both of my kids ended up being sick. Thankfully, this bucket-list-type-trip that would have cost tens of thousands of dollars to book at (likely nonrefundable) cash rates mostly just took a few clicks to fix (and by "fix" I mean cancel and get most of my points and money back). While this definitely wasn't the outcome I wanted, it was far better than what it could have been.
Seats.Aero has now added support for both Aeroplan and Emirates. It's great to see this funky little tool continue to expand and become more and more useful with each new addition.
The Chase 5/24 rule continues to seem a bit more flexible than it once was. That is certainly an exciting development and we can hope that the belt continues to loosen on this. We often say that there is more value in a positive data point than a negative one and I think that has to hold true here. While approvals over 5/24 are still more the exception than the rule, I totally agree with the assessment that these recent reports mean that it is worth throwing in an application now and then when an offer is attractive — even if you're over 5/24.
---
That's it for this week at Frequent Miler. Keep your eye out for this week's month-ending last chance deals.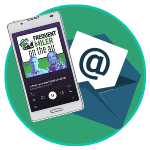 Want to learn more about miles and points?
Subscribe to email updates
 or check out 
our podcast
 on your favorite podcast platform.