January 4th is the big day for the Citi Prestige card.  Starting today, the Citi Prestige Card earns 5X for dining, 5X for airfare, 5X for most travel agencies, 3X for hotels, 3X for cruise lines, and 1X everywhere else.  Here's Citibank's page detailing the changes.
We previously published the Prestige card changes rolling out this year, but for your convenience, here's a summary of all of the changes and when they are expected:
Old
New
Date Expected
Annual Fee
$450 ($350 with CitiGold Checking)
$495 ($350 with CitiGold Checking)
September 1 2019 (for existing cardholders)
Bonus Categories
3X airfare, hotels, and most travel agencies
2X dining and entertainment
5X airfare, dining, and most travel agencies
3X hotels and cruise lines

Entertainment drops to 1X next September (9/2019)
January 2019

ThankYou Point Value
1 cent per point for cash
1.25 cents per point for airfare booked through the ThankYou portal
1 cent per point
September 2019
4th Night Free Benefit
Uncapped
Limited to twice per calendar year
September 2019
$250 Travel Credit
Airfare Only
All Travel
January 2019
Cell Phone Protection
N/A
Covers damage & theft
May 2019
Lounge Access
Citi Proprietary Lounges & Priority Pass Select
Unchanged
Global Entry Fee Credit
$100
Unchanged
Missed Event Ticket Protection
Reimburses event tickets, up to $500 per year if you miss the event due to a covered reason (tickets lost or stolen, weather conditions, etc.)
Unchanged
Amex Gold Too
The Prestige card isn't the only one that has rocked my wallet recently.  In October, the Amex Gold Card (previously named "Premier Rewards Gold") began offering 4X at US grocery stores, up to $25K annually, and 4X at US restaurants.  My wife already had the Gold card and I already had an authorized user card, so I hit the ground (restaurants and grocery stores) running.
My wallet, before
Before the Amex Gold and Citi Prestige changes, and after the SPG card became a dud, my wallet looked like this:
My wallet, now
Now that the Prestige and Gold cards have earned spots in my day to day wallet, here's my current lineup:
Note that I keep many other cards at home, or in my manufactured spending wallet (a wallet for buying and storing gift cards), or in my travel wallet (read about my travel wallet here).
The wallet I want
I don't like carrying so many cards in my physical wallet but I continue to run into stores that don't accept Google Pay or Apple Pay so I keep all of the best earning cards with me.
My dream wallet is as follows:
Citi Prestige: 5X dining, airfare, and travel agencies.
Samsung Gear S3 Watch or a Samsung phone: Either way, Samsung Pay would work at almost all credit card terminals.  I would load the watch or phone with the following cards (at a minimum):
Bank of America Premium Rewards Card with Platinum Honors Preferred Rewards: 2.62% cash back everywhere and 3.5% for dining and travel.  This would be my backup for the rare occasions when I couldn't use Samsung Pay and when the Prestige card doesn't offer the best value.  This would be a far better backup than my current Amex Blue Business Plus and Chase Freedom Unlimited combo because the Bank of America card doesn't charge foreign transaction fees.
To make the above happen, I may need to get over my reluctance to wearing a watch.  I haven't worn one for years and I'm not eager to start.  An alternative is to switch to a Samsung phone in a few months once I've satisfied the conditions of the deal in which I bought my Pixel phone.
I activated my Pixel phone on December 10th and so I need to keep the phone active until April 10th or so in order to meet the terms of the deal.  At that point I may decide to sell the Pixel and buy a Samsung phone or go back to iPhone land if I continue to lose out on messages from iPhone friends (see: iPhone withdrawal symptoms when switching to Android Pixel).
What about the new Citi Rewards+ Card?
The new Citi Rewards+ Card, which we wrote about yesterday, will feature 2X ThankYou points at supermarkets and gas stations, for the first $6,000 per year.  That's not exciting at all.  What is interesting is that the card will round up rewards on all purchases to the nearest 10 ThankYou points.  This means that the card will earn at an astounding rate for small purchases:
$0.10 (10 cents) purchase: Earn 10 points = 100X rewards
$0.50 (50 cents) purchase: Earn 10 points = 20X rewards
$1 purchase: Earn 10 points = 10X rewards
$2 purchase: Earn 10 points = 5X rewards
So, with any purchase of $2 or less you'll do as well or better with the Citi Rewards+ Card than with any other card in your wallet.
If this card lasts long enough, it will earn a spot in my virtual wallet, but I don't know if it will make it to my physical wallet.  I don't have high hopes of it sticking around.  See: Perk abuse, coming soon.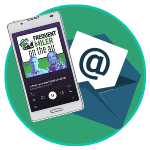 Want to learn more about miles and points?
Subscribe to email updates
 or check out 
our podcast
 on your favorite podcast platform.