My wife and I spent most of February on the California coast.  This wasn't vacation.  We took vacation in January when we visited Loews Ventana Canyon and Miraval Arizona in Tucson, the Hyatt Residence Club in Sedona (yes I will eventually write a review!), and Hyatt's Royal Palms Resort and Spa in Scottsdale.  With this 24 day trip to California we continued to escape Michigan's bitter cold, but this time without taking vacation days.  The plan was to work remotely while making our way down the coast and enjoying California's beauty and sunshine.  Mission accomplished!
Preparing for 24 days away
Pets
We have two elderly cats at home.  Usually when we travel we simply tell our cat sitter the dates we'll be away and she takes care of the rest.  In this case, we felt like they needed someone living in the house with them (they need lots of petting and lap time).  Luckily for us, our 22 year old son was able to man the fort.  Before the trip, though, we made sure that there was plenty of cat food, medicine, and cat litter in the house.
Bills
We have most of our bills set to autopay, but in case some urgent non-auto-paid bills came while we were away, I set up a weekly Facetime meeting with our son to go through the mail.  If anything needed to be paid he would scan it to the cloud so that I could see it and take care of it.
Credit Cards
At any given time, my wife and I have around 30 active credit cards, each.  Most are fee-free cards: At some point we either signed up for these cards, or for cards with fees and later downgraded to fee-free cards.  When cards have no fee, there's rarely any advantage to cancelling (no, it won't help your credit score to do so), but often there are advantages to keeping them open (such as upgrade offers).  We also have a bunch of hotel cards which offer annual free nights or points that outweigh their annual fees.  And then we also have cards that we use for spend (see my recent post about what's in my wallet now).
We don't keep all of these cards in our wallets.  Our wallets have the cards we need to use regularly when we're out and about.  Then, I have a travel wallet that is stuffed with cards that I might need when travelling (see: How my travel wallet reduces travel stress).  I also have a binder stuffed full of additional cards, which is kept locked up at home.
With that background, it should then make sense to you that before extended travel, I like to review my credit card situation.  Do I have the right cards in my day to day wallet?  Do I have all of the additional cards I may need in my travel wallet?  Do I need to bring any of my "binder" cards?  The latter usually happens when I've loaded a valuable Amex offer (for example) to a particular card and where I'm likely to use it during the trip.  For example, I might have an offer to get $40 back when spending $200 at a particular hotel chain.  If I'll be staying at a hotel in that chain, or nearby, I'll want to bring that card with me.  Even if I don't spend that much at the hotel, it's often possible to buy a chain gift card at the hotel's front desk in order to trigger offers like these.
Packing
I usually pride myself in travelling light, but in this case I decided that it was more important to ensure that I had everything I might need.  This included all of the tech that is useful for recording the Frequent Miler on the Air podcast (mic, mic-stand, webcam, lights).  I also made the unusual move of bringing my full sized memory foam pillow (which I was able to stuff into a small packing cube).  As I've gotten older (I'm in my mid 50s now), I find that I often have trouble sleeping on hotel pillows.  Having my own proven-comfortable pillow on this trip was a godsend.  My wife travels with a tiny travel pillow, but I find that it's too soft for my needs.
We packed enough clothes to last 10 days.  We didn't need 24 days of clothing because our lodging at Pismo Beach for 6 nights in the middle of the trip included an in-room washer & dryer.  This was by design.  I was lucky to find a points-bookable hotel that offered that feature, but would have otherwise booked an Airbnb or the equivalent for this portion of the trip.  For the record, I had checked for a Vacasa property that could be booked with Wyndham points, but there were no good options for the desired time and place (See: Wyndham Vacasa – Great Value is Real!).  Instead, I used Choice points to book the Dolphin Bay Resort where every unit is like a full condo (See: My nightmare booking Preferred Hotels via Choice).  Sure, we could have gone to a laundromat or used a hotel's shared laundry room when available, but it was super convenient to have the washer & dryer in our unit.
Altogether, for our flights, we checked through 3 full-sized carry-on spinner bags (two of which are expandable), and one half-sized carry-on for our shoes and hiking boots.  We also each carried a small backpack for our laptops, snacks, water bottles, etc.
Flights
Using Delta SkyMiles, we booked non-stop Detroit to San Francisco for our outbound, and non-stop Los Angeles to Detroit for the return.  We also applied Regional Upgrade Certificates.  In both cases, our upgrades couldn't clear at the time of booking, but we were upgraded to first class about a week in advance for the outbound flight and at the gate for the return flight.
Car Rental
Rental cars are more expensive these days, and some tricks for saving on rentals don't work when you need a one-way rental as we did (See: Surviving the car rental apocalypse by stepping outside the box).
As I always do, I used Autoslash both to find the best current deals and to monitor my rental to look for price drops.  In this case, though, the best deal I could find wasn't through Autoslash.  Instead, we took advantage of special pricing available to University of Michigan employees (where my wife works) to book a mid-sized SUV through Enterprise.  And, yes, this pricing is explicitly allowed for personal use.  The price I booked was around $1350 and it didn't include mileage so I estimated paying around $1,550 all-in.  That came to about $65 per day.  That's not exactly a "deal" in my book, but it was significantly cheaper than most other options I found.  In the end, I was charged only $1,350 or about $56 per day.
The reason that the rental cost less than expected was that the very nice employee at drop-off offered to waive some fees.  During the rental I had called Enterprise to ask if it was possible to credit rewards to National instead of Enterprise since they're basically the same company now.  The woman on the phone cheerfully told me that she couldn't make the change over the phone but that the Enterprise employees at the drop-off location would be able to do so.  So, when I dropped off the car I asked to change the rewards to National and was told that wasn't possible.  The drop-off employee asked who told me it was possible to do that change, and after telling my story she apologized and offered to waive various fees on my rental!  Altogether, she waived $275 in fees.  That was worth considerably more to me than a few National credits towards a free day!
We had booked a midsized SUV, and the one that Enterprise SFO gave us was a new Nissan Rogue, which was terrific.  It had all of the latest safety features like lane departure warnings, blind spot warning, etc.  I love these things, especially when travelling on busy multi-lane roads as was the case in San Francisco and L.A.  It also had a great parking-assist feature that shows a simulated top-down view of the car when parking.  This makes parallel parking so much easier.
One small snafu…
On the day we checked out of our Pismo Beach hotel for a long drive down to Huntington Beach, the car alerted us that it had low tire pressure.  We drove to a gas station to fill the tires with air and my wife discovered a nail in one of the tires.  I called Enterprise and was initially directed to drive to a tire store to get the tire replaced.  Fearing that would take a long time, we asked if we could swap cars at an Enterprise location instead.  The Enterprise agent said yes and that she had reserved a similar SUV for us at a nearby location.  That was cool until we arrived and were told that they didn't have any cars at all!  Luckily they had an account at a Jiffy Lube two doors down where the tire was fixed in about 20 minutes with no charge to us at all.
Pacific Coast Highway
The Pacific Coast Highway (PCH), also known as California-1, runs along the coast of California, often with breathtaking views.  I designed this trip so that we would stay in (mostly) great locations while slowly making our way from Sausalito / San Francisco in the north to Dana Point in the south.  This wasn't the full length of the highway, but we took in a significant portion of it.
Our home in Michigan is in the east coast time zone, and we never really fully adjusted to Pacific time.  Waking up early each day made it possible to work during normal east coast times and still be free to explore from about 2pm onward each day.  While we didn't follow that exact schedule every day, that was the gist of our workation plan.  I also did my best to make sure that we didn't travel on days we had heavy work commitments.
Feb 1-4: Cavallo Point Lodge, Sausalito
We spent our first 3 nights at Cavallo Point Lodge which is a restored military fort near the foot of the Golden Gate Bridge.  We paid $150 per night to upgrade from a small Queen room to a huge King room.  This gave us plenty of room to spread out for work.  Unfortunately, the internet was wobbly (usually fast, but sometimes nonexistent) and so this place wasn't ideal for work.
We had a great time at Cavallo Point.  See: Cavallo Point Lodge, Sausalito – Bottom Line Review.
We checked out of Cavallo Point on a Friday and eased our way down the beautiful coast to Pacific Grove, which is a gorgeous seaside town next to Monterey.
Feb 4-6: Martine Inn Bed & Breakfast, Pacific Grove
This was the only time that we didn't use points to book lodging during this trip.  We found that this old-style bed & breakfast (not an Airbnb) which we had stayed at about 25 years ago was still open.  The inn could use some updates and, in places, some deep cleaning, but overall it was great.  The location is amazing and the included breakfasts were excellent.  It also happened to be a great place to get some of my blog work done while a seagull watched over me.
I booked this inn through Hotels.com so that our two nights here contributed towards the 10 needed to get a free night with Hotels.com's rewards program.
Feb 6: Point Lobos State Natural Reserve
After checking out of the Martine Inn, we had lunch in Carmel-by-the-Sea, then drove to the Point Lobos State Natural Reserve.  We've been to this park before and were looking forward to returning.  It didn't disappoint.  It's absolutely gorgeous.
Feb 6-11: Alila Ventana Big Sur
After a few hours at Point Lobos, we drove through the spectacular beauty of Big Sur to one of my favorite hotels in the world, Alila Ventana Big Sur.  For a full review, see: Re-Wowed: Return to Alila Ventana Big Sur.  Everything was fantastic except that the internet cut out when I needed it most…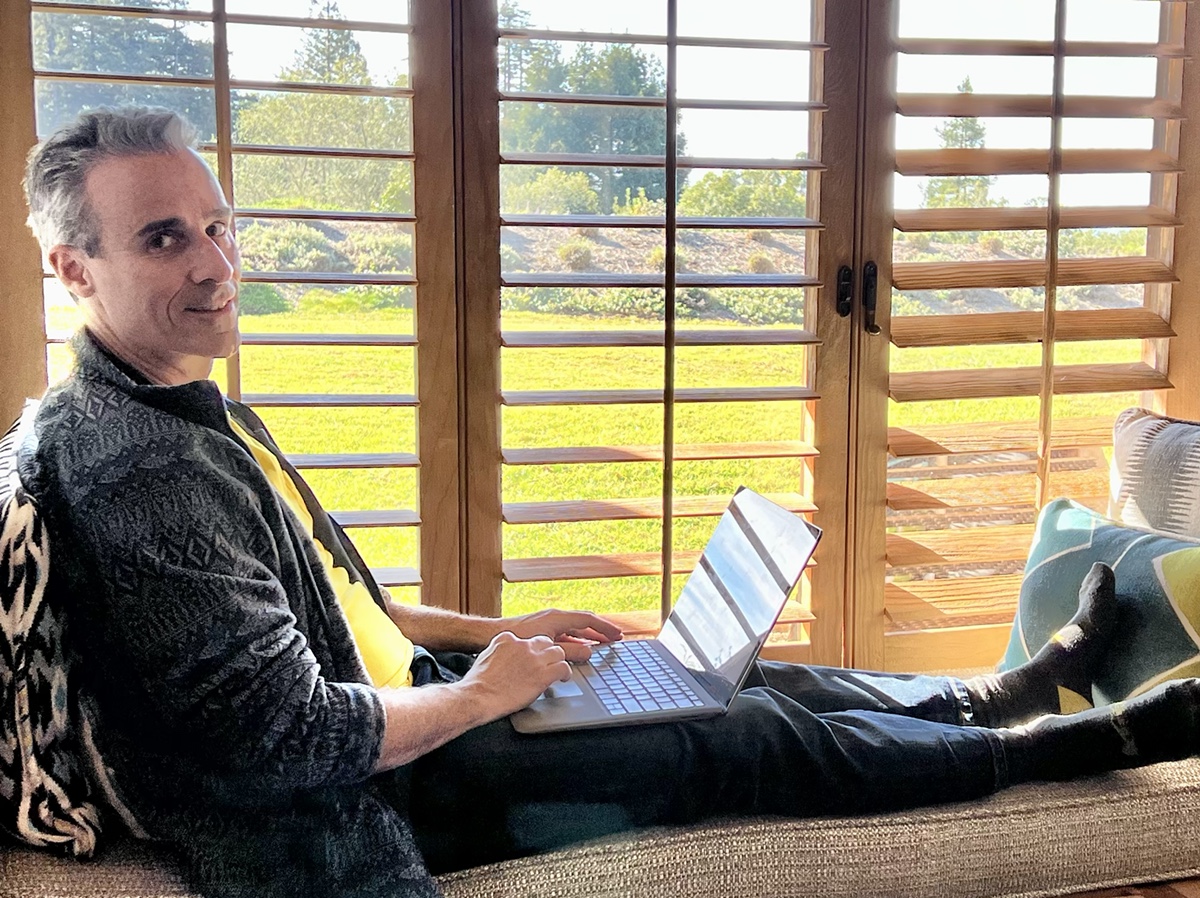 Feb 11: Driving south through Big Sur
While we've driven the northern part of Big Sur several times in the past, this was our first time driving significantly south of Julia Pfeiffer Burns State Park (note that Pfeiffer Big Sur State Park is right next to Ventana, but Julia Pfeiffer Burns State Park is about 7 miles south.  While we didn't stop at Julia Pfeiffer Burns State Park this time, we've enjoyed it in the past.
As we drove south of the Julia Pfeiffer park, the road curved tightly back and forth, significantly more than to the north.  I was glad to be driving because I've been known to experience motion sickness and would certainly have had a bad ride if I was a passenger (for a fun read regarding my motion sickness see: Learning Scuba and feeding fish).  As it was, I couldn't enjoy that part of the drive as much as to the north because I had to keep my eyes glued to the road!
Elephant Seal Vista Point
Later, as the road straightened out, we saw signs for an Elephant Seal Vista Point.  We pulled over and were glad we did!  The overlook was beautiful and it did not disappoint with respect to seeing elephant seals.  They were everywhere.  We learned that not only are elephant seals enormous, but the males are crazy looking (in a good way, handsome fella).
Montaña de Oro State Park
We visited Montaña de Oro State Park several days later, but I put it here for those planning must-see stops along the way down the coast.  This park is awesome.  Definitely worth an outing.  We brought along a picnic lunch and hiked the Bluff Trail.
Feb 11-17 Dolphin Bay Resort, Pismo Beach
We spent 6 nights at the Dolphin Bay Resort.  It's advertised as being at Pismo Beach, but it's really on the nearby Shell Beach, which was spectacularly beautiful.  The town of San Luis Obispo is only a 10 to 15 minute drive away.
All units here are like condos with a full kitchen, living room, dining area, and an all-in-one (and very slow) washer & dryer unit.  As you can see in the photo above, we had tons of space to spread out.  The only downside to the room was that the internet was awful.  I had been planning to record Frequent Miler on the Air from here, but decided that the internet simply couldn't handle it, so we recorded from my next stop instead.
Feb 17-21: Hyatt Regency Huntington Beach
I'm not a fan of Huntington Beach.  But that's just me.  If you like a flat terrain with very big and wide beaches, lots of surfing, and lots of tourists, it may be just right for you.  I'm also not a fan of big resorts.  I prefer smaller boutique experiences.  So, I had a lot of reasons not to like the Hyatt Regency Huntington Beach, but the hotel exceeded my expectations.  We booked this resort over president's day weekend because most other places of interest that fit our needs were booked up.  We had plans to see some people in both Orange County and Los Angeles, so the location made sense.  And we needed space to work.  This resort checked the boxes.
We stayed at this same resort about 10 years prior and the rooms have clearly been updated since then.  Even though we weren't upgraded above the suite I had booked, it was very large, modern, and nicely decorated.  And the internet was fast and reliable!
While this isn't the type of resort my wife and I prefer, it turned out to be a good option for getting work done and for enjoying some time in the sun afterwards.  It was fun watching a surfing contest on the beach one afternoon.  I wouldn't go out of my way to return, but I also wouldn't mind if I had a reason to be there.  My guess is that this resort would be fantastic for families with little kids.
I'm hoping to write up a full review soon, but I know that some readers will be wondering about elite benefits.  The lounge was closed, supposedly due to Covid, but since I am a Hyatt Globalist, they gave us instead $75 daily towards breakfast at the resort's excellent Watertable restaurant.  They also gave us a welcome gift: $25 to spend at the resort's coffee shop / convenience store.
Feb 21-23: Waldorf Astoria Monarch Beach, Dana Point
Yikes, yet another review I need to write!  We had a nice stay at the Monarch Beach Resort & Club – Waldorf Astoria in Dana Point.  Dana Point was beautiful, but too perfectly manicured for my tastes.  It was like one gigantic golf course.  In other words, the streets, walkways, parks and gardens were Disney-like perfect, but I prefer the more rugged beauty found in nature (yes, like in Big Sur!).  Still, the Waldorf Astoria resort (which used to be a St. Regis) did a great job of doing what they do (i.e. catering to the rich who like this sort of thing).
Our room wasn't as good as others on this trip for working: we couldn't spread out much, for example.  The internet was solid though.
Feb 23-24 Hyatt Regency LAX
On the last day of the trip we checked into the Hyatt Regency LAX so that we'd be in place to catch our flight home the next day.  After checking in, I drove the rental car to the Enterprise drop-off location a couple of miles away and then rode the Enterprise shuttle back to the hotel (I was going to ride back to the airport and then walk to the hotel, but the driver offered to drop me off at the hotel).
If I had booked a standard room, we probably would have been upgraded to a suite thanks to my Globalist status, but I didn't want to risk it since I wanted space to do the Frequent Miler on the Air podcast in the morning.  As it turned out, we didn't need the space after all.  Delta alerted us to a likely winter storm situation that could have impacted our scheduled flight and so we changed to a very early morning flight to avoid the storm (which never became serious after all).  I recorded the podcast the next day from home.
Wrap Up
Overall, we had a great workation.  While the California weather was often chilly enough to require wearing a light coat, it was a billion times (give or take) nicer than Ann Arbor during that time.  And, as expected, California's Pacific Coast Highway and our stops along the drive, were awesome.
What worked well
Driving the Pacific Coast Highway.  That was great!
The places we stayed.  We enjoyed every stop along the way.
Upgrades.  At the Preferred hotels booked with Choice points, it was worth paying $100 to $150 per night for better views and (in one case) a much bigger room.  And for our Hyatt stays, it was worth using suite upgrade certificates.
A pillow from home: this made me so much more comfortable at night.
Enterprise Rent-A-Car: I had hoped to book with National so that we could pick our own car from the Executive Aisle, but it turned out that Enterprise picked a good one for us.
What could use improvement
Bring a scarf.  Often, when eating outside for dinner, the wind would pick up and it would get very chilly.  I mostly had warm enough clothes because I was expecting that, but I would have done even better if I had thought to bring a scarf.  Next time!
Working remotely.  Some places were too nice to spend too much time in the room working.  While I did get a fair amount done during the trip, I don't think I was as productive as at home.
Exercise.  My wife and I have a routine at home of working out at Pure Barre three times per week and going for long walks every other day.  During the trip we got plenty of long walks in, and we did our best to do Barre classes from our hotel rooms, but we didn't keep up the same level of intensity as we do at home.
Some hotels had internet issues. This made it difficult to work at the Dolphin Bay Resort and difficult to live stream at Ventana.
Driving around La La Land.  It turns out that people don't really sing and dance on their cars when in traffic.