Note: American Express is a Frequent Miler advertiser, but we always show the best public offer even when we don't earn a commission. Please see our Advertiser Disclosure.
Card Details and Application Link
Marriott Bonvoy Brilliant® American Express® Card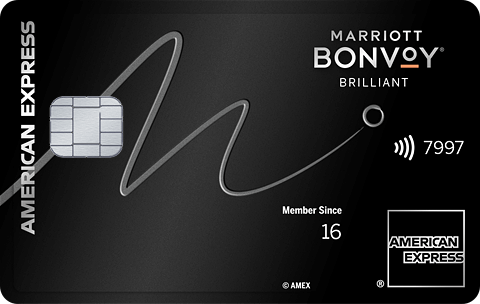 Recent better offer: 150K after $5K spend in 3 months [Expired 1/12/23]
FM Mini Review: Decent ultra-premium option for Marriott fans, especially those aiming for lifetime status tiers

---
Card Type: Amex Credit Card
<!–– qBaseq -->
<!–– qTravelq -->
<!–– qDineq -->
<!–– qBrandq -->
Earning rate: 3X airfare -on flights booked directly with airlines; 3X restaurants worldwide, 6X Marriott; 2X on all other eligible purchases
Big spend bonus: Annual Choice Award with $60K calendar year spend
Noteworthy perks: ⚬ 85K Free Night Award each year upon renewal ⚬ $300 dining credit per membership year ($25/mo) ⚬ Platinum Elite status ⚬ 25 elite nights credit ⚬ Priority Pass membership (Lounges only) with 2 guests ⚬ Global Entry fee credit ⚬ Free premium internet at Marriott properties Note: Enrollment required for some benefits.
See also: Marriott Bonvoy Complete Guide
Bonvoy Brilliant Overview
The Bonvoy Brilliant card is pricey, but it is loaded with perks that can easily offset that cost.  The combination of the $300 dining credit, automatic Platinum Elite status, and an 85K free night certificate (upon renewal) can make the card worth renewing each year — if you get good value from those perks.
Bonvoy Brilliant Overview
Annual Fee
$650
Foreign Transaction Fees
None
$300 Dining Credits
Earn up to $25 back each month on dining and food delivery charges.
Free Night Award
85K certificate each year upon renewal
Big Spend Bonus
Earn an Annual Choice Award after $60K calendar year spend. Choose 1:

85k Free Night Award
Five Suite Night Awards
$750 off a bed on Marriott Bonvoy Boutiques

Automatic Elite Status
Platinum Elite
Automatic Elite Credits
25 elite qualifying nights each year
Earnings from Spend

6X Marriott
3X airfare charged by airline
3X restaurants worldwide
2X on all other eligible purchases

Travel benefits

Priority Pass Select with 2 free guests
(This version of Priority Pass does not offer Priority Pass restaurants or experiences)
$100 Global Entry fee credit (once every 4 years) or $85 TSA Precheck fee credit (once every 4.5 years)
$100 Marriott Bonvoy® Property Credit for qualifying charges at Ritz or St. Regis hotels when you book direct using a special rate for a 2 night minimum stay.
Emergency medical transportation assistance
Secondary Car Rental Loss and Damage Insurance (not available in Australia, Italy, or New Zealand)
Travel Protections (baggage, trip cancellation, trip delay)

Purchase protections

Reimbursement for new items that are lost, stolen, or accidentally damaged
Extended warranty
Dining Credits
You can easily earn $300 per year back with your Bonvoy Brilliant card by using it regularly for dining spend.  Each month, you will earn up to $25 in credits back for any purchases at restaurants or certain food delivery providers like Doordash, Grubhub, Uber Eats, etc.
If you want to use a different card for most dining spend (after all, there are many cards that are more rewarding at restaurants), here are some tricks for earning the dining credit easily each month:
Reload your credit balance with any of these U.S. restaurants through their apps: Chick-fil-A, Dunkin' Donuts, Panera (buy gift card in-app), Starbucks, Wendy's.
Buy a gift card in-store from any restaurant you frequent.
The Fluz app offers a large selection of restaurant gift cards that code as restaurants when you buy them.  In other words, buying one of these gift cards for $25 should trigger the $25 rebate.  As a bonus, Fluz will give you a small cash rebate too.  Gift cards bought through Fluz that qualify as dining purchases include Amazon Meal Kits, DoorDash, Groupon, GrubHub, Starbucks, Walmart Cafeteria, and many more.  You can find a full list of qualifying Fluz gift cards at GC Galore.  If you're new to Fluz, below are our referral links. You'll received 2 "boosts" when joining.  Each "boost" is worth up to 25% back on select gift cards.  We'll earn $5 after you make your second purchase of $25 or more.
85K Free Night Award
Each year upon renewing your Bonvoy Brilliant card, an 85K Free Night Award will be deposited to your Marriott account.  This can be used to pay for one night at any Marriott property that costs up to 85,000 points for the night.  You can also add up to 15,000 Marriott points to the booking in order to book a night that costs up to 100,000 points.
If you use the certificate at a hotel that costs less than 85,000 points, there is no residual value to the certificate.  Marriott would let you use it at a hotel that costs only 5,000 points, but then the certificate would be all used up, so please don't do that.  You also cannot use the certificate to cover multiple nights.  For example, if a hotel costs 40,000 points per night, you might think that you should be able to use the 85K certificate to pay for two nights, but you cannot.
I recently found that the median value of Marriott points was 0.8 cents each.  This means that half of the time you can get less value and half the time you can get more value.  If you use the 85K certificate for a property that costs 85,000 points or more, this means that you have a 50/50 chance of getting at least $680 value from the free night certificate.  In practice, though, you may want to use the certificate at a property that costs less.  For example, if you use the certificate at a hotel that costs 75,000 points, then you have a 50/50 chance of getting at least $600 value.
Annual Choice Award
In order to earn an Annual Choice Award, you have to spend at least $60,000 on the card within a calendar year.  Once you've done that, you'll get your choice of the following:
85k Free Night Award
Five Suite Night Awards
$750 off a bed on Marriott Bonvoy Boutiques
85K Free Night Award: The 85K Free Night Award is probably the best choice in most situations.  It's easy to get over $600 value from one of these certificates and so this is like getting an extra 1% back (or more) on your $60,000 spend, but only if you use the certificate towards good value before it expires!
Five Suite Night Awards: Suite Night Awards can be valuable in certain circumstances, but they can also be frustratingly difficult to use.  Each Suite Night Award is a one-night confirmable upgrade to a standard suite or select premium room, depending on the hotel's availability of those rooms. The number of Suite Night Awards used must match the entire length of stay; it cannot be used for part of a stay (e.g., it cannot be used for the first two nights of a five-night stay). Once Suite Night Awards are requested to be applied to a stay, Marriott will begin checking upgrade availability 5 days in advance of your stay, up until 2pm on the day of your arrival. If your Suite Night Award request doesn't clear, you'll get the awards back to be used later.  Caution: suite night awards can be difficult to use:
Many Marriott brands do not allow the use of Suite Night Awards: The Ritz-Carlton®, Protea Hotels®, Aloft®, Element®, Design Hotels™, all-suite hotels, Marriott Executive Apartments®, Marriott Vacation Club®, EDITION®, The Ritz-Carlton Reserve®, The Ritz-Carlton Destination Club®, and Grand Residences by Marriott® properties.
A frustratingly large number of individual hotels within participating brands do not allow the use of Suite Night Awards.  The only way to find out for sure is to call and ask Marriott Member Services or to book a stay and try to apply your upgrades (but even that approach isn't foolproof).
You must use a Suite Night Award for every night of your reservation.  If you have 5 awards, for example, you cannot apply them to a 6 night reservation.
Once you've applied your Suite Night Awards to a reservation, Marriott begins checking for suite upgrade availability 5 days before your stay.  If you are not upgraded 5 days beforehand, Marriott will check again each day up until the day before your stay.  If the upgrade isn't successful, the Suite Night Awards will be credited back to your account.
$750 off a bed on Marriott Bonvoy Boutiques: I'm not sure why anyone would want to spend $60,000 on this card in order to get a coupon for a bed discount.  I bet you can find similar discounts by Googling or waiting for sales.
Elite Benefits
Marriott Elite Overview
| Elite Status Level | Requirements Per Year | Key Benefits |
| --- | --- | --- |
| Silver Elite | 10 Nights | Late checkout, 10% point bonus |
| Gold Elite | 25 Nights | 2PM late checkout; 25% point bonus; welcome gift (points only); room upgrade; enhanced internet |
| Platinum Elite | 50 Nights | 4PM late checkout; 50% point bonus; welcome gift w/ breakfast option; room upgrade includes suites; lounge access; Choice benefit (such as 5 suite night awards) when you achieve 50 nights. |
| Titanium Elite | 75 Nights | All of the above, plus: 75% point bonus; United Silver Premier status via RewardsPlus; Ritz-Carlton suite upgrades; Additional Choice Benefit (such as 40K free night certificate) when you achieve 75 nights. |
| Ambassador Elite | 100 Nights + $23K Spend | All of the above, plus: Ambassador Service (dedicated Marriott agent); Your24 (Choose the 24 hours of your stay. For example, choose to check in at 9am after an overnight flight). |
Automatic Platinum Elite
The Bonvoy Brilliant card offers automatic Bonvoy Platinum Elite status.  Platinum status gives you guaranteed 4PM late checkout (subject to availability at resorts); a 50% point bonus; complementary room upgrades, including to suites; lounge access at some hotels; and a welcome gift with a breakfast option at many hotels.
Platinum Elite status can be incredibly valuable at some hotels and almost meaningless at others.  The lack of consistency in elite benefits between Marriott hotels is one of the most frustrating aspects of the Bonvoy program.  For example, you might be treated like a king at a St. Regis hotel and barely acknowledged at a Ritz.  And while some of that comes from individual hotel policies, this differentiation is actually baked into the program.  Different brands have different requirements for supplying elite benefits.  While St. Regis hotels have to offer daily free breakfast as a welcome amenity choice to Platinum elites, Ritz-Carlton hotels don't have to offer anything but a few points.
25 Elite Qualifying Nights
Each year as a cardholder, Marriott will add 25 elite qualifying nights to your Marriott account.  Since you will already have Platinum Elite status (which otherwise would require earning 50 elite nights per year), you might wonder why those elite nights would be useful.  There are three reasons I can think of: 1) to earn Choice Benefits; 2) to reach a status level higher than Platinum; and 3) to inch you closer to Lifetime Platinum status.
Before we dive into each of these, it's worth pointing out that you can automatically get 15 additional elite qualifying nights each year by holding a Bonvoy Business card.  With both cards, you'll start each year with 40 elite qualifying nights.
Choice Benefits
Every year in which Marriott Bonvoy members earn 50 elite qualifying nights and again at 75 elite qualifying nights, they are invited to select a Choice Benefit.  Full details about Choice Benefits can be found here.  For most people, I recommend the following options:
50 Night Choice Benefit: Select either 5 Suite Night Awards or 5 Elite Qualifying Nights (the latter can help get you closer to Titanium status)
75 Night Choice Benefit: Select either the 40K free night certificate or 5 Suite Night Awards.
Shortcut to Titanium Elite status
Titanium Elite status requires earning 75 elite qualifying nights each year.  With 25 nights under your belt automatically, you'll only need 50 more elite qualifying nights each year.  Additionally, if you get a Bonvoy Business card, you'll get 15 more qualifying elite nights each year and so you'll only need 35 nights to reach Titanium.  And if you pick 5 Elite Nights as your 50 Night Choice Benefit, you're down to needing only 30 nights at Marriott hotels to earn Titanium Elite Status.
Titanium Elite status offers the following benefits (in addition to all of the benefits offered to Platinum Elites):
75% Point Bonus on paid stays
United Airlines Silver Premier status
Complementary suite upgrades (subject to availability) at Ritz-Carlton properties
Shortcut to Ambassador Elite status
The Bonvoy Brilliant's 25 elite nights can also be a stepping stone towards top-tier Ambassador Elite status, but that requires both 100 elite qualifying nights and $23,000 spend per year at Marriott properties.  The main advantages to this status are:
Ambassador Service (a dedicated Marriott agent)
Your24 (Choose the 24 hours of your stay. For example, choose to check in at 9am after an overnight flight).
Lifetime Elite Status
The Bonvoy Brilliant card can get you closer to Lifetime Elite status both with its automatic Platinum Elite status (which gives you additional years of status) and with its automatic 25 elite nights each year.  Here are the requirements for Lifetime Status:
Lifetime Silver Elite: Requires 250 lifetime nights + 5 years of elite status
Lifetime Gold Elite: Requires 400 lifetime nights + 7 years of Gold elite status or higher
Lifetime Platinum Elite: Requires 600 lifetime nights + 10 years of Platinum elite status or higher
Marriott does not offer Lifetime Titanium or Ambassador Elite status.
Earnings from Spend
The Bonvoy Brilliant card offers 6 points per dollar at Marriott properties, 3 points per dollar for airfare charged by the airline, 3 points per dollar for restaurants worldwide, and 2 points per dollar for all other eligible spend.
With Marriott Bonvoy points worth about 0.8 cents each at the time of writing, this card's earning power is lackluster.  For example, 3x for dining translates to a return of approximately 2.4% back.  Considering that many cards offer an effective return on dining of 5% back or more (you'll find a list here), 2.4% isn't very good at all.
Overall, I think that the Brilliant card is a good choice for Marriott fans for its perks, but I don't recommend using it for daily spend.  One possible exception is if you know that you'll get great value from the 85K cert that you can get with $60K spend.  In that case, spending to exactly $60,000 each year may make sense.
Bonvoy Brilliant Compared to other Marriott Cards
---
Below are all of the Marriott cards available today.  Click a card's name for more details:
Interested in getting the Ritz Card?
Chase's Ritz Carlton credit card is no longer directly available to new applicants, but it is still possible to get one.  You may be able to upgrade to the Ritz card from any Chase consumer Marriott card such as the
Bonvoy Boundless
,
Bonvoy Bountiful
, or
Bonvoy Bold
.  If you've had one of these cards for at least a year, call Chase to ask about upgrade options.  If you don't have one, you can sign up new for a Marriott card and later ask to upgrade.  See also:
Are you eligible for a new Marriott card?
Are you eligible for this card?
If you already have any Marriott cards, you might not be eligible for a welcome bonus with the Brilliant card.  That is, you can still get the card, but you might not earn a welcome bonus.
The following table shows the crazy rules in place for those seeking a second or third (or fourth, or fifth…) Marriott card: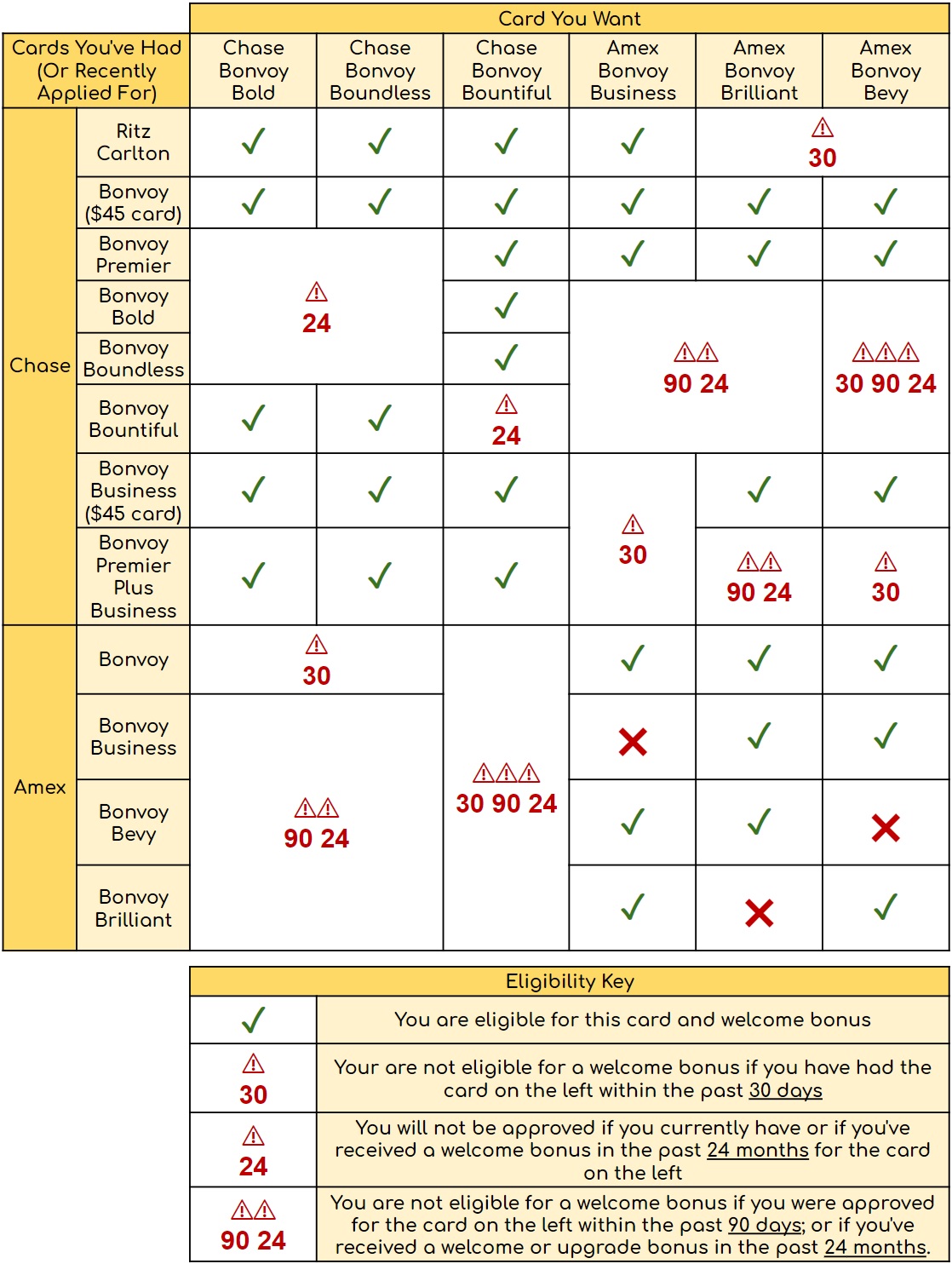 ---
Bottom Line
The Bonvoy Brilliant card is super expensive and it's not very rewarding to use for spend.  So why consider it at all?  The reason to consider the Brilliant card is for its perks.  The card's $25 per month dining credits help reduce the card's overall cost, and the card's free night certificate and elite benefits offer significant value.  Under the right circumstances, the free night certificate (which you get each year after renewal) alone can be used to book a hotel night that costs as much as the card's annual fee.  And for those who stay in Marriott hotels often, Platinum Elite status can be extremely valuable (but keep in mind that at some properties Platinum status can be nearly worthless).