On this week's podcast, Nick and I discuss the huge advantage of flying business class over economy or premium economy (and how airline miles make that possible at a reasonable cost), and debate the next step: is it worth paying more miles to fly international first class instead of business class?
Elsewhere on the blog this week, a 100K offer becomes better than ever; I explain why American Airlines AAdvantage has become my favorite mileage program; Carrie gives us 7 reasons to consider booking Airbnbs rather than points hotels; Tim reveals what Rick Steves and I have in common, and much more…
Podcast: Are first class awards worth the extra miles?
00:00:48 Giant Mailbag
00:03:14 What crazy thing did Amex do this week?
• Amex sometimes claims that tax payments don't count…
• See also: Pay taxes via credit card
00:09:54 Deal talk: Save 40% to 50% at Amazon.com
00:16:56 Award Talk
• Lufthansa often releases first class award space near last minute
• Aeroplan not always showing awards that are bookable with United and/or Avianca
00:19:37 MAIN EVENT: Are first class awards worth paying more for?
• 00:21:26 Comparing economy, premium economy, business class, and first class
• 00:32:10 First class ground services (Lufthansa example)
• 00:36:39 Award cost econ vs. prem econ vs. biz vs. first class (AA example)
• 00:41:40 Special first class products that ARE worth paying a huge premium for
• 00:47:33 Award cost econ vs. vs. biz vs. first class (Aeroplan example)
• 00:51:04 Award cost econ vs. prem econ vs. biz vs. first class (Lifemiles example)
• 00:55:00 ANA First Class vs. JAL Business Class
• 00:58:22 Conclusion: Is it worth it?
01:03:07 Question of the week #1: Are Greg and Nick out of touch?
01:07:31 Question of the week #2: Status match to get international upgrade?
Subscribe to our podcast
We publish Frequent Miler on the Air each week in both video form (above) and as an audio podcast. People love listening to the podcast while driving, working-out, etc. Please check it out and subscribe. Our podcast is available on all popular podcast platforms, including Apple Podcasts, Spotify, and many more.
Alternatively, you can listen to the podcast online here.
This week on the blog…
Lately, for a variety of reasons, AA has become my go-to program for redeeming miles (mostly on partner airline flights).  I still strongly prefer transferable points programs, but when talking specifically about airline miles, AA is my current darling.  In this post I explain why.  And in the comments of this post, you'll find quite a few readers explaining why AA is NOT their favorite program.  That's cool too.
In this post, Carrie explains why it sometimes makes sense to forsake points-bookable hotels in favor of vacation rentals (this includes vrbo, Vacasa, Airbnb, etc).  One example, Carrie gives is the ability to book places in extremely remote locations.  She writes:
One of my favorite trips in recent history was to the remote village of Raithal in the Himalayan region of Northern India, which I wrote about here. Airbnb is the only option I know of for visiting a place that remote. Like our Party of 5 Airbnb in the Philippines, our host Naveen helped us solve the logistic puzzle of getting there. Without conveniences like Uber, we needed his help and he readily gave it – meeting us at the bus stop in Uttrakashi to accompany us the remaining hour or so further up into the mountains. Once there, there was no real grocery store, let alone any real restaurant, so we also relied on Naveen for all of our meals. His two cottages are appropriately titled "Raithal Retreat" and that's exactly what it felt like: a retreat.
Not all readers agree with Carrie's arguments, though.  Check out her article and reader comments (and Carrie's replies) to get the full story.
The entire Frequent Miler team recently flew together on ANA's new first class called "The Suite."  The five of us had the entire first class cabin to ourselves.  It was undoubtedly the most fun flight I've ever flown (You can read about the experience here).  Both the cabin and service were stellar.  That said, other than the fun factor, "The Suite" experience didn't quite reach the highs that I've experienced (thanks to points!) on other airlines and so I decided to assemble here my favorite luxury flight experiences: Etihad First Apartments (most awesome suite & service); Singapore Suites (incredible service & most comfortable bed); Luftansa First Class (best ground services); Emirates First (good at everything, plus the most bling); ANA First Class "The Suite" (most fun flight ever); Qatar Business Class (first class food, service, and amenities); and Turkish Airlines Short-Haul Business Class (amazing catering).
Tim presents a sort-of two-in-one review of this Ritz-Carlton hotel and Fine Hotels and Resorts (at least, as implemented by this hotel).  I heartily agree with Tim that both the hotel itself and their delivery of Fine Hotels and Resorts benefits deserve a big thumbs-up.  I finally see why the Ritz-Carlton brand is so well respected.
Here Steven reviews the Four Seasons Macau.  While I agree with all of the contents of his post, personally I would have given the hotel a mixed thumbs-up / thumbs-down review since the service was surprisingly poor.  That said, the room upgrades and amazing breakfast did make for a very good stay.
In this Saturday Selection post, Tim gives his 4 cents* about posts on the following topics:
Rick Steve's gets robbed
United adds features to their app to make flight disruptions a little easier (and just in time too based on United's recent slew of cancellations!)
British Airways' new award pricing for flying Qatar (say bye-bye to flying Qatar business class from Doha to Sofia for only 6K Avios)
Hyatt's expansion in Europe
Amex makes Fine Hotels & Resorts Credit slightly more difficult to use (but see comments where readers say otherwise).
* Due to inflation, Tim had to give his 4 cents rather than the usual 2 cents.
Deals of the Week
You'll need an Amex card that earns Membership Rewards points to get in on this offer.  Plus, you'll have to enroll in "Shop with Points" (here's our affiliate link for enrolling).  Once those things are done, you can check to see if you were targeted for a 40% or 50% off deal: Click through our affiliate link here to see if you are targeted.
If you are targeted for this deal, you can get in on the 40% or 50% off by paying with just one Amex point for products shipped and sold by Amazon.  See the deal post for more details.
Chase's Ink Business Preferred card now requires only $8,000 spend instead of $15,000 in order to earn 100,000 super-valuable Ultimate Rewards points.  If you missed out on the 90K offers for the Ink Business Cash and Ink Business Unlimited cards, this has become a pretty terrific alternative.  Actually, even if you did get in on the 90K offers, this is a great way to add to your Chase Ultimate Rewards fortune.
Updated Resources
With the new improved 100K Ink Preferred offer, I figured it was time to refresh and republish this one.
Since last publication, this post has been updated with new instructions for using the Experian smartphone app.
This guide has been updated with: (1) "Enhance with Miles" program; and (2) Elite upgrades are now offered on award flights for all elite members.
This guide has been modified since its last publication in order to reflect changes in the transfer bonus from Marriott Bonvoy, United's new family seating policy, as well as changes to elite-earning and the elimination of award redeposit fees.
I had sent out an update on Thursday saying that this card's Smart Rules weren't working, but that was short-lived.  On Friday I updated the post to indicate that Smart Rules were fixed!
We regularly update this page with a list of all of the Amex Offers found on our Amex cards.  This update includes all of the latest offers we found.
I updated and reposted this because I recently received my 2023 40 Night Milestone choice.  I chose 5,000 Hyatt points rather than the $100 Hyatt gift card so that I'd have one less thing to remember to deal with.  Additionally, note that the FIND experience option has improved. It used to be a 10K discount (~$140 off) that expired in 6 months.  Now, it is a $150 credit which expires 14 months past the end of the current calendar year.
---
That's it for this week at Frequent Miler. Keep your eye out for this week's last chance deals.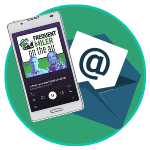 Want to learn more about miles and points?
Subscribe to email updates
 or check out 
our podcast
 on your favorite podcast platform.