Six months ago to the day I published a post with what was in my wallet. Had you told me then that not only would almost every card in my wallet have turned over within six months but that I'd be earning more rewards everywhere, I probably wouldn't have believed you. The truth is, various temporary bonuses have gotten so good and so plentiful that it can be difficult to remember which card(s) to use. Thankfully, I've now retooled and simplified everything and split this post into three wallets: my wallet, my wife's wallet, and our "virtual" wallet (for online stuff). As noted in my previous post on this topic, the cards in my day-to-day wallet aren't necessarily a reflection of A) what should be in my wallet, B) what should be in your wallet, or C) my full portfolio of credit cards, which includes many cards that get used in specific ways such that I don't need to carry them each day. This post is simply meant to share which cards I'm actually using in the real wallet that I carry when I leave my house. Here's where we stand in mid-2020.
My "old" wallet (just six months ago)
As a reminder, six months ago, this is what I carried and why:
Restaurants: Citi Prestige (5x)
Gas Stations: Chase Ink Plus (2x) (note this card is no longer available for new applicants)
Everywhere else: Capital One Venture (2x "miles" is good for 1.5 airline miles in several programs or 2.8% back toward Marriott gift cards in my circumstances)
SoFi Money Visa Debit Card: For fee-free ATM withdrawals (note that customers who opened accounts prior to 6/9/20 still get fee-free ATM withdrawals at almost all ATMs, whereas those who have opened accounts from 6/9/20 onward get fee-free withdrawals at Allpoint ATMs). See the latest SoFi Money account bonuses in this post.
Niue Yacht Club Membership Card: For laughs and bragging rights at parties
Simon Visa Gift Card: In case I could liquidate it
But things have changed…
Nick's wallet now
As you can see above, my wallet has experienced near-total turnover in six months. Sure, my SoFi Money debit card is still in there, but even that has changed — in this case, a change of networks has meant some limited-time cash back bonuses / discounts like the current deals for 10% back at some grocery stores / Instacart and on some streaming services.
The only thing that has remained totally unchanged in my wallet is my Niue Yacht Club membership card. I don't anticipate something cooler coming along any time soon.
Otherwise, my wallet has changed significantly, and I'd say for the better:
I'm now earning 10x Marriott points on gas vs 2x Ultimate Rewards points previously. That's a big boost in terms of Reasonable Redemption Value. I'm personally happy to pick up hotel points at good value since (apart from the past few months) I generally find collecting hotel points directly via credit card spend to be a poor value. Furthermore, given that Marriott points transfer to airlines at a rate of 3:1 (or slightly better if transferring in blocks of 60K), this is like a return of 3.33 miles per dollar spent. I'll take it while I can get it. I just hope I can buy Gift of College cards with this bonus — unfortunately my previous attempts to pay for them with this card have been declined. I set myself a reminder for the end of October to switch this card out for my Citi Premier (for 3x) if I don't hit the cap sooner.
I'm now earning 5x Ultimate Rewards points per dollar spent on groceries vs 4x Membership Rewards points before. While I generally prefer Membership Rewards over Ultimate Rewards points, I'll take 5x over 4x. I'll note that it's kind of surprising that Citi debuted 3x ThankYou points for grocery store spend ahead of schedule and it's gotten totally buried first by COVID credit card enhancements the past couple of months and now by the new Freedom cards welcome offers.
I'm now earning 10x Marriott points on restaurants vs 5x ThankYou points. Is that a better return? This is open for debate. Given the many ThankYou points sweet spots that are sometimes overlooked, I could see some saying that this is a downgrade. On the other hand, as noted above, apart from pandemic-increased payouts, I generally find it hard to justify spending on hotel credit cards, so I'm happy to take 10x Marriott for the short-term. It's also worth noting that I product-changed my Prestige card, so that is no longer my next-best option. That second-best option would now be the Amex Gold (4x) followed by the Citi Premier or Sapphire Reserve at 3x. That makes a 10x Marriott return easier to swallow and I'm earning those other currencies in other ways that frees me up to earning some Marriott points here.
I'm now en route to earning 2.625% cash back everywhere. I'm still waiting on the bestowal of Platinum Honors, but in the meantime there is a $500 welcome bonus to trigger, so the Bank of America Premium Rewards card has already made its way into the wallet. While I was using the Venture card as an effective 2.8% back toward Marriott gift cards, I am happy enough with the trade for 2.625% straight cash on everyday spend given the obvious flexibility advantage of cash.
Overall, my wallet feels nicely upgraded. It's worth mentioning that one thing that helped simplify here is that we no longer have any Hilton resort credit to use at restaurants (as a reminder, you can use the $250 resort credit on the Aspire card at restaurants through the end of this month), otherwise that would complicate things. After avoiding restaurants altogether for months, I finally got myself accustomed to getting take-out again and that ramped up quickly. I've even eaten at a couple of restaurants with outdoor seating. Baby steps.
Note that I wish my wallet were slightly different: If I could successfully register for the Chase Marriott bonus for gas stations and restaurants, I would have my old Marriott Bonvoy Premier card in my wallet. That's the old Marriott card that only awards an annual 25K certificate and unlike all of the other Marriott cards that are currently available, it only offers 1x on most purchases. However, it awards an elite night credit with every $3K spent. I'd gladly use that card for $3.5K at gas stations in order to earn both 10x and pick up an elite night. However, since Chase won't seem to let us register any of the cards in our household (and the same seems to be true for many other card holders), there is no Chase Marriott card in my wallet at this time.
Nick's wife's wallet
My wife is more active in this hobby than the "Player 2" in many households. She is generally the more enthusiastic manufactured spender between the two of us and she could probably tell you in which programs she currently has elite status. Probably.
However, between working, being the full-time caretaker of our son, patiently growing a tiny human that is set to join us shortly, and picking up the slack everywhere I leave it, she would argue that she should be forgiven for that time she put a large purchase on a Southwest Airlines credit card at 1x. I took that slip-up as a cue to simplify her wallet considerably.
These days, she is carrying three credit cards and one membership card:
Food (Grocery / Restaurants): Amex Gold Card (4x on up to $25K in purchases at US supermarkets per year, then 1x; 4x restaurants)
Gas: Chase Sapphire Reserve (5x on up to $1500)
Everywhere else: Capital One Venture
Emergencies & Discounts: AAA card. We frequently use this for hotels in normal times (though we rarely get asked to show it). It has also come in handy a time or two for assistance.
Her wallet is now set up so it can be almost foolproof. One card for food, one card for gas, one card for everything else. If she goes to a restaurant that doesn't take Amex, she knows enough to use the Sapphire Reserve.
Why is she carrying the Venture card rather than the Premium Rewards card? This is only temporary. We are most of the way to the points needed for another hotel gift card with Capital One miles. Once we hit that threshold, we'll likely put the Premium Rewards card in both of our wallets (though we'll hold off on redeeming the Venture miles until we either need the gift card or need a transfer to a partner).
Overall, I like the simplicity here. As long as I can get her to avoid unbonused spend on the Gold or CSR cards, we should be good to go. As above, I wish I could get our Chase Marriott cards registered for 10x gas and restaurant purchases so we could pick up some earn there in her wallet as well, but if that promo doesn't work out I won't lose sleep earning 5x Ultimate Rewards on gas and 4x Membership Rewards on dining in the increasingly rare instance that my wife is spending without my wallet also present.
Our "Virtual" wallet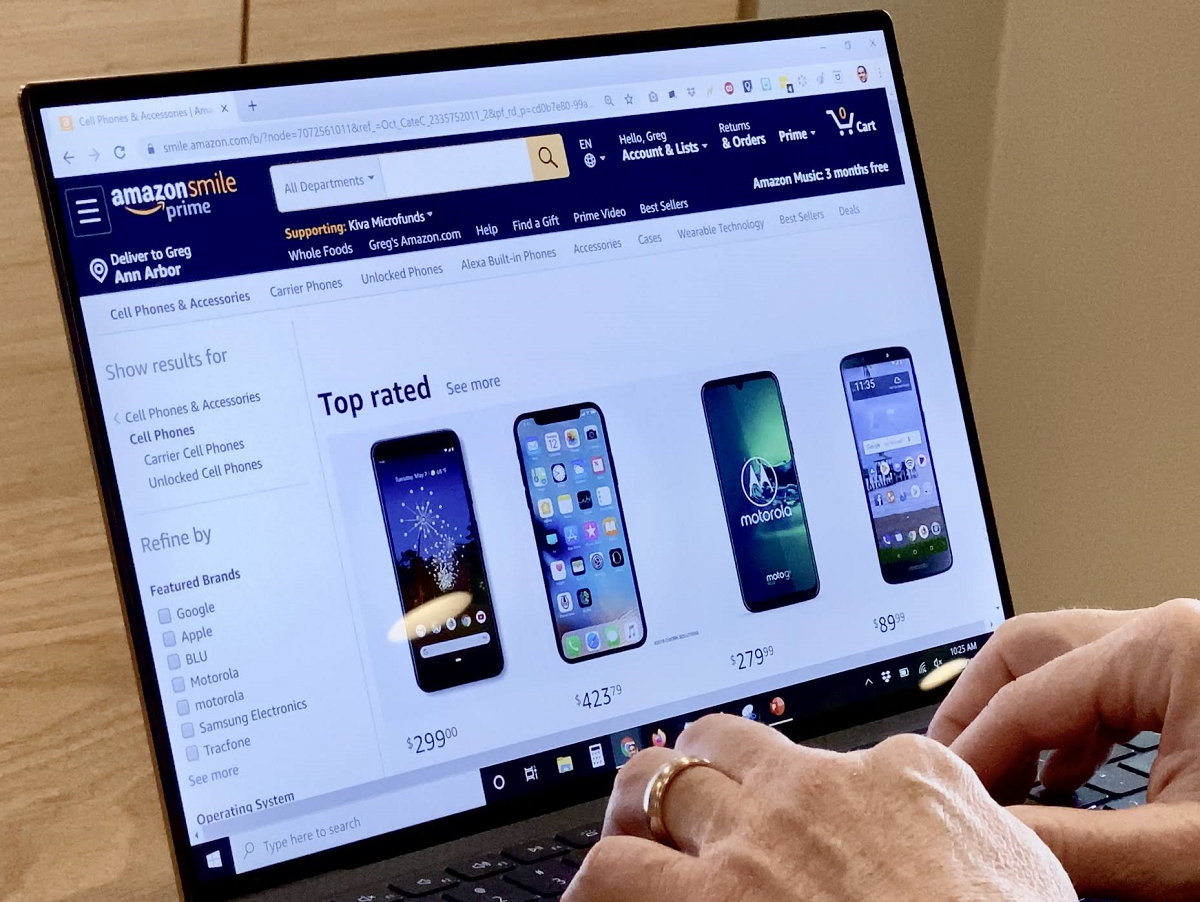 The truth is that these days, especially given the fact that COVID-19 has slowed our manufactured spending routines, we spend more money online than we do in-store with physical wallets. Therefore, as important for us is which cards we're using for our many online purchases:
Amazon.com: Chase Freedom (5x this quarter on up to $1500 in purchases)
Other stores: Citi AT&T Access More (3x online retailers). Note: This card is no longer available for new applicants or product changes.
DoorDash: Chase Sapphire Reserve. We've now used up this year's $60 in credits, but if we use DoorDash again, we will continue to use the Sapphire Reserve for DashPass benefits and 3x.
InstaCart: Amex Gold. We can't get delivery where we live, but we've used InstaCart once or twice for delivery to a family member's house where we could pick it up the same day. We were pleasantly surprised when our order from a warehouse club coded as grocery through Instacart. Of course, if we order from Instacart in the near future, we would be smarter to use one of our SoFi Money cards for 10% back, up to $50 for each of us.
Plastiq: Chase Ink Business Preferred. As a blogger, I've picked up a lot of fee-free dollars over the years. As such, I pay a number of bills via Plastiq (including our car payment and some bills for others in the family). I've been paying those bills with a suboptimal card here: at times in the past, this card earned 3x at Plastiq. It hasn't for a long time and I've been lazy about changing it. I'll likely be switching to a MasterCard here, but I'm still working out which one. There are a number of good options, though with Platinum Honors we may need to take a closer look at Bank of America options.
Everywhere else: There are some online stores where the AT&T card is known to not earn 3x points. In those instances, we'll use the Bank of America Premium Rewards card for 2.625% back.
These aren't the only cards we'll have/keep/use
The cards we carry day to day don't represent all of the cards we'll use on a semi-regular basis in normal times. For example, if we're going to a Simon Mall, we'll carry several more cards not noted here in order to split big purchases and spread out spend. When an office supply store runs a deal on Visa Gift Cards and we have plans to pass by a store, we'll obviously rotate in a Chase Ink Plus (which is no longer available for new applicants, though it is very similar to the Ink Cash). This post doesn't cover every card we have but rather which cards are in the wallets we carry day to day.
Bottom line
My, how things have changed! I wouldn't have expected six months ago that almost every card in my wallet would be different today. That said, I'm certainly not disappointed to be earning 10x Marriott points at restaurants and gas stations or 5x Ultimate Rewards points at the grocery store and 2.625% cash back everywhere else. Current short-term enhancements and strategic new card additions have significantly improved our day-to-day earn and simplified our wallets considerably. Sure, we'll rotate in plenty of other cards for unbonused purchases — and we'll need to switch things around if and when we reach the caps on various spending bonuses. Still, for day-to-day use, we're earning plenty of points on all of our purchases with a simplified approach that doesn't require too much thought.