We've previously published complete guides to most transferable points programs, including Chase Ultimate Rewards, Citi ThankYou Points, and Amex Membership Rewards. Now that Capital One has added transfer partners and initiated the ability to transfer Capital One "miles" to anyone with an eligible account, it was time to write up a complete overview of their Capital One® Venture® miles and Capital One® Spark® Miles program…
Capital One "Rewards miles" (which aren't really airline miles, but can be redeemed for $0.01 each toward travel purchases or transferred to airline partners (at a ratio of 1,000 Capital One Rewards miles to 750 airline miles in most instances or 1,000 Capital One Rewards miles to 500 airline miles for two partners) can be earned via credit card bonuses and ongoing spend. Those "Rewards miles" can then be transferred to airline partners, used to pay for travel, redeemed for gift cards, or converted to cash back.  Capital One's reward miles program competes with three other bank issued transferable points programs: Chase Ultimate Rewards, Amex Membership Rewards, and Citi ThankYou points.
Below, you'll find everything you need to know about Capital One Rewards miles.
Earn Capital One "Miles"
Credit Cards
The easiest and quickest way to earn Capital One "miles" is through Capital One® Venture® and Capital One® Spark® Miles credit card welcome offers.  Below are the current Capital One cards that earn Capital One miles.
Redeem Capital One "Miles"
Capital One "miles" are worth 1 cent each when redeemed for travel.  It is possible to get more value in some instances by transferring points to airline partners.  More below…
Travel
Purchases made from airlines, hotels, rail lines, car rental agencies, limousine services, bus lines, cruise lines, taxi cabs, travel agents and time shares are generally considered to be travel purchases for the purposes of requesting a statement credit via Capital One's "purchase eraser"(though note that this is based on the merchant category code assigned to them by the merchant). Purchase eraser requests for a statement credit must be made within 90 days of the date your travel purchase posts to your account and can be done easily online.
Since you can make your purchases directly from travel providers, you can make bookings that qualify for elite credit / benefits and then apply your Capital One Rewards "miles" after the fact. Another somewhat unique feature in the Capital One system is that you do not need to have earned the necessary miles before making a booking since you have 90 days from the date the charge posts to your account to make a redemption.
Transfer Capital One "Miles"
Often the best use of a transferable currency is to transfer points to airline partners in order to book high value awards.  Your best bet is usually to wait until you find a great flight award before transferring points.
Transferring to your chosen program is simple: log in to your credit card account, click your Rewards Miles balance, then choose "Transfer Your Rewards". From there, select your chosen program and enter your loyalty account information as well as the number of miles you wish to transfer in increments of 100. For more on this process, see: How to transfer Capital one miles to partners.
Current Transfer Bonuses
At the time that I'm writing this there are no active transfer bonuses. We don't yet know whether Capital One intends to offers any transfer bonuses, but if a transfer bonus appears, details will automatically appear here:
| | |
| --- | --- |
| Transfer Bonus Details | End Date Sortable |
Transfer Partners
| Rewards Program | Capital One Transfer Ratio | Best Uses |
| --- | --- | --- |
| Accor Live Limitless | 1000 to 500 | Use to pay hotel bill with value of 2 Euro cents per point. In some cases (such as hotel to airline transfer bonuses) it may make sense to convert Accor points to the following airline miles at a 1 to 1 ratio: Finnair, Iberia, Qantas, or Virgin Australia |
| AeroMexico ClubPremier | 1 to 1 | AeroMexico is a SkyTeam partner. Club Premier points can be used to book flights on AeroMexico, SkyTeam alliance members (such as Delta or Korean Air), or on select partner airlines. Unfortunately many have reported that awards are extremely difficult to book through AeroMexico so we do not recommend transferring points to this program. If you want to fly AeroMexico, look to transfer points to another SkyTeam partner (such as Air France) and then book AeroMexico with that program. |
| Air Canada Aeroplan | 1 to 1 | Redeem for Star Alliance flights and/or flights with Air Canada partners (such as Etihad). No fuel surcharges; $39 CAD award booking fee; 5,000 points to add stopover on one-way award. See: Air Canada Aeroplan: Everything you need to know. |
| Air France KLM Flying Blue | 1 to 1 | Monthly Air France Promo Awards often represent very good value. Air France miles can be used to book Sky Team awards, including Delta awards. |
| Avianca LifeMiles | 1 to 1 | Avianca LifeMiles can be great for Star Alliance awards. They offer reasonable award prices and no fuel surcharges on awards. They also offer shorthaul awards within the US (for flying United, for example) for as few as 7,500 miles one-way. Best of all, their mixed-cabin pricing can lead to fantastic first-class award prices. See this post for details. |
| British Airways Avios | 1 to 1 | While flights on British Airways itself often incur outrageously high fuel surcharges, many BA partners charge low or no fuel surcharges. Excellent value can be had in redeeming BA points for short distance flights. It's possible to move points (Avios) between Iberia, British Airways, and Aer Lingus. See also: Complete guide to Avios - British Airways, Iberia, and Aer Lingus. |
| Cathay Pacific Asia Miles | 1 to 1 | Cathay Pacific has a decent distance based award chart, but they no longer allow stopovers longer than 24 hours. Cathay Pacific Asia Miles can be a good option for booking American Airlines flights with a distance based award chart, especially if other OneWorld Alliance miles aren't available. For long distance flights, it is possible to reduce the cost of first class by adding on a business class flight. See this post for details. |
| Choice | 1 to 1 Not Yet Available | Choice Privileges points seem to be randomly valuable within the US, but dependably valuable internationally in expensive locations such as Scandinavia and Japan |
| Emirates Skywards | 1 to 1 | The best use of Emirates miles is to fly Emirates itself. See: Emirates Sweet Spot Awards - First class from 30K miles round trip. |
| Etihad Guest | 1 to 1 | Etihad has a very competitive award chart for American Airlines flights, among others.  For example, they charge only 50,000 miles one-way for business class flights from North America to Europe. Partner awards must be booked over the phone. |
| EVA Air Infinity MileageLands | 1000 to 750 | If you want to fly one of the best business class products in the sky, the best way to snag EVA flights is with their own miles since they release more award space to their own members. One-way business class flights from the US to Taipei cost 75K to 80K miles. Fuel surcharges are very low on these routes. |
| Finnair Plus+ | 1 to 1 | Award prices are quite high compared to competing programs. Interestingly, miles can be exchanged for tier points (towards elite status). |
| Qantas Frequent Flyer | 1 to 1 | Best use is probably for flights on El Al with no fuel surcharges. Also useful for short AA flights. Qantas offers distance based award charts similar to Cathay Pacific. Both are OneWorld Alliance members. I recommend comparing award prices across both programs before transferring to either. Qantas offers round the world business class awards for only 280,000 points (but with many restrictions) |
| Singapore Airlines KrisFlyer | 1 to 1 | Use to book Singapore Airlines First Class awards (generally reserved for their own members), Alaska Airlines economy awards, or for Star Alliance awards (including United Airlines). |
| TAP Air Portugal | 1 to 1 | |
| Turkish Airlines Miles & Smiles | 1 to 1 | Miles & Smiles offers a number of awesome sweet-spot awards including 7.5K one-way anywhere within the US, even to Hawaii. Many awards cannot be booked online but can be booked via email. See: Turkish Miles & Smiles Complete Guide and Turkish business class sweet spots from the US. |
| Wyndham | 1 to 1 | Wyndham often allows booking multi-room suites for the same price as a standard room. It's sometimes possible to get great value from points in that way. Additionally, you can book vacation rentals for only 15K points per room per night. |
Cash back
Capital One Rewards Miles can be redeemed for 0.5 cents each either as statement credits or as cash back via check. That's a very poor value and not recommended.
Other ways to redeem points
Through the Capital One Rewards portal you can redeem Rewards miles for gift cards. Most merchant gift cards (like Amazon, Best Buy, etc) yield exactly $0.01 per mile — that is to say that a $25 gift card costs 2,500 Rewards Miles.
One notable exception is the ability for some cardholders to redeem for "Special Hotel Offers", which are specific hotel gift cards offered at much better rates. At the time of writing, this section of the Rewards portal offers a $900 gift card to Fairmont, Four Seasons, Marriott, Raffles, or Ritz-Carlton for 64,250 miles. That's a value of 1.4 cents per Rewards mile and certainly might be worth considering. It is unclear as to how an account becomes targeted for this capability.
Note that you will not find the Special Hotel Offers under the "gift cards" section. To find these offers, log in to your credit card account, click on your Rewards miles balance, and then choose "Get Special Hotel Offers":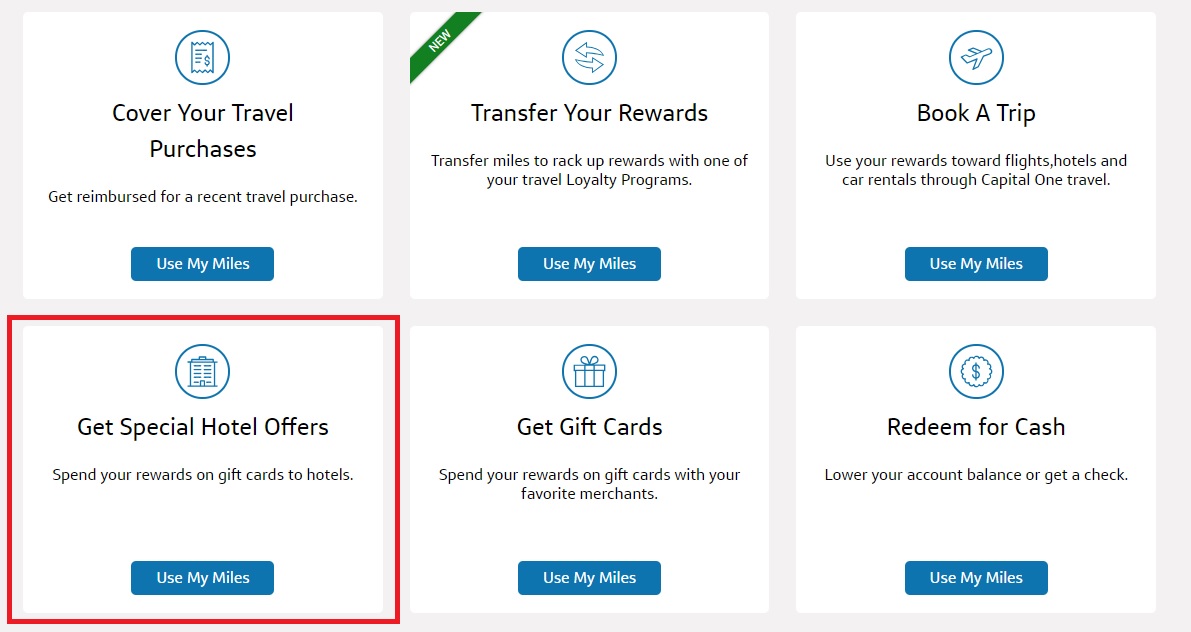 Sweet spot awards
Our post, Capital One Miles Sweet Spots, details the best value uses of Capital One "Miles".  Either click here or click below to jump to a section of the post:
Manage Capital One "Miles"
Combine Points Across Cards
Capital One makes it very easy to combine Rewards among your own accounts. To combine Rewards within your own accounts (for example, to move Rewards miles from your Venture One card to your Capital One® Spark® Miles card), simply open the card account from which you wish to move the miles, click on your Rewards miles balance, choose "Share Rewards" and then "One of my accounts". This should give you a drop-down menu where you can choose the account you want to send your Rewards miles to. You can then enter the exact amount you wish to transfer. There is no minimum. The maximum is simply your current available Rewards miles balance.
See: Now share Capital One miles with others for more on this.
Share Points Across Cardholders
Capital One very generously allows people to transfer Rewards to anyone else, for free. There are no minimums and no limits as to the number of Rewards miles you can transfer to another cardholder.
Unfortunately, this can not be done online at the time of writing. You'll need to call the number on the back of your card and provide the agent with the name and card number of the person to whom you would like to transfer your Rewards miles. Keep in mind that the recipient will need to have a Capital One Rewards Miles-earning card to receive your miles.
Why this is valuable:
If a friend has airline elite status with one of Capital One's transfer partners with which you want to book an award, you may be better off transferring points to your friend who can then transfer the points to the airline partner and book the award for you (to get free award changes, for example).
Your spouse/sibling/parent/neighbor/cousin/friend is a few thousand miles short of having enough for a business or first class ticket when transferred to a partner. This makes it easy to top up and/or to combine if that person has other transferable points to put together the award you want. Or maybe you're redeeming points for several travelers and you would rather have them all on one PNR rather than booking multiple tickets out of separate accounts. It's easy to combine.
See: Now share Capital One miles with others for more on this.
How to Keep Points Alive
Capital One Rewards Miles do not expire as long as your account is open and in good standing. If you cancel an account with a Rewards miles balance, you will forfeit those rewards. For this reason, you'll want to transfer to an airline partner or another Capital One miles-earning card via the methods above before canceling an account.
More information
You can find the full terms and conditions for your card by logging in to your account, clicking on your rewards balance, and clicking on "Terms and Conditions" or "FAQ".