The Point Debit Card is out with a new referral offer: refer 5 friends to the Point Card before 11/26/21 and you'll get a free Rimowa bag of your choice (up to $1,000) when each friend spends $200 before 12/5/21. Each friend you refer gets a "free year" in the form of $99 in points when they spend $200 before 12/5/21. This actually looks like it could be a pretty exciting deal for those who can refer friends.
The Deal
If you're new to the Point Debit Card
If you're new to the Point Debit Card, note that the annual fee is now $99. That gets billed on your first deposit, but as noted above if you sign up by 11/26/21, you'll get $99 in points if you spend $200 on the card by 12/5/21.
If you want to try it out, feel free to use one of our referral links / codes:
Key Terms
For those referring new customers and hoping to earn a Rimowa bag:
Quick Thoughts
This looks like a very interesting deal given that the Point Debit Card keeps coming out with valuable spending offers and I don't see that changing with the holiday shopping season coming up.
For those referring someone, the deal terms indicate that the way this works is that Point will credit your account with points equal to a settled transaction at Rimowa before 12/17/2021 using your Point Card (up to $1000) if you meet the referral conditions. That's pretty awesome. It isn't clear to me though whether or not you'll know that you've reached the 5 required referrals, so I guess this deal will best be done by referring people who you know. The downside of this offer is that if you refer more than 5 people, I don't think you'll get anything additional. And if you post your link on Facebook or Twitter or something, I don't think you'll have a way to know whether or not 5 people signed up. On the other hand, this could certainly make for good conversation at the Thanksgiving dinner table.
For those unfamiliar with Point, it may seem odd to have a debit card with an annual fee (even if they rebate it after the $200 spend), but it has been a great deal thus far. Keep in mind that Point Debit Card points are worth 1c each, so 10x is like 10% back. The card ordinarily earns 1x / 1% back on most purchases, which is already a great deal for a debit card. But it gets better. So far just since I signed up (and I'll note that I was a late adopter), Point has run:
And they recently added rideshare and missed event ticket protection, which I wrote about here.
The Point Debit Card was previously offering $100 in points for each person you refer after they spend $1,000 in the first 30 days and each friend has gotten $100 in points after meeting that spending requirement.
With this new deal, the spending requirement for your friends to get a net free year is much lower — they just need to spend $200. That's a great deal for the person signing up. Point has continuously run fantastic deals over the past several months and I imagine they aren't planning to slow down as the holiday shopping season kicks in. Getting it net free with a low spend threshold is pretty nice.
Note that I'm saying "net free" because Point will still bill the $99 annual fee after your friend makes their first deposit. Then, after they spend $200, they will get $99 in points (which they could instantly redeem for $99 cash in their account). So your friend will need to deposit at least $299 to meet their end of the deal — $99 to cover the fee and $200 to spend.
Personally, I'm excited because I know I wouldn't ordinarily splurge on a Rimowa bag but I think I can probably find 5 people interested in trying out Point, especially with this new lower spending threshold. Now off to daydream at the Rimowa website for a few . . .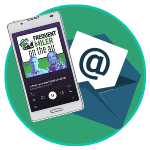 Want to learn more about miles and points?
Subscribe to email updates
 or check out 
our podcast
 on your favorite podcast platform.