Remember, remember the month of December, the most wonderful time of the year for opening credit cards with calendar year benefits. In some cases, you can extract even more first-year value out of a card by applying or upgrading this month. I recently opened two new cards and upgraded a third specifically for calendar-year benefits — and I'm making sure to use up those calendar year benefits before the end of the year on all of the cards in my wallet.
Calendar year versus cardmember year credits and benefits
An important distinction lies in the difference between calendar-year benefits and cardmember year benefits. Some credit cards offer benefits that only repeat at anniversary, which is to say that those benefits renew when you renew your credit card for another year (paying the annual fee). Other benefits are based on the calendar year (or even part of a calendar year) and renew based on the date. This post focuses on that latter group of benefits that are related to the calendar.
The nice thing about opening or upgrading to a card with calendar year benefits at this time of year is that it gives you the chance to use 2022 credits and then get those credits again in 2023. In some cases, you may even be able to triple dip and get them again in early 2024 before a second annual fee is due.
My recent experiences opening cards with calendar-based benefits
In my case, we recently opened a couple of new Amex cards in my household and we upgraded a third card to take advantage of outsized value for at least one year.
Marriott Bonvoy Business from American Express
First, I opened the Amex Bonvoy Business card. As I mentioned on last weekend's podcast, I was disappointed when we'd recently reported that Marriott updated language to explicitly no longer offer a "soft landing". I currently have Titanium status, but I only had 32 elite nights this year. I had assumed that Marriott would likely allow me to keep Platinum status based on my previous Titanium. However, it sounds like that wouldn't be the case.
An 18 night mattress run did not at all sound appealing, so I settled for the path of least resistance: I opened the Amex Marriott Bonvoy Business card, which offers 15 elite nights each calendar year. If you also have a Marriott consumer card, you can earn 15 elite nights from having any one consumer card for a maximum total of 30 elite nights (15 elite nights from holding one or more business cards and 15 elite nights from holding one or more consumer cards (note that elite nights from multiple consumer cards do not stack).
Unfortunately, since I have had the Bonvoy Business card in the past, I am not eligible for the welcome bonus (I got a pop up confirming as much during the application process). However, the 15 elite nights this year would put me just three nights short of Platinum status. Since I'm only four years short of lifetime Platinum (whatever a lifetime will mean for the Marriott Bonvoy program) it seems silly to miss out on a shot at easy Platinum status for 2023. There's also the fact that I have a recently-extended 50K free night certificate from my Ritz card and will soon get my first 85K free night certificate. I'd like to have Platinum benefits when I use those certs at (hopefully) nice properties.
Since I wasn't eligible for a welcome bonus, my wife and I turned lemons into lemonade: she referred me from one of her Amex cards that offered her a bonus of 25,000 Membership Rewards points when she referred a friend.
Amex allows multi referrals, which means that if you have a card that earns Membership Rewards points, you can refer someone to almost any new Amex card and collect the bonus offered on the Amex card from which you generate the link (for more detail, see Maximizing value from Amex multi-referrals). Therefore, my wife earned 25,000 Membership Rewards points for referring me from one of her Platinum cards to the Bonvoy Business card. The good news for me is that the 15 elite nights posted just two days after I was approved and I now sit just three nights short of the Platinum status goalpost. I will likely still need to mattress run one or two nights, but that will be easy enough. If I get lucky enough to get one good suite upgrade next year, it'll work out to have been worth it.
In January, I will begin the 2023 with 30 elite nights thanks to having a business and a consumer card, leaving me just 20 hotel nights short of renewing my platinum status and inching one year closer to lifetime Platinum status (opening the business card actually pushed me over the night threshold for Lifetime Gold Elite). While not the most valuable annual card benefit ever, I'll be happy to collect 15 elite nights and one annual free night certificate for the card's annual fee, which is $125 at the time of writing.
The annual elite night credits offered by the Bonvoy Business card require no intervention — they post automatically each year — and while they were valuable for me in this instance, the value of elite nights is fairly abstract. By contrast, a number of popular Amex cards offer calendar-year-based statement credits that can be objectively valuable and do require cardholder activity…..
Business Platinum card from American Express
In addition to that Bonvoy Business card, I recently added an Amex Business Platinum card to my wallet. I had been interested in the targeted bundle offer that Tim had posted about recently, whereby it is (at the time of writing) possible for those targeted to receive up to 230K Membership Rewards points by bundling a new Business Platinum card with a new business checking account. It initially looked like I was targeted when the landing page said that I was pre approved (I had also recently received a physical mailer with preapproval for the 150K Business Platinum card offer).
However, after logging in, it said that the offer was no longer available. That meant that I was not targeted after all.
The good news is that, as I said on the podcast, you can unbundle this and still do pretty well. There's a separate targeted offer for the Business Platinum card that's good for 160,000 total Membership Rewards points: 150K after $15K in purchases in the first 3 months plus 10K when you add an employee card at application and they spend $1,000 in the first 3 months on that employee card. That offer is also targeted and I was in fact targeted for it. I applied and was approved and I expect to earn that 160,000 points. I'm already making progress toward the spending requirement with holiday expenses. If we get close to the end of the three months and I haven't yet met the spending requirement, I imagine it should be easy enough to make a tax payment to finish it off.
The business checking account has a public offer for 60,000 Membership Rewards points after qualifying activity, so I should be able to easily earn that 60,000 points (I haven't opened it yet but will do so soon). Between the two offers, I'll end up with 220,000 Membership Rewards points — just 10K short of the 230K possible with the bundle offer. Sure, I'd like an extra 10K points — but I won't lose sleep over a margin that small.
That targeted 160K Business Platinum offer has been available for quite a while, but it hadn't been on my mind until the bundle offer came around. I'm glad that inspired me to want to add a Business Platinum card. I don't really need another $695 annual fee, but the good news is that I'll easily recoup that in the first year.
For starters, the card has an annual $200 airline incidental credit. That benefit is a calendar year benefit, which means that I can use it in full to get $200 in statement credits before the end of 2022 and again receive $200 in statement credits in 2023. Since my first year with the card will end in December of 2023, my next annual fee will likely be due in January of 2024. That means I'll probably get a chance to use the $200 airline fee incidental credit a third time in January 2024 Before deciding whether or not to pay the annual fee and keep the card. That's $600 in airline incidental credits after just the first annual fee of $695. Thankfully, we maintain a resource full of ways to trigger the airline incidentals benefit (See: Amex airline fee reimbursements. What still works?). I had been selecting United on most of our Platinum cards, but now that we once again have a Southwest Companion Pass, I'll probably choose Southwest on the new card. I won't forget to enroll in this benefit (preferably a day before I intend to make charges and not on the last day of the year as I once had a late 12/31 United charge post with a 1/1 transaction date).
But that's not all . . .
The card also comes with a $200 Statement credit for Dell purchases twice per year — that's once from January to June and once from July to December (Remember that you must enroll in this benefit. That can be done on the "Benefits" tab in your online login). In other words, I can get up to $200 in statement credits for purchases at Dell that I make before the end of this month. Then, I could again receive $200 in reimbursements for Dell purchases in January and June of next year, and receive $200 a third time between July and December of next year. Again, assuming that my next annual fee isn't due until January of 2024, I should be able to use that $200 Dell credit one more time before I have to decide about my next annual fee. Adding that all up, that's potentially $800 in statement credits for Dell purchases that I could get before I evaluate whether to keep or cancel the card. I don't need a Dell computer right now, but they carry other interesting stuff like popular wearables, camera equipment, smart home stuff, and even video game consoles. If nothing else, there's always those Xbox gift cards.
But that's not all…..
This card also comes with up to $10 in monthly credits for wireless services. Remember that you also have to enroll in this benefit. I use this toward my cell phone bill every month, putting $10 on each of several different cards with wireless credits after my monthly bill has been paid. I allow the auto pay to charge my bill in full to a card that provides credit card cell phone insurance, leaving my bill at a $0 balance due. Then, a few days later, I make payments with these cards that have $10 monthly credits. My bill becomes negative (rather than my account showing $0 due, it shows -$10 due for instance) and when the next bill comes out, the entire bill due is whatever it would have been minus the credits that carried forward from the previous month (let's say my monthly bill is usually $100 but I overpaid by $10; my next monthly bill says that I owe $90). Then, my next monthly bill automatically charges in full to the card I use for auto-pay (which is to say that I've used that credit card to pay the $90 bill in full). I have figured that would probably work for the purposes of cell phone insurance since the total shown at the top of my bill when it generates is the amount charged to my card (and I did make one successful cell phone insurance claim). Whether or not that works, my point here is that I will use this benefit and I should get that credit this month and all 12 months of next year and perhaps one more time in January of 2024, for a total of $140.00 in wireless credits before I pay another annual fee.
The card has plenty of other benefits, most of which we likely won't use only because we already have them on other cards.
At the end of the day, I'll be pretty happy with the 160,000 point offer plus $800 in Dell credits, $600 in airline fee incidental credits, and $140 in wireless service credits ($1540 in total credits on top of the welcome offer) for $695. That seems like a big, easy win. I doubt that I'll keep the card beyond the first year, But I'll give Amex a chance to change my mind. Adding 60,000 points with the Business Checking account will be a nice additional (unrelated) bonus that will also provide a way to cash out points at $0.01 per point since I don't currently have a Schwab card (my wife does). I don't think I'm likely to cash out points at that rate, but it creates a floor value of the 160K welcome bonus at $1600. Taken together with those statement credits, it's a highly worthwhile trade for $695.
Other cards where this type of play might make sense
The two cards I opened are certainly not the only two cards in the market that offer some sort of calendar based benefits. There are lots of cards that offer annual perks / credits. The Amex portfolio has further examples like the Hilton Aspire card and its airline incidental credits. However, other banks offer cards where this type of strategy can be utilized.
For instance, on a recent podcast, I talked about how my wife upgraded her chase Marriott Bonvoy Boundless Card to a Ritz-Carlton Card in part because we wanted to book a flight on a low cost carrier and we knew that we could use that card's annual airline incidental benefit to cover the baggage and seat selection fees for our family. By upgrading now, we were able to use that $300 credit right away and we'll be able to use it again starting in January. That's $600 in airline incidental credits before we get hit with the next annual fee. I think she'll probably keep the Ritz card, but if she ultimately decided to downgrade after a year she would be able to receive $600 in airline incidental credits and also her 85K free night certificate (which she has already received) for $450. Six hundred dollars in credits and an 85K certificate for $450 is a slamming deal in my opinion.
There are also smaller wins out there that can be worthwhile. For instance, the Bank of America Premium Rewards card comes with an annual $100 travel incidentals credit. If you were to open that card now, you would be able to get that travel credit this month, again next year, and probably again in January 2024 before the next annual fee is due. Three hundred bucks in incidental credits is not bad on a card with a $95 annual fee – it certainly adds some sweet icing on the welcome bonus cake.
Bottom line
Many cards on the market feature annual credits and benefits. December is my favorite month to take a look at those cards knowing that I can earn any calendar year benefits once this year, once next year, and potentially once again in January of the following year before deciding whether to keep or cancel. The triple dip essentially triples the value of annual statement credit benefits — and that can make these cards an even bigger win at this time of year.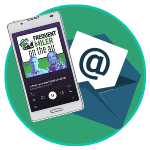 Want to learn more about miles and points?
Subscribe to email updates
 or check out 
our podcast
 on your favorite podcast platform.