If for some reason you could only have one credit card, Capital One's Venture card would be a solid choice.  But is it the best choice for everyone?  Lately I've been wondering whether it would be my choice…
Capital One's recent transfer bonus to Air France has me thinking more about the Venture card (and it's business twin: Spark Miles for Business).  The ability to earn 2 "miles" per dollar everywhere puts the Venture card on nearly equal footing with most 2% cash back cards.  It falls short of the value of those cards in two ways: it has an annual fee (several 2% cash back cards are fee free); and to get full value you must use the rewards only towards travel.  On the other hand, most 2% cards have foreign transaction fees and do not offer much in the way of travel protections.  The Venture card, meanwhile, has no foreign transaction fees and it offers travel accident insurance, car rental collision damage waiver, and up to $100 credit for Global Entry or TSA Precheck.  And, best of all, Capital One "miles" are transferable to airline miles.  With well planned transfers it is possible to get much better value from your rewards.
Is it good enough to be my one and only?
There's no question in my mind that the Capital One Venture card is a good choice for those who insist on keeping only one card.  It offers a solid 2% back in travel rewards and provides the option to transfer to a number of airline miles, usually at a 2 to 1.5 ratio.
That's all great, but could I do it?  If for some reason I was limited to just one credit card, would Venture be it? 
A few months ago, I set out to answer the question: "What is the best rewards credit card if you can only have one?"  In that post I identified a number of good answers:
Capital One Venture Rewards
Chase Sapphire Reserve + Chase Freedom Unlimited (this was cheating since it is really two cards)
Bank of America Premium Rewards with Platinum Honors Preferred Rewards
US Bank Altitude Reserve
Citi Double Cash + Uber Card
CNB Crystal Visa Infinite Credit Card
Interestingly, if you eliminate the Chase Sapphire Reserve + Chase Freedom Unlimited combo (since that combo breaks the "one card" rule), the Venture then is the only one on the list to offer transferable points.  And Capital One transfer options are pretty good.  Here are some examples: To book Delta flights, you can transfer to Air France.  For Star Alliance flights (e.g. United), you can transfer to Air Canada or Avianca.  For OneWorld flights (AA, BA, Qantas, etc.) you can transfer to Cathay Pacific or Qantas.  For AA or Royal Air Maroc flights, you can transfer to Etihad for great value.
So it seems that Venture is the answer to the question.  If I could only have one card, it would be Venture.
Right?
Well, maybe.  But, just because I think Venture is a great choice for many doesn't mean that it's great for me.
Missing transfer partners
If Venture was my one and only, there are two transfer partners that I'd particularly miss: Hyatt and Virgin Atlantic.
Hyatt
Chase Ultimate Rewards is the only program that offers point transfers to Hyatt.  And, Hyatt happens to be the program that I transfer points to more than any other.  I often find great uses for Hyatt points.  A couple of notable examples are the Párisi Udvar Hotel Budapest and the Andaz Papagayo in Costa Rica.
If I didn't have Chase Ultimate Rewards points, I could always buy Hyatt points if I needed them.  Unfortunately, Hyatt usually charges 2.4 cents per point, which is more than I'd usually be willing to pay.  On the other hand, Hyatt occasionally offers deals on purchased points.  As I write this, for example, there's an offer to get 40% more bonus points when you buy 10,000 or more through June 12.  This brings the price per point down to only 1.7 cents each.  Theoretically I could stock up on Hyatt points each time a promo like this rolls around.  Would I though?  Probably not.  I don't like to buy points unless I have a specific use in mind that will result in much better value than the purchase price.
Virgin Atlantic
If your home airport is a Delta hub, as is the case with me, Virgin Atlantic miles can be incredibly valuable (see: How to book Delta flights with Virgin Atlantic miles).  And while every other transferable points program offers transfers to Virgin Atlantic, Capital One does not.  Maybe they will offer Virgin Atlantic in the future, but they don't today.
Could I buy miles instead?  Virgin Atlantic charges a fixed £15 transaction fee (~$19 today) plus £15 for every 1,000 miles.  So, the fewer miles you buy, the more expensive it is per mile due to the transaction fee.  If you buy 100,000 miles, the total cost would be £1,515 (~$1,930).  That's approximately 1.93 cents (US) per mile.  That's not bad.  I'm sure there are many times where I get significantly better than 2 cents per mile value.
What other cards would I consider?
I really don't want to give up the ability to transfer points to airline programs.  So, if I could only have one card, I'd want it to be one that earns transferable points.  That means that neither the Bank of America Premium Rewards with Platinum Honors (2.62% everywhere), nor the US Bank Altitude Reserve (3X for travel and mobile wallet payments; 1.5 cents per point value) would fit the bill despite the fact that I think both are awesome choices for those who don't care about transferable points.
That leaves me with these contenders:
Out of the cards listed above, I would probably earn the most points with the Amex Gold Card.  But it's simply not practical to keep an Amex card as your only credit card.  There are way too many places Amex isn't accepted.  I'll disqualify the Amex Blue Business Plus for the same reason.
After disqualifying the Amex cards for lack of worldwide acceptance, the Citi Prestige Mastercard would likely be the next best point earning card based on my spending style.  But the non-bonus earning on this card is awful.  It only earns 1 point per dollar outside of its bonus categories, and those points are worth only 1 cent each.
The best of the lot, for me, is the Chase Sapphire Reserve.  With this card I would earn a decent number of points thanks to it earning 3X for travel & dining.  Outside of those categories, I'd only earn 1X but at least those points would be worth 1.5 cents each towards travel booked through the Chase portal.  Plus I'd get excellent automatic travel protections (see: Ultra-Premium Credit Card Travel Insurance).  And, best of all, I'd have the ability to transfer points to Hyatt (and more).
Final answer
If I could only have one credit card, I'd pick the Chase Sapphire Reserve.  I'd get more benefits than with the Capital One Venture and I'd earn substantially more rewards for travel & dining purchases.  On the other hand, outside of travel & dining I'd only earn 1 point per dollar.  Where the Chase card offers great rewards for travel & dining, the Capital One card earns solid rewards everywhere.  So it's a close call.  My preference for the Sapphire Reserve seems to come down mostly to my desire to keep Hyatt and (to a lesser extent) Virgin Atlantic as transfer options.
Who cares?
I'm not really constrained to one and only one card, so why am I writing about this?
Over the years blogging as Frequent Miler, I've been surprised by the number of times people have asked me for my recommendation for the one best travel rewards card.  It seems that many people are not interested in carrying more than one.  Now that Capital One offers point transfers to airline miles, my answer to the "one and only one" best card question is usually: Capital One Venture.  Regardless of your spend pattern, you'll earn solid rewards everywhere.  And if you're interested in booking higher value award flights, transferring to airline partners is an option too.
The point of this post was to question the Venture answer.  If I forced myself to keep only one card, would I be happy with the Venture?  The answer is that the Venture card would be a good choice for me, but maybe not the best.  Given the current lineup of rewards cards available today, I would pick the Chase Sapphire Reserve.  How about you?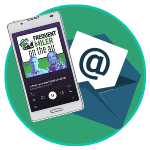 Want to learn more about miles and points?
Subscribe to email updates
 or check out 
our podcast
 on your favorite podcast platform.