Despite our poor success rate with predictions in 2022 [See: How did we do for 2022? Results of FM's predictions . . .] we're at it again.  Just like Charlie Brown who never gave up hope that he'd successfully kick the football from Lucy's hands, we're winding up to kick again. This time Tim has joined the party and maybe, just maybe, we've gotten it mostly right this year.  Time will tell.
Greg's Predictions
Chase to make Ink Premier a real Ink card
In 2022, Chase introduced a new Ink Business card: Ink Business Premier.  At first glance, the card is fantastic.  It earns 2 Ultimate Rewards points for all spend, and 2.5 points per dollar for purchases of $5,000 or more.  But there's one huge problem.  Unlike the Ink Business Preferred card, Ink Premier points can't be transferred to airline and hotel partners or used for extra value towards travel.  And unlike the Ink Business Cash and Ink Business Unlimited cards, Ink Premier points can't be moved to other cards to make the points more valuable.
Each year I throw in at least one prediction that's really more of a wishful thinking than a real prediction.  This is that.  My prediction wish is that Chase will allow points to be moved from the Business Premier card to other cards that earn Ultimate Rewards points…. or allow point transfers to airlines and hotel partners.  With either little adjustment, the Business Premier will become very interesting.
Hilton Aspire annual fee will increase
This one is practically a gimmie.  The Hilton Aspire's $500 in annual rebates alone make this card's $450 annual fee worth paying, and that's before accounting for the card's annual uncapped free night, 14x earnings at Hilton properties, and automatic Diamond status.  The card has always been a bargain, but now that the Marriott Brilliant card's annual fee has jumped up to $650, it's only a matter of time before the Hilton Aspire costs more too.
Amex will make their business checking bonus even bigger
As I write this, the standard welcome bonus for Amex's business checking account is 60,000 points.  I predict that sometime in 2023 we'll see an even bigger bonus.  Maybe 80,000 points?  We'll see!  P.S. the bigger bonus may come with additional requirements.
Choice will announce end of Radisson Rewards Americas
In 2022, Choice Hotels acquired Radisson Americas.  At the time of this writing, Choice Privileges and Radisson Rewards Americas continue to operate as separate programs.  My prediction is that sometime this year Choice will announce the intention to merge the programs.  I don't think the merger will necessarily actually happen in 2023, but rather that Choice will announce this intention.  Bonus prediction details (which we may or may not know by the end of 2023):  Radisson Rewards Americas will be discontinued in favor of Choice Privileges; Radisson points will be converted one to one to Choice Privileges points; Changes won't actually happen until 2024.
Delta will make Diamond status worth pursuing again
Over time, Delta has made Diamond status harder and harder to achieve.  And, until recently, they made that status more and more desirable.  In 2022, though, they tanked the value of Global Upgrade Certificates (which is one of the best benefits of Diamond status), and they took away (for 2023 and beyond) an easy way for Diamonds to bring guests into Sky Clubs for free.
I don't have a specific prediction here about what Delta will do, but I predict that they'll do something.  They'll make some modifications to Diamond benefits such that some of us who have given up on pursuing Diamond status will seriously consider it again.
Bonus Prediction: Hyatt's category 1-7 awards will become more expansive (probably not until 2024)
With Hyatt's Milestone Awards, one of the awards for reaching 60 nights each year is a category 1-7 Free Night Award.  When this award was first invented, it could be used at any Hyatt worldwide.  Since then, Hyatt has introduced category 8 and categories A through F for all-inclusive resorts.  Those changes have made the category 1-7 less valuable since there are now many Hyatt hotels where they cannot be used.  At some point, I think that Hyatt will fix this problem.  My bet is that this fix won't happen until 2024 or later, but I'm putting this prediction in here just in case they address this problem sooner.
Nick's Predictions
Virgin Atlantic will devalue Delta awards to Europe
Virgin Atlantic already tried to dump all of the Delta sweet spot awards once overnight and without any notice. Given how little award availability Delta seems to want to share with Virgin Atlantic anyway, I think 2023 will be the year where Virgin finally devalues this sweet spot. Yeah, they'll get some bad press from blogs for a week or two — but at the end of the day, if you raise the price on something that people couldn't buy anyway, it's kind of like a tree falling in the forest, right?
United will make partner awards more dynamically priced
United has been inching the program to be more and more Delta-like over the past couple of years. Awards on their own metal are highly variable already and I've been seeing less predictable variance on partner awards (albeit in small increments thus far). In 2023, I think United is going to make partner award pricing more dynamic / less predictable. That will be bad news bears — and I hate to be the bearer of bad news, but I'm bearing down for the downward trending value of Mileage Plus miles.
Aeroplan will reach 50 airline partners
Air Canada Aeroplan has more airline partners than any program in the world. Given the speed with which they've been adding partners, you may not think much of this prediction since I believe it would mean adding just 3 new airline partners in 2023 (I believe they are currently at 47 partner airlines). However, when you already have forty-seven airline partners, finding three more airline partners who can partner up with Aeroplan and then negotiating those deals is probably harder than it sounds. Still, I think Aeroplan wants to reach 50 and I think 2023 is the year they do it.
Capital One will not increase the annual fee or decrease the $300 travel credit on the Venture X card
The Capital One Venture X card is arguably the best deal in ultra-premium cards. The Hilton Aspire card provides more value if you maximize the benefits, but the Venture X makes it simpler to come out ahead of the annual fee between the annual $300 credit for purchases through Capital One Travel and the 10K points that come after renewal. Some would say it is ripe for devaluation (and indeed in late 2022 we learned that the card would lose Priority Pass restaurant access as of 1/1/23).
However, I think Capital One is done messing with this one for a while. I imagine they'll continue to run some interesting things through Capital One Entertainment and a couple of creative promotions for Venture X cardholders. I don't think they will chance losing the momentum they have going in terms of excitement for the Venture X card by increasing the fee. After all, they've now twice saved themselves the expense of having Greg as a customer, so they can clearly afford to keep the Venture X around for the $395 fee for another year.
Radisson Americas points will become Choice Privileges points with a 1:1 conversion
Radisson already announced in an email to Radisson Americas members that in 2023 they would have new opportunities to use points for award nights at Choice Hotel brands globally. Ever since Choice completed the acquisition of Radisson Americas, I think we've all expected that Radisson points would eventually be converted to Choice Privileges points.
Most guessing about this have said that the conversion would likely be something like 2 or 3 Radisson points to 1 Choice point. While I would agree that either 2 or 3 Radisson points to 1 Choice point would be an even value trade, I think that is far too difficult to explain to the majority of their members. Those of us who follow miles and points intently enough to have a handle on the difference in value between a Radisson Americas point and a Choice Privileges point are clearly in the minority of hotel and airline customers – I just think that explaining over and over again to every Radisson Americas member who calls to ask how their points balance got cut in half is a customer service experience that they don't want (and to which they probably don't want to dedicate resources). The total outstanding balance of Radisson points probably isn't so significant as to be a stretch for them to honor at a 1:1 conversion — and I imagine that they gain a lot in the simplicity of combining programs from an IT perspective.
This prediction might be a bit of wishful thinking, but I see the conversion at 1:1 to be the path of least resistance and the one Choice is most likely to take.
The Amex points parade will get an "Everyday" float
Amex has been marching to the beat of its own drum throughout the pandemic years and that drum has been loud, frenetic, and rolling. We've seen incredible offers on the Platinum, Gold, and even the consumer Green card over the past couple of years — on both the consumer side and the business side (with the Business Green being the one exception perhaps).
However, Amex has largely ignored its Everyday cards. The Everyday and Everyday Preferred cards have gotten pretty stale in an environment with so many cards on the market that feature better base earnings and hotter bonuses, both in terms of category bonuses and welcome bonuses. While Amex has run incredible offers on most of its cards over the past couple of years, we haven't seen any exciting offers on the Everyday cards.
I predict that 2023 will be the year that at least one of the "Everyday" cards joins the points parade and steps up with a big new welcome offer, a better earning structure, or both. There just hasn't been much reason to go after an Everyday or Everyday Preferred given how they've been giving away so many points on all of their other cards. It's high time we see something exciting on the Everyday / Everyday Preferred cards.
Stephen's Predictions
Airline loyalty programs will consolidate
In 2022 Qatar Airways unexpectedly said adios to Qmiles and joined Avios along with its pre-existing members British Airways, Aer Lingus and Iberia. We have Air France and KLM both using Flying Blue. Lufthansa, Swiss, Brussels Airlines and more use Miles & More. My first prediction is that we'll see further consolidation with airline loyalty programs. Perhaps that's another airline offering Avios or someone joining Air Canada with Aeroplan.
IHG will announce they'll do away with Ambassador and/or Inner Circle status
2022 saw the introduction of the revamped IHG One Rewards program. This was meant to align status and benefits across their brands, so it's a little strange that they've maintained Ambassador status for InterContinental stays and the Inner Circle program at its Kimpton brand.
Some changes are already on the horizon as Ambassador free weekend night certificates will no longer be redeemable at Kimpton and Regent hotels from January 1, 2023. IHG has been cagey though on whether the Ambassador and Inner Circle programs will be kept, only saying something vague like  "we don't have any announcements planned at this point in time" or something to that effect.
Whenever anyone uses phrasing like that, it's almost inevitable that a change will be forthcoming at some point. My prediction is that in 2023 IHG will announce that they'll be ending the Ambassador and/or Inner Circle programs. I think it's less likely that they'll actually end the Ambassador program in 2023 seeing as people will have already paid for a year of its status and perks, so an announcement in 2023 for a change in 2024 is more likely than a change in the same year.
Radisson points won't convert to Choice on a 1:1 basis
Unless the merger is proving to be harder than they expected, we'll hopefully see Radisson Rewards Americas being folded into the Choice Privileges program in 2023. What remains to be seen is how Radisson points will be converted to Choice.
At the time of writing this prediction, our Reasonable Redemption Values for Radisson and Choice are 0.34cpp and 0.68cpp respectively, suggesting Choice points are worth double those of Radisson. When it comes to points conversion though, I'll stick my neck out and say that I think Radisson points will be converted on a 1.5:1 basis. The Choice Privileges program isn't the most compelling of hotel loyalty programs, so I'd be surprised if they convert them at a generous 1:1 ratio, but nor do I think they'll convert on a 2:1 basis either. I might come to regret this prediction though, as a 2:1 ratio is certainly possible as it'd make it easier for Radisson members to do the mental arithmetic than 1.5:1. A 1:1 ratio is also possible to some extent as the optics of Choice saying "You had 100,000 Radisson points but you now only have 50,000 Choice points" might not be good. Now that I write that, it does make me wonder if they will convert on a 1:1 basis after all, but considering they're a chain largely consisting of brands like Econo Lodge, Quality Inn, and Rodeway Inn, placing a high priority on customer satisfaction isn't necessarily a KPI.
Choice will run a Radisson brand-specific promotion
Provided the loyalty programs do merge in 2023, I imagine that Choice will want to highlight all its new brands to Privileges members. My fourth prediction is therefore that we'll see at least one promotion offering bonus points only at brands that were formerly part of Radisson Rewards Americas like Radisson, Country Inn & Suites, etc. One possibility would be something like earning 500 points for each new brand you stay at, but more likely would be a 'Stay 2 nights at a formerly Radisson brand & earn x,xxx bonus points."
Bilt will add another transfer partner
Bilt has a surprisingly compelling list of transfer partners given the inclusion of American Airlines and Hyatt. In 2022 they added British Airways, Aer Lingus and Iberia as transfer partners and I suspect we'll see them continuing to add transfer partners in 2023. Qatar Airways could be one seeing as they also use Avios now, another would be Singapore Airlines given their promiscuity with other transferable currencies. Maybe we'll see a new partner that's more out of left field though like Korean SKYPASS.
Marriott Bonvoy points will be worth a fixed ~0.55-0.6cpp
This is exactly the same as the prediction I made last year. Unfortunately for that previous prediction, Marriott decided not to go all-in on dynamic pricing last year, instead having some an anchor as to how much properties could charge for the first year of dynamic pricing.
They're due to cast away that anchor in 2023, so at that point I still expect us to see their points being worth a consistent 0.55-0.6cpp, with the opportunity to get outsized value being extremely limited. I'd be more than happy to be wrong about this, but we've burned most of our Marriott points in anticipation of them being worth less from March onwards (March is when Marriott traditionally does its annual devaluation).
Side note to Marriott: it's normally a good thing when customers know what to expect from a loyalty program. Associating a certain month of the year with when you'll screw over your loyalty program members isn't one of them, so feel free to surprise and delight in 2023 rather than Bash, Bother, Blast and Bonvoy your guests with a substantial devaluation.
Airbnb will launch a loyalty program or credit card
The Expedia group is due to be rolling out One Key this year – a unified loyalty program for Expedia, Hotels.com, Orbitz, VRBO and more. The fact that VRBO will be participating in a loyalty program might mean that Airbnb will finally feel pushed into launching some kind of loyalty program of their own.
If they do, I wouldn't expect anything industry-shaking. More likely would be some kind of revenue-based rewards program such as 5% back on stays. We tend to stay ~100 nights a year in Airbnbs, so this might just be my wishful thinking that we'll see any kind of loyalty program from them.
An alternate change could be that Airbnb will partner with a bank to launch a credit card. If they do, it would probably be largely ignorable as I doubt the return would be very generous.
Barclays will relaunch the Arrival Plus card or launch a new transferable currency card
In November 2022, Barclays pulled what was perhaps the most random move of the year by adding the ability to transfer points to select travel partners on the Arrival Plus card (see this post for more about why that was so strange).
I feel like there's got to be a reason they did that and in that post I suggested a couple of reasons. One is that they'll be relaunching the Arrival Plus card and wanted transfer partners in place before doing that, or they'll be launching a brand new credit card with the ability to transfer to those same travel partners.
Delta will add another useful partnership
Over the last few years, Delta has joined forces with a number of different – and useful – partners to offer bonus SkyMiles when spending with them. Starbucks, Airbnb, Instacart, Lyft and Ticketmaster are all examples of that, so my crystal ball says there'll be at least one more useful partnership added in 2023.
"Useful" will be subjective, but I'll loosely define it as a partner which you could conceivably use frequently (e.g. Starbucks, Lyft and Instacart) or less frequently but which can still be rewarding due to the higher levels of spend (e.g. Airbnb and Ticketmaster).
Something will go awry with at least one crypto debit card
I'll admit – I'm not overly familiar with crypto debit cards as I don't have any myself. I know that they're popular in some circles due to the potential earnings which can be very generous if you have a way to generate a lot of spend on them without getting shut down.
There is risk though. With some cards you only earn at higher rates when staking money in certain coins. Some of those returns have been ludicrously – and unsustainably – high, so I foresee returns dropping or lots of money lost due to the value of the coins either dropping or money just vanishing a la FTX.
One of the most popular crypto debit cards is the Coinbase-issued one. That offers 4% in some situations which, for a debit card, still seems unreasonably high (Nearside couldn't even sustain 2.2% for a year). My understanding is that funds deposited in USD and USDC are FDIC-insured as it's held with Pathward (formerly MetaBank). I personally wouldn't count on funds held in USDC being worth the same as USD seeing as USDC isn't fully backed by cash. A run on the coin could see it being worth less, with potentially major implications for those counting on it for the Coinbase debit card.
I'm sure there'll be people in the comments saying why I'm wrong about this or that with this specific prediction. I'd very much like it to be the case that people's money will be safe and that there's no risk with crypto debit cards, but for me there's just to much risk and I'm steering clear.
Tim's Predictions
Citi will "venture" back into premium cards
Citibank will always have a place in my heart for offering what, to me, was the best premium credit card in the history of premium credit cards: the original Citi Prestige. The benefits were insane: $250 airline credit good for airfare as well as incidentals, 4th night free on any hotel booking with the Citi Concierge, Admiral's Club access, ability to redeem Thank You points at 1.6cpp on American, three complimentary rounds of golf/year…it was a crazy deal. And it turned out that the answer to "what crazy thing did Citi do" was to design the original Prestige card. Benefits were slowly stripped away, the card lost its welcome bonus and the only folks that have it now are legacy cardholders. Let's just say Citi lost their shorts on the card and have been a little gun-shy since.
But that's going to change this year. Citi has been investing a ton into thrusting the Premier card back into the mid-range Venture/Sapphire Preferred competition and I'm sure the popularity of Chase, Amex and Capital One's premium offerings isn't lost on them. I think they're going to try and muscle in for some market share in 2023 and we'll see a $500+ annual fee Thank You Points-earning card again.
The Office Depot/Office Max/Staples 5x train will be partially derailed
Let me first say, I DEARLY hope that I'm wrong on this one. Fee-free Staples and OD/OM deals are the engine that drives my Ultimate Rewards universe and the reason I have 4 Ink Cash cards (and will be adding a 5th shortly).  But I've chatted with a few of the local GM's and I think there's trouble in the waters…as evidenced by the recent Staples offer of 5 $100 free-free cards per trip vs 8 $200 cards. It sounds like individual stores are not a fan of these promotions and see it as corporate trying to inflate sales numbers during the last couple of years (and they're probably right). I think we might see both office supply chains putting the brakes on the UR machine this year. I don't think that they'll go away, but I fear we may see the end of the $1600 of fee-free 5x/transaction and in its place we'll find some coal in our collective stocking.
We'll continue to see massive credit card bonuses…for the first half of the year
As a miles and points-earning year, 2022 will be hard to top, due in no small part to Amex's points parade of "no lifetime language" offers….raise your hand if you have more than one Business Platinum (everyone can put their hands down now). But, we're through(-ish) the pandemic, so that will change, right? Not so fast. Issuers (and many other financial institutions) are reaping the rewards of higher interest rates and I think, for the first half of the year, the driving force will continue to be customer acquisition. That said, we're forecast to hit some economic bumps around Q3 this year and I believe that we'll see two effects. First, issuers will put more marketing money into attractive balance-transfer and flexible payment options and second, they'll get more concerned about taking on risky customers. As a result, I think we'll see the gaudy bonuses plateau over the first half of the year and then start to lower in the second half.
Marriott will devalue, but it won't be as bad as we fear
Ever since Marriott announced that it would be moving to a fully-dynamic award chart in 2023, many of use have been waiting for the Bonvoyage to reasonable redemptions. Throughout 2022, most properties have been held to a "band" that more or less corresponds to their previous positioning on the now-defunct award chart. The couple of hundred that haven't been restricted have been ugly.
That said, when Greg did his most recent analysis of Bonvoy points, he found that they had actually increased in value, if ever-so-slightly, over the course of 2022. Now there have been some outsized redemptions in 2022 because of the "band restrictions" and I think the days of getting 1 cent per point (and above) are gone. But I've found that most properties seem to be stabilizing at around .7-.8 cpp and I think that's more or less where the dynamic chart will end up…for now.
Bonus Prediction: The over/under on the number of free cruises that Nick will take in 2023 is two. And I'll take the over.
Turns out, Nick Reyes is a cruiser.  This year, Nick has been "diving" into the current sweet-spot of almost-free cruising and has come out invigorated and inspired. Indeed, he's been able to parlay a $95 credit card into multiple "free" cruises (less port taxes) and has found out that traveling in a giant, ocean-borne RV with included food and multiple pools is pretty stellar when you have a couple of toddlers in tow. The deals are so good that Nick and Greg (who is an anti-cruiser) agreed that it was the "deal of 2022" on the most recent FM on the Air podcast.
Nick+gaming=synergy and I think we'll see him unearth multiple options that will make our jaws drop this year.
What do you think?
Which of our predictions do you think we got right?  Which of us will come out in the worst shape when we publish an end-of-year retrospective on our predictions?  Perhaps most interestingly, what significant happenings do you expect in the miles and points game in 2023?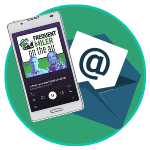 Want to learn more about miles and points?
Subscribe to email updates
 or check out 
our podcast
 on your favorite podcast platform.