Last week Capital One made massive improvements to their transferable points program.  Previously, many of their transfer partners were not one-to-one.  Unlike the transferable points programs from Amex, Chase, and Citi, all of which offer primarily 1 to 1 airline transfers, Capital One previously offered numerous transfer ratios of 1,000 to 500 and 1,000 to 750.  Now, in that regard, they've caught up with the pack.  Now, almost all of Capital One's partners transfer 1 to 1.  For details, see: Now 1:1 – Capital One improves transfer ratio for almost all airline programs.
In response to this news, Nick joked to me that Capital One was trolling me.  Regular readers will remember that in June of this year, Capital One shut down my account and gave me only a half cent per mile.  I hadn't done anything questionable with my new Venture account.  I simply put all of my regular spend on it in order to earn the welcome bonus.  Requests for escalation, or other avenues to reverse the issue (such as filing with the Consumer Financial Protection Bureau) have gone nowhere.  Capital One's only response:
Capital One has observed activity on a past or present Capital One account that is not consistent with the bank's expectations for account activity.
Okay.  Fine.  Capital One Miles are now worthless to me.  I don't have any and I can't get them.  What about for everyone else, though?  Is their transferable points program now so good that we should recommend it to others?  Are Capital One "Miles" now as good or better than Amex Membership Rewards, and Chase Ultimate Rewards?
The Report Card Doesn't Help
My first thought was to simply update my report card where I compare transferable points programs: Transferable Points Programs: Amex vs Chase vs Citi vs Capital One vs Brex.  But in that post, Capital One had already earned an A when they previously increased some of their transfer partners to 1 to 1.  And that post covers much more than the quality of the transfer partnerships.  It considers factors such as how easy it is to earn points, the ability to use points towards paid travel, how easy it is to share points with others, etc.  In the future, I should probably add "how easy is it to get shut down."  Until then, Capital One can keep its "A" along with Amex and Chase.  That report card is useful but not for what was on my mind now.  My goal now is to dig into the specific transfer partnerships available to each program and to come up with a judgment of which one has the best partners.  Has Capital One risen to the top?
I think of the quality of transfer partnerships in three big buckets: Airline Fundamentals, Hotels, and Sweet Spot Awards.  In the next sections, I'll look at how well each of the major bank run transferable points programs cover these areas…
Airline Fundamentals
Are transfer partners available to book most flights when saver awards are available?  Award pricing doesn't need to be the cheapest anywhere, but pricing shouldn't be over the top horrible either.  The idea is that if you want to book an award made up of Star Alliance airlines, OneWorld airlines, or SkyTeam airlines, you should have a decent transfer partner option for doing so.
Star Alliance
All four programs offer decent Star Alliance award options.  This is important because the Star Alliance is the biggest airline alliance and therefore usually the easiest with which to find international award availability.  Star Alliance members Air Canada Aeroplan, Avianca LifeMiles, and United MileagePlus all offer the ability to book Star Alliance awards without paying fuel surcharges.  Each bank program offers at least one of these three programs (they each offer other Star Alliance options too, but here I'm looking only at the transfer partners that don't pass along fuel surcharges):
Amex: Air Canada Aeroplan, Avianca LifeMiles
Capital One: Air Canada Aeroplan, Avianca LifeMiles
Chase: Air Canada Aeroplan, United MileagePlus
Citi: Avianca LifeMiles (Citi is the only one without the Air Canada option)
For the fundamentals of Star Alliance award bookings, I think that Chase has the edge.  United, which is unique to Chase, is the only Star Alliance transfer partner that doesn't charge award change fees.  They don't always have the best award pricing, but in general their award pricing isn't horrible.  For example, when I compared United to Air Canada I was surprised to find that in many cases United's award pricing was better than Air Canada's: United vs. Air Canada: Which is the better Chase transfer partner?
That said, I think that the combination of Air Canada and Avianca LifeMiles is good enough for most purposes, so Amex and Capital One come in close behind Chase in this comparison.  Citi trails the others because they only have one surcharge-free Star Alliance option whereas the others have two.
OneWorld Alliance
OneWorld is a much smaller alliance than the Star Alliance, but it offers many very useful airline carriers: American Airlines, Alaska Airlines, British Airways, Cathay Pacific, Japan Airlines, Qantas, Qatar, etc.  The problem with the OneWorld Alliance is that you can't entirely avoid paying surcharges on award tickets.  British Airways is probably the worst offender in adding huge surcharges to their business class and first class awards and every single British Airways partner passes along these charges to the award booking customer when flying BA.  So, given that none are perfect, let's see which useful OneWorld programs each bank program supports:
Amex: British Airways Avios, Cathay Pacific Asia Miles
Capital One: British Airways Avios, Cathay Pacific Asia Miles
Chase: British Airways Avios
Citi: American Airlines (through 11/13/21), Cathay Pacific Asia Miles
British Airways Avios is particularly good for short non-stop award flights whereas Cathay Pacific Asia Miles is best for very long distance mixed cabin awards (such as one segment in First class and other segments in Business class).  Cathay Pacific Asia Miles also sometimes charges lower fuel surcharges than other programs when flying British Airways.  American Airlines offers excellent international business class award prices.
Citi arguably has the best OneWorld coverage, but only while transfers to AA is an option.  Amex and Capital One are tied for second by offering both BA Avios and Cathay Pacific Asia Miles.  Chase pulls up the rear with only British Airways Avios (and the more specialized Aer Lingus and Iberia Avios programs).
SkyTeam Alliance
The SkyTeam doesn't have as many members as the Star Alliance and has fewer exciting-to-fly members than either the Star Alliance or OneWorld Alliance.  SkyTeam is dominated by Delta in the Americas and Air France / KLM in Europe.  And, unfortunately, there are no really great programs for booking SkyTeam awards.  Delta charges far too many miles for most business class awards, and all programs pass along fuel surcharges at least in some cases.  The best overall program for booking SkyTeam awards is probably Air France Flying Blue.
Amex: Air France Flying Blue, Delta
Capital One: Air France Flying Blue
Chase: Air France Flying Blue
Citi: Air France Flying Blue
All four programs support 1 to 1 transfers to Air France Flying Blue.  Amex gets the nod for best SkyTeam coverage, though, thanks to offering Delta as an option too.  Delta often has decent economy award prices and they no longer charge change or cancellation fees on awards.  Delta also doesn't impose surcharges on awards departing from the U.S.
Airline Fundamentals: Ranking
With respect to the ability to book airline alliance awards with little fuss, Chase arguably has a slight Star Alliance edge (thanks to supporting United) while Citi is at the bottom as the only one without an Air Canada option.  All four programs are roughly equal with SkyTeam coverage since they all support transfers to Air France, but Amex has an edge thanks to also offering transfers to Delta.  Citi currently dominates OneWorld bookings thanks to their temporary ability to transfer to AA, while Chase is the OneWorld loser with only Avios to turn to (no Cathay Pacific option).
I'd rank the programs as follows for airline fundamentals:
Amex
Capital One
Citi (until they lose AA, then they'll drop below Chase)
Chase
Please keep in mind that this ranking does not consider the ability to book paid flights with points at good point value.  If we added that in, Chase would jump to the top thanks to the ability to book paid flights at 1.5 or 1.25 cents per point value (depending on which cards you have).  It's also important to understand that the difference between #1 Amex and #4 Chase for the above ranking is very small.  All four programs cover the Alliance basics pretty well.
Hotels
Hotel coverage is an area where the four banks vary the most.  Here are the hotel programs covered by each:
Amex: Choice Privileges (1 to 1), Hilton (1 to 2), Marriott (1 to 1)
Capital One: Accor (2 to 1), Choice Privileges (1 to 1 – Available Soon), Wyndham (1 to 1)
Chase: Hyatt (1 to 1), IHG (1 to 1), Marriott (1 to 1)
Citi: None
Citi is obviously the loser here since they don't support any hotel transfers.  To simplify things with the other three, let's remove both Choice Privileges and IHG from the equation.  The reason?  Both types of points can be bought for less than a penny per point with the trick of booking and cancelling points+cash stays.  I covered this trick with Choice Privileges here and IHG here.  When you can buy the same points at any time (as long as you have some starter points) for less than a penny each, transfers to these programs offer very poor value.  That leaves us with the following:
Amex: Hilton (1 to 2), Marriott (1 to 1)
Capital One: Accor (2 to 1), Wyndham (1 to 1)
Chase: Hyatt (1 to 1), Marriott (1 to 1)
Hilton points are usually worth about 0.4 cents each, but can sometimes be worth significantly more.  On the other hand, Hilton often sells points for a half cent each and so that caps my perceived value of this 1 to 2 Amex transfer option at 1 cent per Amex point.  That said, at the moment when you need Hilton points there might not be a sale going on and so this is a useful option even if it's not one I value highly.  This option becomes more useful when Amex offers a 30% or higher transfer bonus to Hilton (which they do frequently).
The option to transfer to Marriott is similar.  While Marriott points are usually worth only about 0.6 cents each, there are times when they are worth much more.  I wouldn't want to transfer a lot of points to Marriott, but having the option to top off my account for a valuable award is nice.  Both Amex and Chase offer 1 to 1 transfers to Marriott, but only Amex frequently offers transfer bonuses.
Capital One's 2 to 1 transfers to Accor are mildly interesting because Accor points are worth a flat 2 cents Euro each towards hotel stays.  2 cents Euro is currently worth 2.32 cents USD.  So, this transfer is a way to get slightly more than 1 cent per "Capital One" mile towards hotel stays.  That said, the advantage of transferring versus just erasing hotel charges with your Capital One miles is so slight that I don't think I'd bother unless I had a very expensive hotel stay to cover.
Capital One's 1 to 1 transfers to Wyndham are much more interesting.  Even though Wyndham often sells points for slightly under 1 cent each, they usually have strict and very low caps on how many points you can buy.  There's no such cap on transferring from Capital One.  So if you need lots of Wyndham points, Capital One is the only game in town.  The primary reason this is exciting is the ability to book Vacasa Vacation Rentals with Wyndham points.  I'll cover this in the next section on Sweet Spot Awards.
Without any doubt in my mind, the best hotel transfer option is to Hyatt.  Chase allows 1 to 1 transfers to Hyatt, and Hyatt points are super valuable.  When used to book regular hotel stays, I found an average of over 1.6 cents per point in value without even trying to find the most valuable awards.  That's pretty good by itself, but it's often possible to get way more value than that.  Plus, Hyatt offers additional ways to get incredible value such as using points to book or upgrade to premium suites.  Hyatt doesn't have nearly as many properties as Marriott or IHG, but they've been rapidly adding more.  Plus, their partnership with SLH (Small Luxury Hotels of the World) has opened up quite a few excellent options.
Hotels: Ranking
With hotel programs, the difference between programs is huge  Chase is the only program that supports a widely useful and valuable transfer option: Hyatt.  With Chase at the top of the hotel pile and Citi not even competing, Amex and Capital One fight for second place for hotel coverage.  Capital One arguably has more valuable options, but Amex has more widely useful options with Hilton and Marriott.  Before considering sweet spots, I'll put Amex slightly above Capital One in the hotel category:
Chase
Amex
Capital One
Sweet Spot Awards
Some airline and hotel programs offer specific awards that are so much cheaper than any other options that we consider these to be great sweet spot awards.  You can find our series of sweet spot award posts, here: Sweet Spot Spotlight.
Below, I'll list some of the sweet spot awards that I'm most interested in having access to.  Which programs support these awards?  First, though, I'll list the programs and sweet spot awards that all four programs have access to:
| Rewards Program | Amex Transfer Ratio | Chase Transfer Ratio | Citi Transfer Ratio | Capital One Transfer Ratio |
| --- | --- | --- | --- | --- |
| Aer Lingus Avios | 1 to 1 | 1 to 1 | 1 to 1 via Qatar, BA | 1 to 1 via BA |
| Air France KLM Flying Blue | 1 to 1 | 1 to 1 | 1 to 1 | 1 to 1 |
| British Airways Avios | 1 to 1 | 1 to 1 | 1 to 1 via Qatar | 1 to 1 |
| Emirates Skywards | 1 to 1 | 1 to 1 | 1 to 1 | 1 to 1 |
| Iberia Avios | 1 to 1 | 1 to 1 | 1 to 1 via Qatar, BA | 1 to 1 via BA |
| Singapore Airlines KrisFlyer | 1 to 1 | 1 to 1 | 1 to 1 | 1 to 1 |
| Virgin Atlantic Flying Club | 1 to 1 | 1 to 1 | 1 to 1 | 1 to 1 |
Air France Flying Blue: Air France often has great prices for their Promo Rewards.  For details about this and other Flying Blue sweet spots, see: Air France / KLM Flying Blue sweet spots for award travel.  Fortunately, all four programs support 1 to 1 transfers to Flying Blue.
Emirates Skywards: Emirates' own miles are currently the best way to book Emirates First Class awards.  Fortunately, all four programs support 1 to 1 transfers to Emirates Skywards.
Singapore Airlines KrisFlyer: The only way to book Singapore First Class (and often business class) awards is with Singapore's own miles.  Singapore also offers relatively cheap award flights to Hawaii when flying United or Alaska Airlines.  Fortunately, all four programs support 1 to 1 transfers to Singapore.
Fly ANA First Class to Japan for 60K points or less one-way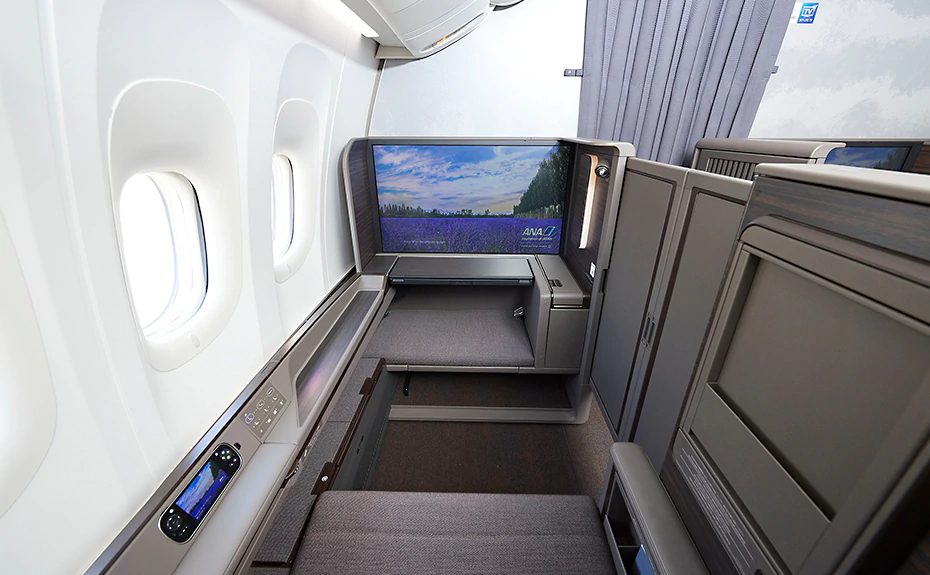 ANA's first class is reportedly fantastic.  The trick to booking this cheaply is to transfer points to Virgin Atlantic and then call Virgin Atlantic to book ANA first class awards.  Here are Virgin Atlantic's award prices for flying ANA first class:
Fly between Japan and Western U.S., Canada, or Australia: 55K points one-way.
Fly between Japan and Central or Eastern U.S., or Europe: 60K points one-way.
If you can find first class award space (that's the tricky part!), these prices are amazing.  You can find more sweet spots using Virgin Atlantic points here: Best uses for Virgin Atlantic points.
Amex, Chase, and Citi all support 1 to 1 transfers to Virgin Atlantic.  Capital One does not.
Fly Iberia business class to Europe for as few as 34K points one-way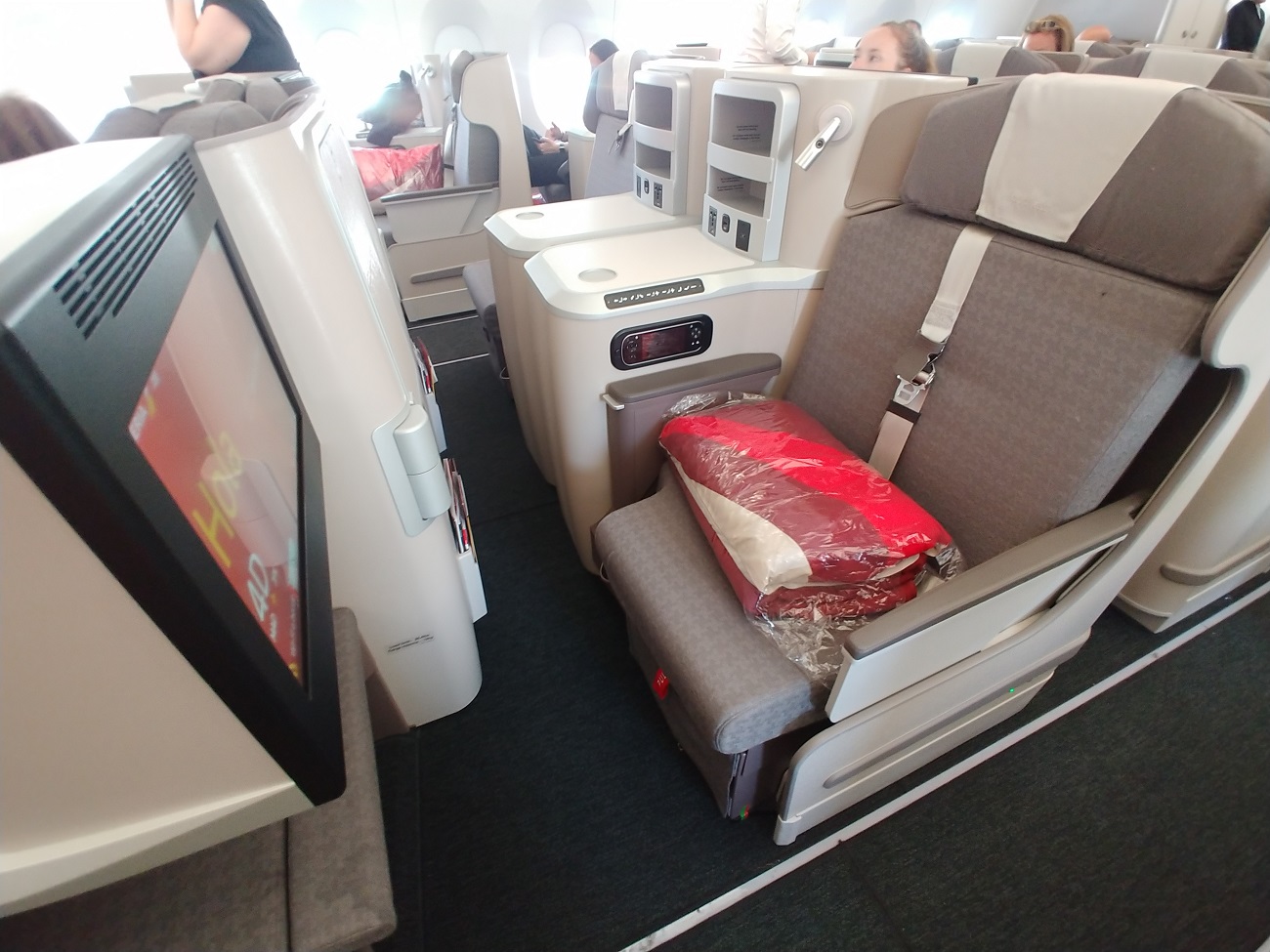 Iberia offers some incredible award prices for their own flights.  In particular, lie-flat business class flights from New York, Boston, Chicago, or DC to Madrid, Spain, are very cheap: 34K during off-peak dates or 50K during peak dates.
You can directly transfer Amex or Chase points to Iberia.  With Capital One, you can indirectly transfer points to Iberia by first transferring to British Airways and from there to Iberia.  Citi does not support transfers to Iberia or to British Airways.
Fly Delta One business class to Europe for 50K points one-way
Delta will often charge hundreds of thousands of miles for a one-way business class flight to or from Europe.  Their partner Virgin Atlantic, though, charges only 50,000 miles one-way for non-stop business class Delta One flights.  This price doesn't include flights to/from the U.K., but all other direct Delta flights will work if you can find award availability.  In my experience, award availability comes and goes over time so it's worth checking regularly.
See also: How to book Delta flights with Virgin Atlantic miles
Fly Lufthansa First Class to Europe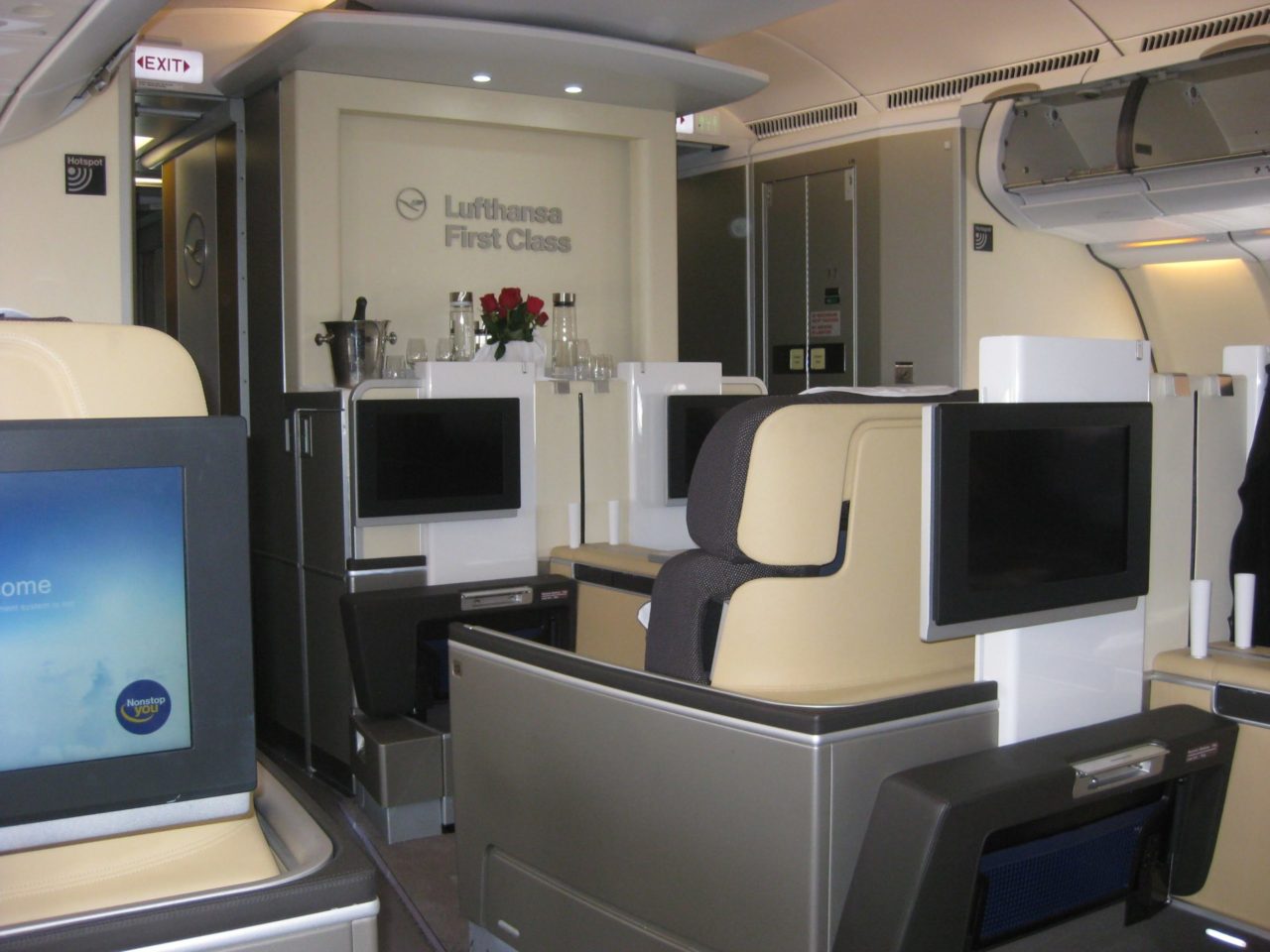 Avianca LifeMiles offers awards on Star Alliance carriers with no fuel surcharges.  If you're willing to book relatively last-minute, one of the most luxurious ways to fly to/from Europe is on Lufthansa First Class.  Lufthansa only opens awards to partners like Avianca within 2 to 4 weeks of travel.
In addition to offering an excellent first-class experience in the air (think caviar, top shelf champagne, complementary slippers and pajamas, and comfortable bedding), Lufthansa offers terrific ground services, especially in Germany.  During non-pandemic times, first class passengers transiting through Frankfurt or Munich get escorted to and from their exclusive first-class lounges, passport control is often handled within the lounge itself, fantastic food and drinks are provided for free, etc.  Lufthansa's ground services, in my opinion, are what make flying Lufthansa first class so desirable.
Avianca LifeMiles charges only 87,000 miles for a one-way first class award between the U.S. and Europe.  That's already excellent, but you can do better.  By tacking on a Star Alliance flight in economy or business class to the end and/or start of your trip, the cost for the whole trip will go down.  For example, Newark to Frankfurt alone in first class would cost 87,000 miles, but if you fly Newark to Frankfurt in first class and then Frankfurt to Istanbul in business class, the price for the entire trip goes down to about 81,000 miles.  The longer the segments flown in economy and/or business class, the more the price of the trip will come down.  You could reduce the total award price a lot more by booking relatively long flights on both sides.  For example, fly Los Angeles to Newark on United economy, followed by Lufthansa First Class to Frankfurt, followed by Lufthansa economy to Istanbul.  Full details can be found here: Avianca LifeMiles' awesome mixed-cabin award pricing. First Class for less.
Amex, Capital One, and Citi support transfers to Avianca LifeMiles.  Chase does not.
Fly Business Class Around the World
ANA has an incredible award chart for flying Star Alliance business class around the world: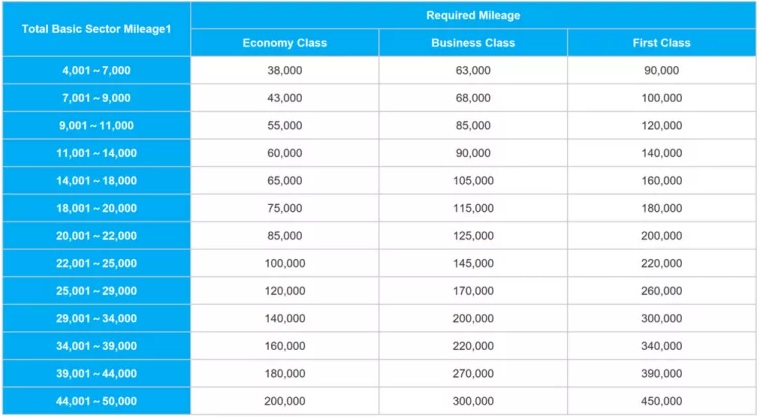 It's possible to fly around the world in business class for as few as 115,000 miles!  Most itineraries will take you a bit farther and so you'll pay 125,000 or 145,000 miles, but still, that's an amazing value!  You can stop in up to 8 different places along the way and build the trip of a lifetime.  To learn more, see these posts:
ANA also offers some incredible values for round-trip awards that don't circle the world.  Some examples include:
U.S. to Japan, flying ANA: 75,000-90,000 miles round-trip
U.S. to Australia, flying ANA: 105,000-120,000 miles round-trip
U.S. to Europe, flying Star Alliance partners: 88,000 miles round-trip
U.S. to Africa, flying Star Alliance partners: 104,000 miles round-trip
Only Amex supports transfers to ANA.
Fly International First and Business Class via AA Sweet-spots
The ability to transfer Citi points to American Airlines is currently only available through November 13, 2021 (see this post for details).  While it's available, it's definitely worth noting some great options for using AA miles:
Fly first class on Japan Airlines or Cathay Pacific from the U.S. to Japan or Korea for 80K miles one-way.
Fly first class on Etihad, Japan Airlines, or Cathay Pacific from the U.S. to the South Pacific for 110K miles one-way.
Fly business class on partners like Japan Airlines and Cathay Pacific from the U.S. to the following destinations:

Asia: 60K to 70K miles
South Pacific: 80K miles

Fly business class on partners like Qatar or Etihad from the U.S. to the following destinations:

Middle East or India: 70K miles
Africa: 75K miles
Avoid booking awards flying British Airways or Iberia since they're known to impose very high surcharges on business and first class awards.
Only Citi offers transfers to AA and only for a limited time.
Fly to Hawaii for 7.5K One-way!
This is probably THE most amazing sweet-spot award.  It's possible to fly United Airlines to Hawaii from anywhere else in the United States for only 7.5K Turkish miles for one-way economy or 12.5K miles for business class!
Unfortunately, it is notoriously difficult to actually book these awards.  First, you have to find United saver award space.  Next, the really hard part kicks in: you have to find a Turkish agent capable and willing to book the award for you.  This post might help: How to book United flights with Turkish Miles & Smiles.  See also: Turkish Miles & Smiles Complete Guide.
Only Capital One and Citi offer transfers to Turkish Miles & Smiles.  That said, many won't want to deal with the complexities of booking Star Alliance awards with Turkish miles anyway.  If that's you, another good option is to transfer points to Singapore Airlines from any of the four bank programs.  Singapore charges 17,500 miles each way in economy or 34,500 in business for United Airlines flights to or from Hawaii.
Use Hyatt Points to Stay in Amazing Suites
Unlike most other hotel award programs, Hyatt makes it easy to use points to book both standard and premium suites.  You can book a suite entirely with points or you can book a hotel at a standard upgradeable rate and use points to upgrade to a suite.  In many cases this makes it possible to stay in incredibly expensive suites at a very low cost.
See these posts for details:
Chase is the only bank that supports transfers to Hyatt.
Use Wyndham Points for Valuable Vacation Rental Stays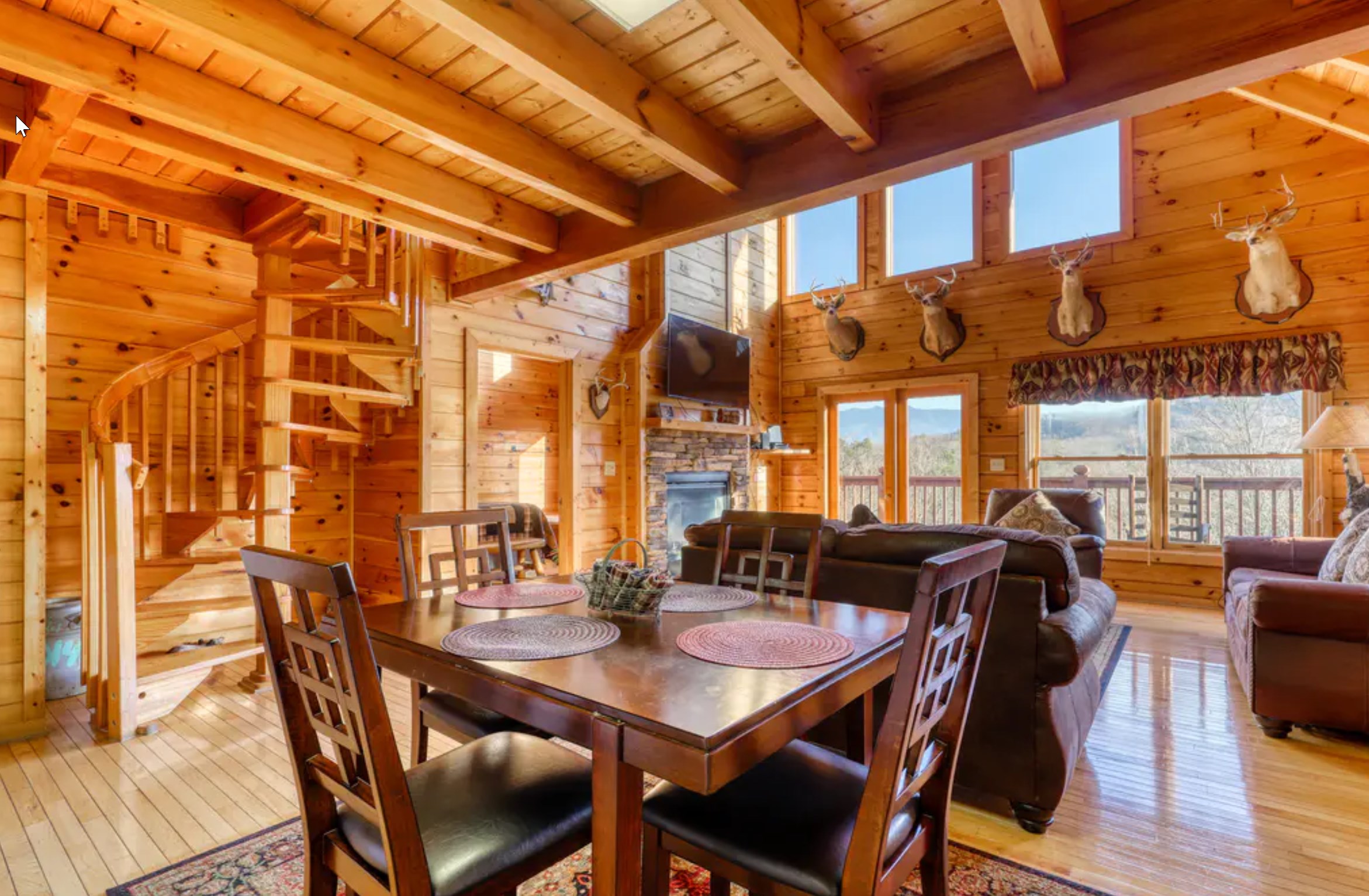 Thanks to Wyndham's relationship with Vacasa Vacation Rentals, it is possible to book one bedroom rental properties for only 15,000 Wyndham points per night (or 13,500 points per night for those with a Wyndham Earner card).  Amazingly, some of the properties that are listed as 1 bedroom are huge and include not just a bedroom but also a separate loft space with one or more beds and multiple bathrooms.  Nick wrote about his stay at such a property here: The Greenbrier Pigeon Forge Vacasa rental via Wyndham Rewards. Bottom line review.
See also: Wyndham Vacasa: Great Value is Real!
Sweet Spot Summary and Rankings
The Sweet Spots described above, and which transferable points bank programs support them, is summarized in the following table:
| | Amex | Capital One | Chase | Citi |
| --- | --- | --- | --- | --- |
| ANA first class with Virgin Atlantic miles | ✔ | | ✔ | ✔ |
| Iberia Biz Class to Europe | ✔ | ✔ | ✔ | |
| Delta Biz Class to Europe with Virgin Atlantic miles | ✔ | | ✔ | ✔ |
| Lufthansa First Class with Avianca miles | ✔ | ✔ | | ✔ |
| Round the World with ANA | ✔ | | | |
| AA Sweet Spot Awards | | | | ✔ |
| Hawaii for 7.5K with Turkish miles | | ✔ | | ✔ |
| Hyatt Awards | | | ✔ | |
| Vacasa Vacation Rentals | | ✔ | | |
The table above shows that each bank program offers access to different sweet spot awards.  So, in order to rank the programs from best to worst with respect to sweet spot coverage, it's important to understand which sweet spots are most important to you.  How likely are you to take advantage of the sweet spot and how often?
Here's my personal rankings:
Hyatt Awards.  I've transferred Chase points to Hyatt countless times for valuable awards and I expect to continue doing so far into the future.
Vacasa Vacation rentals.  I haven't yet booked a Vacasa award stay, but I value the option to do so.  Thankfully my wife and I each have a bunch of Wyndham points thanks to signing up for Wyndham Earner Business cards.  Otherwise, I'd be really upset about having lost my Capital One account.
Delta Biz Class to Europe with Virgin Atlantic miles.  Since my local airport is a Delta hub (DTW), I have easy access to non-stop Delta flights to Europe.  The ability to book these flights in Delta One Business Class for only 50,000 points each way is phenomenal.
ANA first class with Virgin Atlantic miles.  I haven't had a chance to take advantage of this sweet spot yet, but I definitely want to!  I'd love to fly ANA first class and the ability to do so at such low award prices is amazing.
AA Sweet Spot Awards.  Until AA devalues its program, it offers a great combination of low cost international business class awards with the ability to change and cancel awards for free.  I've booked some Qatar award flights for the future just in case these awards become much more expensive if/when AA devalues.
Lufthansa First Class with Avianca miles.  Lufthansa flies out of my local airport (DTW).  Usually they only offer economy and business class, but every now and then they offer first class too.  When that's available, I highly value this option!
Iberia Biz Class to Europe.  This would rank higher if Iberia flew from my local airport.
Round the World with ANA.  I've ranked this one low only because it takes a huge time commitment to use this award effectively.  I absolutely love this one in theory, but it's hard to fit it into a busy schedule.  If my wife and I were retired, though, I could see this one being near the top of my list.
Hawaii for 7.5K with Turkish miles.  How can I rank the best sweet spot last?  I don't have the patience to jump the hoops necessary to book these awards.  Turkish has made the award booking process hard enough to ensure that only those ready to put in the work can book these awards.
After compiling the above sweet spot rankings (again: the above rankings are particular to me. I'd expect readers to have very different rankings), I can now rank the transferable points programs based on their coverage of sweet spot awards:
Chase: Hyatt is so important to me that Chase takes the top spot even though it is relatively weak on sweet spot coverage otherwise.
Amex: Amex doesn't support either of my top two sweet spots, but they do cover most of the other sweet spots that I care about.
Capital One:  Capital One is the only bank program that offers access to Vacasa Vacation Rental awards.  With that, Capital One could have taken second in this ranking if only they offered transfers to Virgin Atlantic to support cheap Delta One flights to Europe and cheap ANA First Class to Japan.  But they don't so they didn't.
Citi: Since Citi supports transfers to Virgin Atlantic, I would have picked Citi ahead of Capital One, but Capital One's support for Wyndham / Vacasa was enough to give them the edge.
Summary
Here is how each program ranked in each of the three areas I examined:
Airline Fundamentals:
Amex
Capital One
Citi (until they lose AA, then they'll drop below Chase)
Chase
Hotels:
Chase
Amex
Capital One
Citi (Citi doesn't support transfers to hotel programs)
Sweet Spot Awards:
Chase
Amex
Capital One
Citi
Overall Ranking:
Since there wasn't really much difference between the options with regards to Airline Fundamentals, I'm comfortable simply adopting the second two sets of rankings, which were identical, as my overall rankings:
Chase
Amex
Capital One
Citi
Conclusion
There's no doubt that Capital One's transferable points program is way better than before now that they support 1 to 1 transfers to most programs.  They've definitely narrowed the gap between themselves and Chase and Amex.  But, for me, they're still in 3rd place and ahead of only Citibank.  Chase Ultimate Rewards is my favorite transferable points program, primarily because of how highly I value the ability to transfer to Hyatt.  It also checks most of the other boxes that are important to me, but I do hate that they don't have a strong OneWorld option besides Avios.  Meanwhile, Amex is close behind Chase.  Amex has stronger airline options than Chase (especially with ANA as a partner), but is weaker on the hotel front.  Citibank comes in last, primarily because they don't offer any hotel partner transfers at all.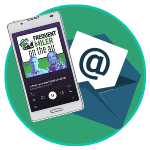 Want to learn more about miles and points?
Subscribe to email updates
 or check out 
our podcast
 on your favorite podcast platform.