On September 11th, 2021, Frequent Miler turned 10 years old and I forgot my own blog's anniversary.  Oops!  On that particular day, it so happened that Nick and I arrived at Le Meridien Maldives amidst our whirlwind "GuC Trip".  Without knowing it, we celebrated this blog's anniversary in a spectacular way!
Nope!  The above was incorrect!
This is pretty funny.  As Kim pointed out in the comments, Frequent Miler first appeared with a brief introduction on September 3rd 2011 (not September 11th), and my first real post was on September 4th: Triple Dip shopping at Sears, Lands End, KMart with Chase Sapphire (note that none of the techniques listed in that post work anymore).
So, if we count September 4th 2011 as the start-date, what were we really doing on the 10 year anniversary?  We were getting Q-tips stuck up our noses in preparation for our "GuC Trip:"
What a ride!
I started this blog in 2011 purely as a hobby.  I didn't think at the time that it was possible to earn a living through a blog, nor did it even occur to me to look into that option.  It was truly just a fun way to spend my time while my day job had become less interesting.  Six months later, though, I was blogging full time and I've never looked back.
What is Frequent Miler?
Over the years, the answer to "what is Frequent Miler?" has changed.  Initially it was a blog specifically targeted towards advanced hobbyists interested in creative ways of earning points & miles.  When I turned Frequent Miler into my full time gig in early 2012 (see: Up in the Air), though, I introduced a beginner's newsletter named "Free Trips & Tricks".  The idea was to continue to publish advanced content on the blog and beginner content in the newsletter.  Over time, the newsletter became harder and harder to maintain and I finally retired it in 2017 (I think).  Upon retiring the newsletter, we starting adding long-form guides for those who want to look up the basics.  Current guides include: American Airlines AAdvantage, Marriott Bonvoy, Delta SkyMiles, World of Hyatt, and many more (see our Resources Page).  We also began an effort to write our posts in a way that would be accessible to newbies without dumbing them down for advanced readers.  For example, when mentioning something like "5/24," we'll throw in a call-out box explaining what that is.  Those in the know can easily skip that bit.
Chase's 5/24 Rule
: With most Chase credit cards, Chase will not approve your application if you have opened 5 or more cards with any bank in the past 24 months.
---
To determine your 5/24 status, see:
Easy Ways to Count Your 5/24 Status
. The easiest option is to track all of your cards for free with
Travel Freely
.
---
Going back a number of years… I introduced Quick Deals as a separate blog in June 2013.  The idea was to keep long form content on the Frequent Miler blog and to publish short to-the-point deals on the Quick Deals site.  Quick Deals quickly became popular and I eventually rolled it into the main site.  Today, articles are primarily differentiated only by whether or not we mark them for inclusion at the top of our home page as "featured articles," but you can still filter to only Quick Deals by clicking to our Quick Deals Category Page.
One of the biggest changes to "what is Frequent Miler?" came with the addition of our video and audio podcast "Frequent Miler on the Air" on May 31st, 2019.  Since then, Nick and I have been recording the show weekly.  Over time, listenership has grown steadily and the show has become as much a part of Frequent Miler as the blog itself.  Every show features a "main event" dictated by current happenings, along with regular segments: Giant Mailbag, What Crazy Thing…?, Mattress Running the Numbers, Post Roast, and Question of the Week.
Who is Frequent Miler?
For the first few years, I was the sole face of the blog.  But then I started enlisting help from others.  In 2014, a reader named Anita volunteered to help keep the beginner's newsletter up to date.  And in November of 2014, Julian Kheel began guest writing for Frequent Miler with his weekly (and later bi-weekly) column "Bet You Didn't Know."  Then in January 2015, Shawn Coomer joined me part time as Frequent Miler's primary Quick Deal author (he also maintained our credit card database).  Later, Alex Bachuwa started guest writing for Frequent Miler with his monthly-ish column "The Fine Print."  Behind the scenes, Carrie Yoder occasionally helped out with graphic design or video work (she put together all of the videos from my 2016 trip to Necker Island, for example).
In January 2017, I posted "Help Wanted."  Julian had published his final Bet You Didn't Know post in December when he joined The Points Guy full-time (but he's now senior finance editor at CNN Underscored), and I had received notice from Shawn who was planning to work full time on his own blog, Miles to Memories.  I received around 100 applications from my Help Wanted post.  I narrowed the applicants down to the top 12 and then to the top 4 and finally to the one.  Nick Reyes became my first full time hire at Frequent Miler.  He brought energy and a fresh new voice to the mix.  Today, I no longer think of Frequent Miler as my blog with others helping.  Now, it is "our blog" and "our podcast."  Technically I still own it all, but I like to think of Frequent Miler as belonging to the team.  Speaking of "the team"…
In 2018, Stephen Pepper joined us as a part-time Quick Deals author.  He makes it possible for Nick to enjoy two days off per week without us slowing down production.  Actually, on Stephen's days (usually Sunday and Wednesday), I think we publish many more Quick Deals than other days.  Stephen also occasionally writes great long-form content for Frequent Miler such as the ever-popular "Wyndham Timeshare Presentation Survival Guide. Get Your "No" Face On."  A couple of other notable posts that come to mind include "My Experience Using Chase Sapphire Reserve Rental Car Insurance," and "Beauty In The Eye Of The Cardholder: Stephen's Top 6 Card-Linked Programs."  Check them out if you haven't already!
In 2020, Carrie Yoder officially joined the team.  She had done work for Frequent Miler in the past, but now she signed on as our permanent part-time "creative director."  Carrie has completely overhauled our website design, drastically improved the design of our email newsletters (these are the email versions of our blog posts, not to be confused with the discontinued beginner's newsletter), and has been a key driver in our expanded social media presence (such as with Instagram, for example).
Readership over time
While this is a gross oversimplification, I'll characterize each year of blogging (September through August, starting in 2011) based on what I think were the major sources of readership growth:
Year 1… 5X Everywhere
September 2011 to August 2012
A couple of months after I started blogging, Chase decided to change their Ink Business card so that it offered 5x at office supply stores.  That was especially awesome because it was possible to buy Visa gift cards in-store and online at stores like Staples, Office Depot, and OfficeMax.  Suddenly there was an easy way to earn 5x everywhere! Buy gift cards with your Ink card and then use those gift cards for your daily purchases.  Things got even better when I reported that Vanilla Reload cards were available to buy at Office Depot stores and they could be loaded onto fee-free Amex prepaid cards (see: One Card to Rule them All).
Year 2… Bluebird
September 2012 to August 2013
Early in my second 12 months of blogging, American Express & Walmart introduced a revolutionary new prepaid card: Bluebird.  Bluebird was similar in some ways to the reloadable prepaid cards that Amex had offered before, but it was a billion times better (give or take).  The new card offered fee free bill payments, free withdrawals to your bank account, higher limits, and more.  My post "Bluebird takes flight and changes the game" was one of my most popular posts in my second 12 months of blogging.  With Bluebird, it was now incredibly easy to meet credit card minimum spend requirements (for big signup bonuses) or to simply generate points through "manufactured spend".
Another huge development during this time was the introduction of PINs to Visa and Mastercard gift cards.  PINs made it possible to use gift cards almost anywhere that debit cards were accepted.  It was now possible to use your credit card to buy debit gift cards (in order to earn rewards), and then use those debit gift cards to perform cash-like transactions.  The impact of this change took time to develop partially due to the fact that reload cards were still an easy option at the time.
Year 3… Walmart Ascendant
September 2013 to August 2014
During my 3rd year of blogging, options for buying Vanilla Reload cards at nationwide chains dried up.  The new challenge then was to find the best ways to buy Visa and Mastercard gift cards and earn miles while doing so.  Thanks to now having PINs, Visa and Mastercard gift cards could be used in-store to reload prepaid cards like Bluebird and Serve (a product very similar to Bluebird).  Walmart not only allowed reloading certain prepaid cards for free, but they even had automated kiosks in many stores that made it possible to liquidate these gift cards without interacting with store employees.  The same Visa and Mastercard gift cards (AKA debit gift cards) could be used at some stores' money centers (again, Walmart was the go-to store for many of us) to pay bills that couldn't usually be paid by credit card, or to simply buy money in the form of money orders that could be deposited into a bank account.
Year 4… Target REDbird
September 2014 to August 2015
My fourth year of blogging was dominated by REDbird: The Target Prepaid REDcard.  This was yet another prepaid reloadable card from American Express.  Unlike Bluebird and Serve, though, Target initially allowed REDbird to be loaded at the register, with a credit card, for free!  It was literally possible to load REDbird at Target with a credit card, with no fee, and then go online to use REDbird to pay the credit card bill.  The point, of course, was to easily manufacture spend with rewards-earning credit cards.
The ability to load REDbird with a credit card lasted for 7 months.  Afterwards, Target continued to accept debit cards, including debit gift cards.  So, the REDbird game continued until Target stopped accepting debit card loads altogether, 12 months after they initially released the card.
Year 5…  The banks strike back
September 2015 to August 2016
My 5th blogging year was a tough one for credit card signup bonuses and manufactured spend.  Not long after the effective death of REDbird, Amex began freezing all Bluebird and Serve accounts in which the cards were used to manufacture spend.  Many less well known options for manufacturing spend died as well.  In the post "Credit Card Spend in 2016 and Beyond," I argued that the only options for manufacturing spend that will last long term are those that incur risk or incur enough fees to cover credit card processing costs.  And that's why I began writing more about techniques that involve risk (such as KickFurther) and fees (such as Plastiq).
And, for those who repeatedly sign up for credit cards in order to earn big bonuses, Chase quietly introduced their dreaded 5/24 Rule (where they'll deny you if you've opened 5 new cards in the past 24 months), Amex expanded their "once per lifetime rule" to business cards, and Citi drastically expanded their 24 month rule to include all cards within the same brand.
Year 6… Chase Sapphire Reserve takes world by storm
September 2016 to August 2017
Frequent Miler's sixth year kicked off with Chase's introduction of their ultra-premium Sapphire Reserve card along with its 100,000 points welcome bonus.  To say that this card took the points world by storm is an understatement.  Both the card's features and its welcome bonus were so good that everybody had to have one.  This led to many new people discovering an interest in points & miles.  For the first time, in my experience, it became common to overhear people in public discussing credit card rewards.
The Sapphire Reserve card also had a huge effect on the credit card landscape overall.  It was the first ultra-premium card to offer huge point earnings for spend (3x travel & dining).  Soon, many others rushed to compete:
Year 7…  SPG's long goodbye
September 2017 to August 2018
Starwood Preferred Guest (SPG) used to be everyone's favorite rewards program.  Their points were incredibly valuable, not just towards hotel stays, but also when redeemed for airline miles.  They offered a huge number of airline partners and with most you could transfer 20,000 SPG points into 25,000 airline miles.  That was great until Marriott decided to buy SPG.
Marriott fully merged Marriott Rewards and SPG into a single loyalty program (Marriott Bonvoy) on August 18, 2018.  Until then, a partial merger created a number of awesome short-term opportunities.  For example, during this time it was possible to book top-end Marriott properties for only 15,000 SPG points per night.  And, Ritz-Carlton properties (which had their own award chart at the time) could be booked for only 10,000 to 23,333 SPG points per night!
There were also great elite status opportunities such as the fact that elite nights offered by Marriott and SPG credit cards automatically combined — this year only.  Plus, the Ritz Carlton credit card was still available for new sign-ups back then and it offered automatic 75K Platinum status for the first year of card membership.
Year 8… Manufactured spending goes local and underground
September 2018 to August 2019
Manufacturing spend techniques had been dying off for years, but this is the year that Walmart began cracking down on money order purchases.  That was arguably the beginning of the end of big-scale manufactured spending at Walmart.  This accelerated a trend that was already happening:
MS goes local: There aren't many good Manufactured Spending techniques that work nationwide anymore.  If you're into buying money orders or paying bills with debit gift cards, your best bet is to find local and regional stores that allow it.
MS goes underground: As one technique after another has dried up over the years, people who discover new techniques have been more and more hesitant to share with others publicly.  As a result, many private message boards have popped up where only those on the inside can learn from others.
Year 9… Pandemic!
September 2019 to August 2020
The first half of the Frequent Miler year (September through Feb) went well enough, but then COVID-19 hit us like a wall.  For the next six months, readership dropped a bit and revenue almost completely disappeared.  I wrote about the situation in these posts:
How Frequent Miler (the business) will survive COVID-19 (published April 1, 2020): This post included a brief history of this blog, including how it turned from a hobby into my career; and I shared an email I had sent to the Frequent Miler team (Nick, Stephen, and Carrie) where I predicted that revenue would drop precipitously, but I pledged to use my savings to keep the team going for "at least the next 6 months."
How Frequent Miler (the business) is surviving COVID-19 (published June 26, 2020): In this update, I showed that business had tumbled… as predicted.  There was still some revenue coming in, however.  That, combined with a Paycheck Protection Program loan meant that we'd be able to keep going at current staffing levels several months into 2021.  I further gave an update as to projects we were undertaking to make the business stronger than ever once the recession eased.
Frequent Miler's COVID-19 business survival update (published October 5, 2020): In the final update to this series I wrote that we were out of the woods.  While revenue hadn't yet nearly reached pre-pandemic levels, it was obvious to me that it would soon.  I wrote "73% of our September affiliate revenue came in the second half of the month. My guess is that our October revenue will hit maybe 60% of pre-pandemic levels and hopefully November will be even better than that."  I was right.  November was even better than that and we were soon back to pre-pandemic revenue levels and more!
Year 10… Incredible Welcome Bonuses & frequentmiler.com
September 2020 to August 2021
The tenth year of Frequent Miler has been all about incredible new credit card welcome bonuses.  Chase kicked off the FM year with an 80K Sapphire Preferred offer, and quickly followed that up with the best Marriott card offer we had ever seen: 5 Free 50K Nights.  Those offers seemed to open the floodgates on great offers.  Soon, we regularly saw 100K offers for many different cards.  And Amex decided that 100K wasn't enough so they would throw in 10x earnings and later 15x earnings on top of their welcome bonuses for their Platinum cards!
In October, I finally, finally, finally secured ownership of the domain "frequentmiler.com."  Up until then the domain was owned by a shipping logistics company which intended to use the domain someday.  We celebrated the move to frequentmiler.com (previously frequentmiler.boardingarea.com) with a big swag giveaway.
Year 11 and beyond…
Last week I published a new "help wanted" post.  Nick and I want to do more podcasting (because it's fun!) and hope to do guest appearances on a bunch of other podcasts.  In order to free up Nick's time for that, we're looking for someone to take over a number of Nick's current duties.  He and I will continue to publish long form posts every weekday morning, at a minimum, but we hope for a new hire to take over many of the Quick Deals and other responsibilities.
Final Thoughts
I hope you enjoyed this walk through FM memory lane.  Readers (and now listeners too!) are what make this possible.  So, thank you!  It's incredible to me that my career is as a blogger and podcaster!  How did this happen?  Even though it all started ten years ago, it still feels very new.  I'm looking forward now to the next ten years of blogging, podcasting, and whatever other "-ing" comes next!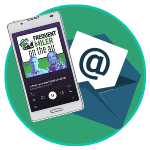 Want to learn more about miles and points?
Subscribe to email updates
 or check out 
our podcast
 on your favorite podcast platform.